A Rakshabandhan Like No Other: Satvic's Best For Siblings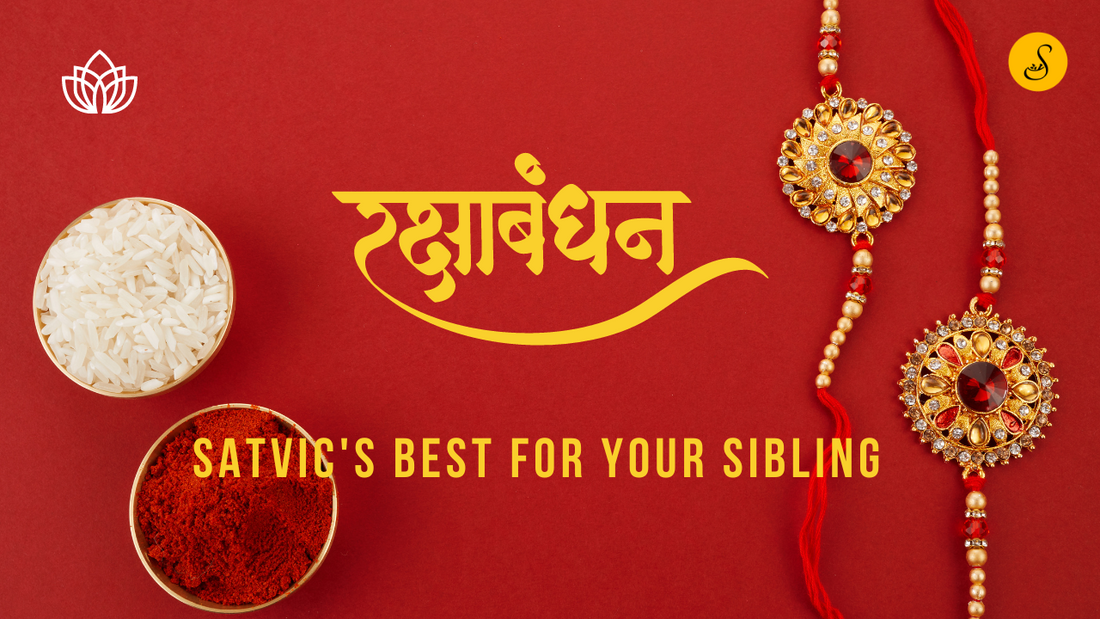 Rakshabandhan, the festival that celebrates cherished bonds between siblings, presents a unique opportunity to indulge in delightful treats. 
And what better way to treat your siblings than gifting homemade items that have something for everyone? 
From hair therapy to protein-filled dry fruits, milk masala to kachori mix, presenting Satvic's unique assortment of gifts for one and all. 
Samosa Kachori Mix
Samosa Kachori is a must in every Indian house that celebrates Rakhi.
To spice up things,  here's Satvic Foods' Samosa Kachori Mix. As the threads of love bind you and your sibling, let this mix bind the essence of Rajasthan's unique taste and Gujarat's nutrients.
Satvic Foods' Samosa Kachori Mix is one fine blend of over ten Indian spices, including the richness of dry ginger, the vibrancy of turmeric, and the tanginess of pomegranate seeds. 
Why choose Samosa Kachori Mix as a Rakhi gift? 
Here's more on what makes Samosa Kachori Mix a great Rakhi gift idea :
Uniquely Thoughtful: Just like the bond you share with your siblings, this mix is a unique blend of tradition and innovation. It's a gift that resonates with the values you share.
Flavors of Home: The mix captures the essence of traditional Indian snacks. Undeniably, a nostalgic journey for the taste buds.

Shared Joy:  A festival like Rakhi is all about sharing joy. This mix transforms a snack into an experience, making every moment special.
Easy to use: With Satvic's Samosa Kachori Mix, anyone can cook finger-licking samosas, kachoris, and a lot more. 
Spicy Paratha Mix 
Unanimously loved all over India, this Indian version of layered and flaky bread needs no introduction.
Got a brother or sister who drools over parathas? Then, this spicy paratha mix could be a wonderful Rakhi gift idea for all god reasons:
Flavors that Speak Love: Give your sibling an experience of taste that's beyond the usual. The Spicy Paratha Mix adds a fiery kick to parathas worth savoring.
Nutrition Wrapped in Love: Show how much you care for your sibling. This mix is more than just spices – it's a blend of antioxidants, vitamins and minerals that boosts immunity and digestion.
Everyday Delight: Imagine your sibling enjoying delicious, spicy parathas packed with goodness every day. Your gift becomes a daily reminder of your love.
Thoughtful Gesture: Rakhi is a celebration of the bond you share. This thoughtful gift reflects that very essence, infusing your sibling's meals with care and flavor.
Easy to Use and Tasty: With just a pinch, the Spicy Paratha Mix elevates regular parathas to a gourmet experience.
Shikakai Hair Therapy Powder
Yeah, this one's a pretty odd man on the list but makes a perfect Rakhi gift for both brothers and sisters who love their hair. 
Presenting Satvic Foods' Shikakai Hair Therapy Powder. Infused with natural ingredients, this hair therapy powder is a thoughtful gesture for healthy and luscious locks.
But wait there's more than just that: 
Nourished By Nature: Enriched with Shikakai, Reetha, Indian Gooseberry, Brahmi, and more, this herbal concoction delivers nourishment from root to tip, providing a holistic solution for hair care.
Purifies Scalp and Controls Hair Fall: Shikakai cleanses hair follicles, reduces greasiness, and gives softness and shine. Also, Reetha helps control hair fall by tackling dandruff from the root.

Enhances Hair Growth: Brahmi strengthens roots, promoting hair growth and thickness.
Also, there's Kalonji aiding in hair growth and arresting recurring hairfall.
Graying and Dandruff Prevention: Bhringraj keeps graying and dandruff at bay.
Hydration and Softness: Fenugreek Seeds and False Daisy moisturize, leaving hair soft and smooth.
Chemical-Free Love: Opt for a natural alternative to chemical-laden shampoos.
Economical Care: This powder lasts longer than regular hair products, making it a budget-friendly choice.
Chocolate Milk Masala
A gift of nourishment and delight comes in the shape of Satvic Foods' Chocolate Milk Masala. Crafted from the finest natural ingredients, our chocolate milk masala is like no other.
Here's what makes Chocolate Milk Masala a unique Rakhi gift idea:
A Wholesome Blend: Experience the goodness of watermelon seeds, almonds, cashews, cocoa powder, and more. A meticulously crafted blend that adds flavor and nourishment to every sip. Also, this one's got no added sugar 
Immunity Booster: Packed with vitamins, minerals, and antioxidants, our chocolate milk masala supports a strong immune system.

Cognitive Excellence: Nuts and spices blend together to promote cognitive function, enhancing memory and cognitive abilities.

Digestive Comfort: Nutmeg and cardamom aid digestion, ensuring a happy tummy.
Nothing better than welcoming your sibling with a heartwarming cup using chocolate milk masala. And it's super easy!

Start by pouring milk into a mug and simply add 1 teaspoon of Chocolate Milk Masala.
Stir, sip, and relish!
Protein Dry Fruits Ball
Satvic Foods' Protein Dry Fruits Ball isn't just a token of affection, but a powerhouse of natural nutrition.
A delightful blend of 19 carefully selected natural ingredients, the Protein Dry Fruits Ball is a great Rakhi gift idea with 15gm of protein in each ball. Truly, a gift that says you care about others' well-being.

Why choose Protein Dry Fruits Ball over regular gifts? 
Nourishing and Wholesome:  Sweets are such a passe. This Protein Dry Fruits Ball is a sheer delight packed with vitamins, minerals, and healthy fats that boost vitality.

Healthier Indulgence: While Rakhi calls for treats, this gift strikes the balance. It's a guilt-free indulgence that aligns with health goals.

Customized Goodness: You know what your sibling loves. This Protein Dry Fruits Ball caters to their taste and health preferences.

Unlike others, your choice of gift for Rakhi promises the best of health and happiness. Because true care is about nurturing their well-being as much as your relationship.
Have A Grand Rakhi Ahead
So, there you go with unique Rakhi gift ideas for your siblings. 
At Satvic Foods, we are all about embracing the goodness of nature, the best of nutrition, and the promise of a healthy life. Today's a post-Covid world people continue to suffer from a range of diseases and disorders. 
At such a crucial juncture, Satvic Foods brings forth a different flavor imbibing the very best of nature in the shape of authentic Indian spices, hair growth formulas, culinary mixes, and a lot more.

This Rakhi, let's give our siblings gifts that are guilt-free, gifts they can cherish, gifts they can to good use, and above all be delighted about. 
Your Email Address Will Not Be Published. Required Fields Are Marked *