8 Navratri 2023 Dessert Recipes For Children This Tritiya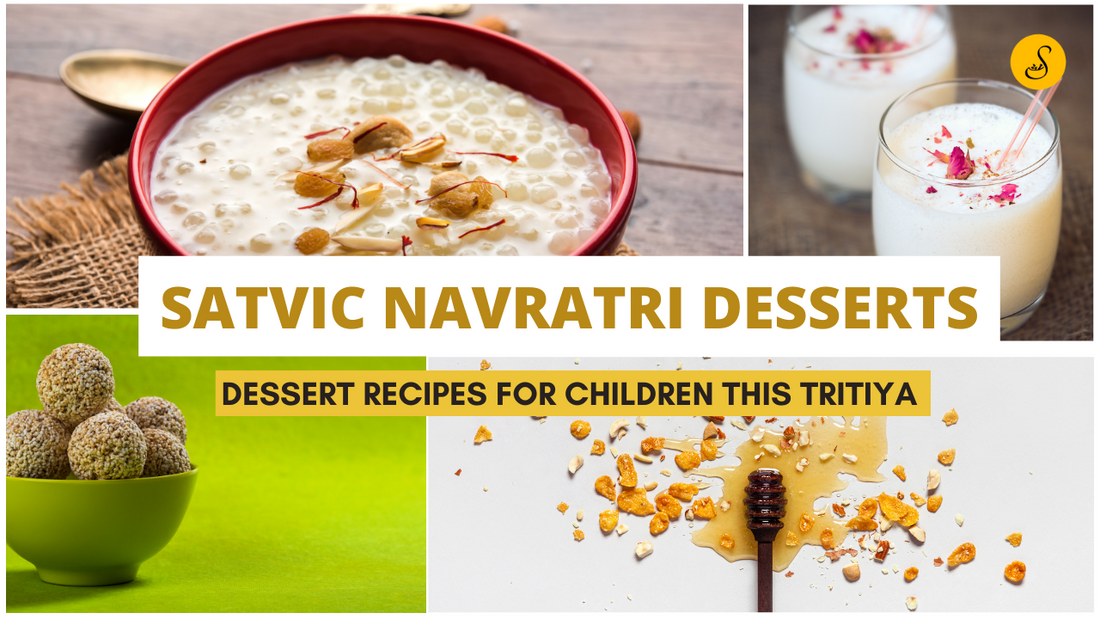 India enthusiastically celebrates Navratri, a bright and happy festival. It is devoted to the goddess Durga and lasts for nine nights. 
During this time, a lot of individuals fast and make delicious vegetarian meals. Tritiya is the third day of this auspicious festival. On this day, devotees celebrate Goddess Chandraghanta. In Navratri 2023, Tritiya falls on October 17.
This Tritiya, let's look at five delectable dessert recipes that are fun for kids during Navratri 2023.
Sabudana Kheer
Sabudana, or tapioca pearls, are a favorite among those who fast. They taste delicious when combined with milk, sugar, and a hint of cardamom to make a creamy Sabudana Kheer. 
This will surely delight your little ones. Here's how you can make sabudana kheer your ultimate Navratri food.
Ingredients
1 cup Sabudana (Tapioca pearls)

4 cups Milk

1/2 cup Sugar

1/4 tsp Cardamom Powder

Chopped nuts for garnish (optional)
Recipe
Soak sabudana for a few hours.

Boil milk and add soaked sabudana.

Cook until sabudana becomes translucent.

Add sugar and cardamom powder and stir well.

Garnish with chopped nuts and serve chilled.
Fruit Salad with Honey and Nuts
Mix up your Navratri 2023 dessert list with an Indo-Western fusion. This fruit salad blends various fruits with honey and nuts, making it a light and healthy option. The faint taste of black salt provides a distinctive twist to this salad.
Ingredients
Assorted fruits (bananas, apples, grapes, pomegranates, etc.)

2-3 tbsp honey

Chopped nuts (almonds, cashews, etc.)

A pinch of black salt
Recipe
Cut the fruits into bite-sized pieces.

Drizzle honey and sprinkle black salt.

Toss gently and garnish with chopped nuts.
This Navratri food will surely keep your body cool and energized!
Coconut Ladoos
These delectable coconut ladoos are sure to please coconut fans. They are simple and delicious because they are made with condensed milk and grated coconut. Whether it is Navratri 2023 or Navratri from your childhood, coconut ladoos are a staple for this festival.
Ingredients
2 cups grated coconut

1 cup condensed milk

1/4 tsp cardamom powder

Ghee for greasing
Recipe
Heat a non-stick pan, add grated coconut.

Cook for a few minutes.

Add condensed milk and mix well.

Stir until it thickens; add cardamom powder.

Grease your hands, roll small ladoos, and let them cool.




Coconut Ladoos can both be an offering to the goddess and later be consumed as a staple Navratri food item.
Makhana Kheer
Fox nuts, also known as makhana, are crunchy and a fantastic fasting food. They make a wonderful delicacy when combined with milk, sugar, and saffron to create kheer. This Navratri food can be added to your list of new things to try!
Ingredients
1 cup makhana (fox nuts)

4 cups Milk

1/2 cup Sugar

1/4 tsp saffron strands (soaked in warm milk)

Ghee for frying makhana
Recipe
Heat ghee in a pan, and roast makhana until they turn crisp.

Boil milk and add roasted makhana.

Simmer until it thickens; add sugar and saffron.

Serve warm or chilled.
Banana Walnut Lassi
This lassi combines the crunch of walnuts with the creaminess of ripe bananas. It is a tasty drink that is nourishing and enjoyable.
Ingredients
2 ripe bananas

1/2 cup yogurt

2 tbsp honey

Handful of walnuts

A pinch of cinnamon powder
Recipe
Blend bananas, yogurt, honey, and a few walnuts in a blender.

Pour into glasses and garnish with chopped walnuts and a pinch of cinnamon.
Rice Pudding (Chawal ki Kheer)
Chawal ki kheer, a traditional Indian dish, is a rich rice pudding made with fragrant cardamom, milk, and rice. Slivered almonds and pistachios are added as a garnish to this dish for visual appeal.
Ingredients
1/2 cup basmati rice

4 cups milk

1/2 cup sugar

1/4 tsp cardamom powder

Slivered almonds and pistachios for garnish
Recipe
Wash and cook rice in milk until it becomes soft and mushy.

Add sugar and cardamom powder and stir well.

Garnish with slivered almonds and pistachios.
Sama Rice Halwa
Sama rice or barnyard millet is frequently consumed during fasting. You can make a rich, flavorful halwa out of them that will appeal to both kids and adults. 
Sama Rice has lost out on its popularity in recent times. You can help re-introduce this healthy item to your family at Navratri 2023.  
Ingredients
1 cup sama rice (barnyard millet)

2 cups water

1 cup sugar

1/4 cup ghee

A pinch of cardamom powder
Recipe
Cook sama rice in water until it becomes soft.

Add sugar, ghee, and cardamom powder, and cook until it thickens.

Serve warm.
Fruit & Yoghurt Custard
This parfait is delicious and healthy because it is made with yogurt and fresh fruits. A little honey, when added for sweetness, adds to its overall taste.
Ingredients
Assorted fruits (berries, kiwi, etc.)

Greek yogurt

Honey

Chopped nuts (almonds, walnuts, etc.)

Custard powder 
Recipe
Layer fruits, yogurt, and honey in a glass.

Repeat the layers.

Top with chopped nuts.

Add custard powder 
Stay Safe and Stay Satvic For Navratri 2023
It is necessary to maintain a nutritious diet during Navratri if you want to observe fasting. Navratri 2023 offers a wonderful chance to choose healthy options. To guarantee a balanced intake of vital nutrients, include a range of fruits, nuts, and dairy products in your diet. 
Choose nutritious whole grains that are suitable for fasting, such as amaranth and barnyard millet. Use jaggery or honey as healthier substitutes for refined sugar when making desserts. To balance out the sugar intake, use
Satvic's range of milk and chai masala products
to add the boost of Indian spices to your diet.
Your Email Address Will Not Be Published. Required Fields Are Marked *