9 Healthy Holi Recipes | Thandai to Falooda Are Sure To Make You Drool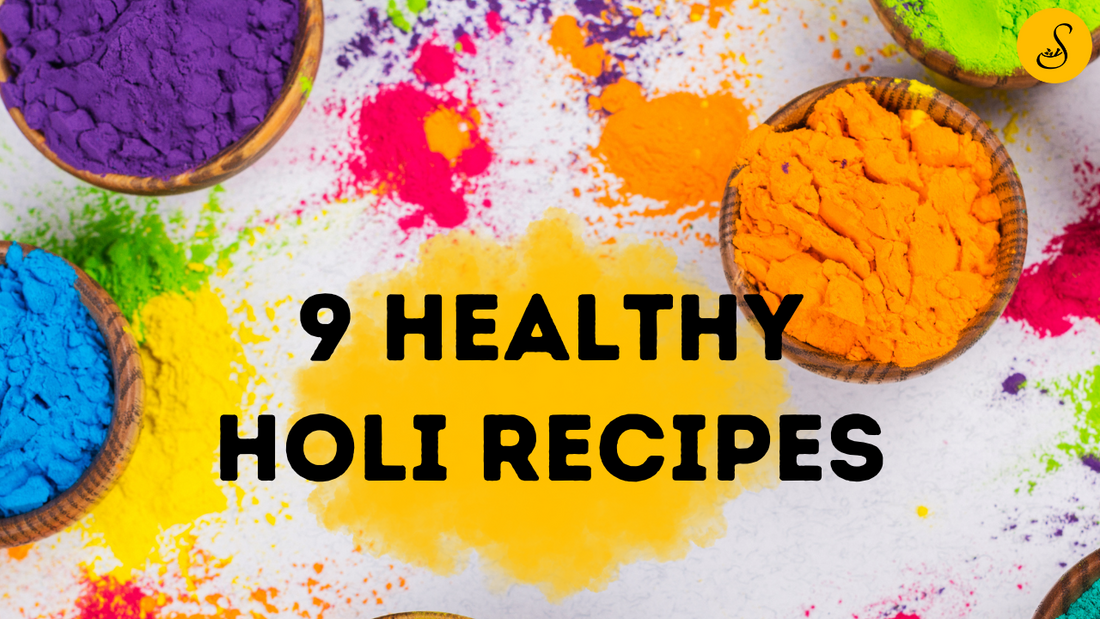 Holi, the joyous festival of colors is here, and we all could not be more excited about the celebration! After the last few years of the pandemic, it's about time this festival is enjoyed with the same enthusiastic spirit again.
With the fun of colors, everyone also awaits the healthy Holi recipes in 2023 to devour. From cool beverages like Thandai to hot and tasty samosas, the range is wide.
If you are eager to celebrate this festival with some delicious and healthy dishes, we are here with a list of Holi recipes in 2023 you can try!
Try These Holi Special Beverages
Holi is incomplete without these beverages:
Kesari Thandai
Kesari Thandai is a traditional Indian beverage popular in the North Indian states of UP and Rajasthan. It's a refreshing blend of healthy ingredients. It's an amazing way to beat the heat and hydrate yourself.
The mix of watermelon and muskmelon seeds, fennel (saunf), almonds, saffron, and cardamon also makes Kesari Thandai Mix a wonderful energy booster, which we all need on the day of Holi to enjoy fully. The best part about this wholesome drink is that it's super easy to make -- just add Satvic's Thandai Mix to your cooled down hot milk, add ice, and enjoy the aromatic flavors of Saffron and Pistachios.
Buy Satvic Foods' Kesari Thandai Mix blended with several flavors for a luscious experience.
Aam Panna
In case you forgot, it's also summer season so we must try this mango drink made with raw mangoes and jaggery as a part of our Holi recipes in 2023. A perfect way to welcome the sunny season and also celebrate Holi.
Falooda
Falooda is a refreshing and sweet beverage that is perfect for celebrating Holi. Made with milk, rose syrup, vermicelli, and basil seeds, it is served cold with ice cream and chopped nuts. It is a delicious way to cool off after playing with colors.
Special Homemade Holi Sweets
Beverages are not enough for this wonderful occasion! Try out these sweets Holi recipes in 2023 to make the day even better:
Gujjiya
Gujjiya is a popular sweet pastry filled with a mixture of khoya, dry fruits, and cardamom powder. It is a traditional treat made during the festival of Holi in India.
Malpua
Malpua is a popular Indian dessert made with flour, milk, and sugar syrup. It is a must-try on Holi as its sweet and crispy texture and aromatic flavor make it a perfect treat to celebrate the festival of colors.
Moong Daal Halwa
Best served after a fun and tiring Holi morning, this Halwa is the perfect way to end your festival on a sweet and warm note. It's healthy and amazing for your skin!
Check Some Satvic's Holi Snacks
How about making the day more memorable with these healthy snacks by adding them to your menu of Holi Recipes in 2023:
Samosa Kachori
Samosa Kachodi is a savory snack made with a crispy outer layer. You can enjoy this anytime during the day and experiment with the fillings as you want with veggies and bake them instead of deep-fried. The perfect option for a guilt-free Holi celebration!
To make it healthier, the filling can be made using Satvic Foods' Samosa Kachori Mix!
Puran Poli
Puran poli is a healthy traditional Indian flatbread made with whole wheat flour and stuffed with a sweet filling of lentils, jaggery, and cardamom. It is cooked with minimal oil and served with a side of yogurt or raita. It's a great alternative to a delicious vegetarian Holi recipe.
Dahi Vade
Who does not enjoy a bowl of mouth watering Dahi Vade? It is yet another popular Indian dish made with lentil fritters soaked in yogurt and topped with spices. Sounds perfect for lunch, right?
Enjoy These Holi Recipes in 2023
In just a few days the streets will roar with the joy of the festive season and these amazing Holi recipes in 2023 will make their way to many homes. These healthy Holi recipes are easy to make and enjoy with your loved ones!
Satvic Foods hope you all celebrate the festival with a table full of tasty dishes! Also, an important reminder to play a safe Holi with organic colors and save water. Happy Holi!
Your Email Address Will Not Be Published. Required Fields Are Marked *