An Ultimate Guide on Avoiding Sugar During Pregnancy in 2023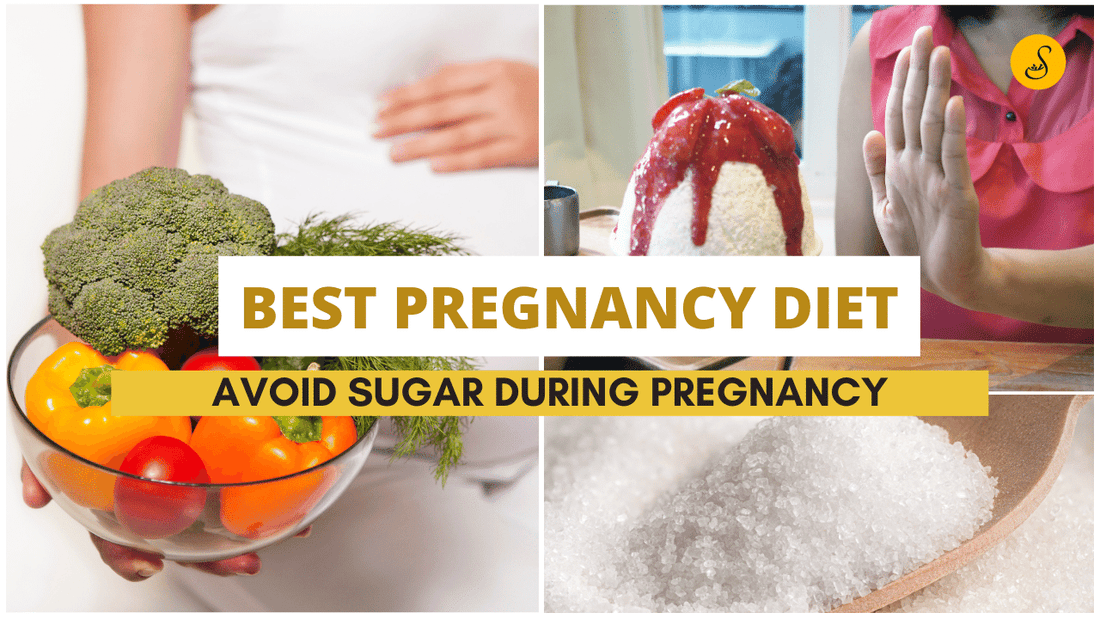 Avoiding sugar during pregnancy is not just challenging but also crucial. Pregnancy is a critical time for women, and one needs to be extra cautious with their health and especially diet to ensure the healthy development of the baby. One of the most important aspects of pregnancy food is to closely monitor sugar intake.
Gestational diabetes, a type of diabetes, is a common pregnancy issue that usually develops during the second or third trimester. The primary cause of gestational diabetes is the hormonal changes during pregnancy, leading to insulin resistance. When the body becomes insulin resistant, it results in elevated blood sugar levels. 
Although pregnancy demands critical precautions, however, with a few adjustments and appropriate sugar level management, you can satiate your unnecessary sugar cravings. In this comprehensive article by Satvic Foods, you will discover the effects of high sugar, how to reduce sugar intake, and the foods to eat during pregnancy to curb sugar cravings.
What Amount of Sugar Can Be Consumed Safely During Pregnancy?
The American Heart Association states that women, under normal conditions, should not consume more than 25 grams of added sugar per day. The safe sugar metrics for pregnant women vary, and it depends upon their weight, blood sugar levels, and metabolic rate. However, the consumption should be lower to avoid any complications during pregnancy. You may include natural sugars like organic jaggery, honey, and protein-rich foods to reduce sugar cravings.
Effects of High Sugar
Gestational diabetes symptoms are difficult to detect. Doctors usually recommend blood sugar tests to screen for gestational diabetes between 24 and 28 weeks of pregnancy. However, if you have a history of high glucose levels or are pre-diabetic, you must do a screening sooner. The most commonly administered test to check pregnancy blood sugar is the oral glucose challenge test (OGCT).
High sugar intake during pregnancy leads to several health issues. It can cause excessive high blood pressure, obstructive sleep apnea, miscarriage, pre-eclampsia, eclampsia, weight gain, preterm birth, and fetal death (in extreme cases). Women with gestational diabetes also have a higher risk of developing blood clots during labor and post-delivery, along with the risk of neural tube defects like spina bifida in the baby. High pregnancy sugar levels may also lead to the baby being born heavyweight, which might induce early childhood obesity and diabetes.
How to Reduce Sugar Intake During Pregnancy?
Avoiding sugar entirely can be challenging due to the constant sweet cravings. Refined sugars have empty calories. You might feel the energy spike due to the burst of sucrose in the bloodstream, but it is gone even sooner, making you crave more. Here are some ways to reduce sugar intake during pregnancy and maintain the good health of both the mother and the baby:
Whole Foods: Whole foods are rich in protein, high fiber, low fats, and complex carbohydrates. Dry fruits like cashews, almonds, and walnuts will help reduce your sugar cravings.
Hydration: Drink plenty of water throughout the day to stay hydrated. You may include seasonal fruits, as they have high water content and will also fulfill your sugar needs. Avoid sugary drinks such as soda, packaged fruit juice, and energy drinks at all costs. 
Avoid Processed Foods: Processed foods such as cookies and cakes have refined white sugar and are not healthy for pregnancy. 
Physical Activity: Regular and moderate physical workout is beneficial during pregnancy. You can aim for 30 minutes of moderate activities, namely walking, swimming, or prenatal aerobics, to ease your pregnancy discomforts. Always consult your OB-GYN if you suffer from health conditions like asthma and heart disease to prevent any complications.
Healthy Weight: Keep track of your weight right from the first trimester. Losing weight, gaining weight, or gaining weight too quickly could be an indication.
Adequate Sleep: According to the University of Washington School of Medicine, insufficient sleep could lead to gestational diabetes. You must adopt healthy lifestyle habits like eating natural and homemade foods, regular exercise, and minimizing screen time to sleep better.
You can include a glass of milk before bedtime. Moreover, adding Satvic Foods' Golden Milk Masala, a blend of 20+ spices in your milk, will further enrich its properties. Moreover, the relaxing properties of turmeric and other herbs can help improve sleep quality.
Try Satvic Foods' Golden Milk Masala for a quality deep sleep!
Foods to Eat During Pregnancy to Curb Sugar Cravings
Controlling a sweet tooth during pregnancy is hard, but you can easily satisfy your taste buds with natural and healthy foods. Let us have a look at some options to curb sugar cravings:
Nuts and Seeds: Nuts are a great source of protein, fiber, and healthy fats. 
You can include a dairy-free Protein Dry Fruits Ball from Satvic Foods made with 19 natural ingredients, with each ball containing 15gm of protein. Since it has no preservatives or added sugar, it is safe for pregnant women.
Try Satvic Foods' Protein Dry Fruits Ball for a healthier sugar alternative!
Fruits: Fruits, especially seasonal fruits, are a convenient way to satisfy sugar cravings while furnishing essential vitamins and minerals. Consult your doctor if you are already pre-diabetic. Eat low-sugar fruits, such as berries, grapefruit, and apples.
Dark Chocolate: Dark chocolate is high in antioxidants and will aid in satisfying your sugar cravings with additional health benefits.
Yogurt: Yogurt, a prebiotic, is a good source of protein and calcium. You should include plain and unsweetened yogurt and top it with fresh fruits for natural sweetness.
Ensure a Healthy Pregnancy: The Benefits of Satvic Lifestyle
Avoiding sugar during pregnancy becomes crucial to prevent its associated complications for both the mother and the baby. You must monitor your sugar intake and carefully replace it with healthy and natural options like organic jaggery, honey, fruits, and homemade Indian foods, like dal.
Even if one is diagnosed with gestational diabetes, it can be managed and controlled with satvic approaches. Additionally, following a satvic lifestyle and incorporating  Satvic Foods' organic spices and immunity boosters can provide numerous health benefits in maintaining a healthy pregnancy and giving the baby the best start.
Explore Satvic Foods' exquisite blends for a healthy and smooth pregnancy!
Your Email Address Will Not Be Published. Required Fields Are Marked *