Father's Day 2023: Best Father's Day Gift Ideas to Impress Dad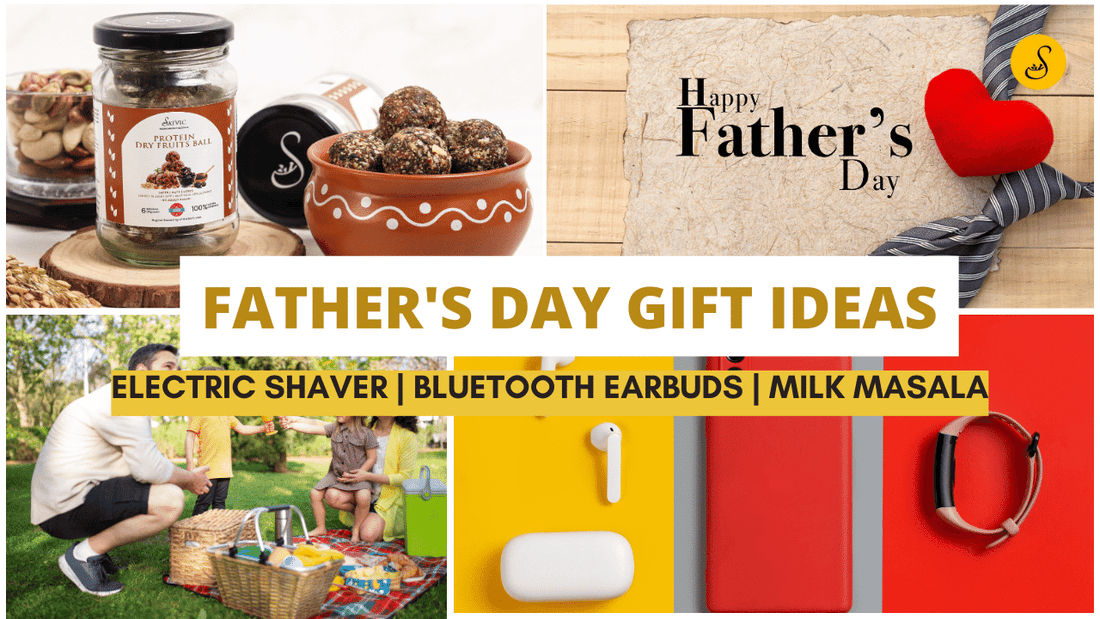 Father's Day 2023 is just around the corner, and if you're scratching your head wondering what to get your super dad, don't worry - Satvic Foods have got you covered. With our trendy and best Father's Day gift ideas, let him unwrap a gift that not only brings a smile to his face but also touches his heart with your loving gest
Before we hop onto the best Father's Day gift ideas, mark June 18, 2023. Father's Day is observed on the third Sunday of June every year, and this year, it's on June 18. 
Whether your dad is a tech geek, a sports fanatic, a foodie, or a stylish trendsetter, Satvic Foods has curated a list of the best Father's Day gift ideas for 2023, including last-minute and personalized gifts that will make your dad do a happy dance. 
If you are short on time and don't have a moment to spare to scroll through the entire article, we understand you! Satvic Foods' Golden Milk Masala may be your perfect gift for Father's Day 2023. It is a blend of 20+ natural ingredients with turmeric as its main ingredient - offering a delectable taste with health benefits like enhancing cardiac and brain health. 
Give your father a healthy gift to spice up Father's Day 2023 celebrations! 
Satvic Foods' Golden Milk Masala

- Reduces inflammation in the body

- Relieves gastrointestinal problems 

- Promotes deep sleep

- Prevents age-related cognitive decline

- Aid in skin and hair health
Best Father's Day Gift Ideas of 2023
What is the most popular gift given on Father's Day? According to us, fathers often appreciate thoughtful and practical gifts for these occasions. We believe you must be tired of searching for Father's Day gifts online. That's why we are here to help! We have curated a list of the best Father's Day gift ideas for 2023, ranging from tech recommendations and health boosters to personalized gifting ideas.
Trust us; this isn't your usual run-of-the-mill sponsored blog. Our dedicated team has spent 10+ hours of time scouring the depths of the internet to bring you the ultimate guide to the best Father's Day gift online.
You may use these ideas to celebrate all your father-figure personalities - your grandfather, father-in-law, brother, or any new dad in your circle. These ideas are sure to melt their hearts and make your bond grow even stronger. 
Even if you are short on time, don't stress at all! All these fabulous gifts are available on Amazon and Satvic Foods' websites with lightning-fast delivery. Now is the decision time to knock your dad's socks off and make this Father's Day 2023 a celebration to remember!
Coffee Maker: Is your dad a coffee lover? If so, this is the gift for you. Treat him to a state-of-the-art coffee maker that brews rich and flavorful cups of market-style latte.
You can improve it by accompanying it with Satvic Foods' Coffee Spice Mix. It is an aromatic spice blend made with 9 premium ingredients like cinnamon, clove, and basil leaves. Some of its benefits include aiding digestion, boosting immunity, and relieving cold and flu symptoms.
Order Satvic Foods' Coffee Spice Mix now to get your dad a delicious latte coffee at home!
Personalized Dinner Set: It's time to remind him he's not just the king of "dad jokes" but also the king of cool. You may get him personalized plates and glasses with his name or some symbol that is special to him engraved on them. Make his every eating experience a memorable one.
Satvic Foods' Rajwadi Garam Masala: A perfect gift for your chef dad. Or how about treating him to a special home-cooked meal by YOU? No matter what kids make, it's always a special occasion for dear fathers. If you are worried about your culinary skills or finding ways to add a royal touch for your King dad, Satvic Foods' Rajwadi Garam Masala is your one-stop solution.
From curries to biryanis, our Rajwadi Garam Masala - a blend of 30 north Indian spices - adds a punch of authentic Indian flavors to every dish.
Upgrade your family meals with Satvic Foods' Rajwadi Garam Masala - order now!
Electric Shaver: If your dad is still on those razors, it's time to upgrade his grooming routine with a top-of-the-line electric shaver. Don't tell him it will give a hassle-free shave every time, but that will make him look like a million bucks.
Fitness Tracker: Tell us how often you have heard the benefits (taunts) of waking up early at 5 in the morning. The bottom line is if your dad is all into fitness, introduce him to a cutting-edge fitness tracker to track his steps, heart rate, and sleep patterns.
Homemade Chocolaty Treat: Is celebrating special occasions with something chocolaty overrated? No way! Surprise your dad with hot chocolate or his favorite dessert with Satvic Foods' Chocolate Milk Masala. With 11 all-natural ingredients and zero sugar, it's a perfect way to satisfy his chocolate cravings. 
This is one of the best Father's Day gifts online.
We are sure this sweet treat will make your dad say, "Who needs a restaurant when I have you?"
Order now Satvic Foods' Chocolate Milk Masala for your chocolate lover dad.
Bluetooth Earbuds: The time has come to return the favor for all those childhood video games. For the tech-savvy dad, consider gifting him high-quality wireless earbuds for a seamless audio experience. 
Tech Gadgets: Time to do some homework! Find some smart home devices and the latest gadgets to explore the tech options that cater to your dad's interests and hobbies. 
For example, if he is a music lover, could there be any better gift than a compact portable Bluetooth speaker? However, be ready to dance to his favorite tunes whenever he wants.
Contemporary Wrist Watch: It's a timeless gift. For the boss your loving dad is, gifting him a sophisticated watch with smart features will add a touch of elegance to his style. 
Let him know it's okay to change the watch sometimes. Instead of going gaga over the best Father's Day gifts online, consider classic and timeless gifts this year.
A Healthy Breakfast/Snack Option: If your super dad is a fitness freak, consider gifting him vegan diet options like Satvic Foods' Crunchy & Creamy Peanut Butter Combo. 
Our Cashew Peanut Butter (Creamy) is made with 40% premium cashews, and the Almond Peanut Butter (Crunchy) with 80% premium almonds. Satvic Foods' Almond Peanut Butter (Crunchy) offers an impressive 30g protein per 100g, significantly higher than other market-bought peanut butter options.
Made with all-natural premium quality ingredients, Satvic Foods' Cashew Peanut Butter (Creamy) provides excellent nutritional value and possesses the incredible health benefits of cashews.
With Satvic Foods' Almond Peanut Butter (Crunchy), make his everyday breakfast and snacks a nutritional delight. It provides a whooping 30gm protein per 100gm. Additionally, Satvic Foods' Cashew Peanut Butter (Creamy) is high in protein and minerals like copper, magnesium, and zinc, which helps promote healthy bones, muscles, and overall well-being.
Your dad can spread any of the butter on toast, bread, pancakes, or smoothies or simply have a spoonful whenever he feels like eating something yummy!
Order Satvic Foods' Crunchy & Creamy Peanut Butter Combo now - a healthy vegan diet!
Hobby-related Gifts: Whether your dad enjoys painting, fishing, or gardening, find a gift that aligns with his hobbies and passion. Even better, make a do-it-yourself box that provides monthly projects with materials for your dad to re-ignite his creative side.
Alright, readers, we are just getting warmed up! But let's take a quick break and talk about some outdoor activities - picnics or camping!
Picnic and Camping Ideas: There's no better thing than spending quality time with your dad under the warm sun or the twinkling stars. Have you got any ideas for your first or next camping adventure? Consider visiting a nearby national park or a beach picnic.
And guess what? Satvic Foods' products will take your outdoor experience to the next level. Imagine your tasty picnic basket with goodies like Almond Peanut Butter (Crunchy), Kesari Thandai Mix, and Protein Dry Fruits Ball. 
Munch on Protein Dry Fruits Ball, spread Almond Peanut Butter (Crunchy) on the toast, or mix a spoon of Kesari Thandai Mix in your glass of cold milk. Each bite and sip is sure to make your moments heavenly. 
Enjoy the health benefits of almonds from all these premium products. These ready-made protein-rich foods and mouthwatering treats will make your picnic moments more memorable.
Order your picnic goodies from Satvic Foods today!
We told you this is not your ordinary gift guide. We sifted through countless options and handpicked the crème de la crème just for you. But this isn't the end of the list. Would you like to know some Father's Day gifts for free? 
Did you remember to order a gift, or did the delivery not arrive on time? Whatever the case, our last-minute Father's Day gifts idea is here to save your day.
DIY Father's Day Gifts Idea 2023: Personalized Father's Day Gifts
Last-minute Father's Day gifts demand creativity. It's time to pull down all your artistic skills up your sleeves and give your dad a one-of-a-kind gift. Yes, we are revealing some of the best timeless DIY Father's Day gift ideas.
Trust us, DIY or personalized Father's Day gifts have that personal touch to make your dad's heart melt faster than ice cream on a hot summer day. In this section, you will get answers to all your common questions - What gift a daughter can give to her father, Father's Day gifts from a son, Father's Day gifts for free, or what to do on Father's Day?
Get your creative juices flowing and be ready to feast your eyes on our fabulous finds:
Personalized Gift Card: Remember your childhood art classes? This timeless and classic personalized gift card will make him smile from ear to ear. And don't forget to include a dad joke, like "Why don't eggs tell jokes? Because they might crack up," or anything from your dad's guide! 
Handmade Photo Collage: Cut a cardboard piece of your desired size and cover it with colored paper. Gather your favorite pictures of you and your dad, and create a stunning collage that captures all the special moments you have shared. 
Add some of his famous puns in between to keep things loving and light alike. 
Customized Coasters: If your father is quite particular with coasters, consider adding an artistic touch to them. You may either paint his name's initials or draw symbols reflecting your bond with your dear father. 
Memory Jar: Grab a jar and fill it with colorful little notes. On each note, thank him for everything he has done for you and how grateful you are for those moments. Fill this memory jar with all your cherished memories and his terrible jokes to tell him why he is the best dad. 
And speaking of terrible jokes, here's a dad joke for you: "How did the scarecrow win an award? Because it was outstanding in his field!"
DIY Beard Oil: Get all the essential oils at your home, like tea tree, sandalwood, jojoba, and peppermint. Mix any 2 or 3 of them to create a customized beard oil to keep your dad's facial hair healthy. Paint his name's initials on the bottle for an extra loving gesture. 
We covered some amazing personalized Father's Day 2023 gifts ideas, but before we wrap up, let's talk about what to do on Father's Day. Remember, the most important gift you can give your dad is your time and create countless precious memories.
Father's Day 2023: Best Father's Day Gift Ideas
You may search for numerous Father's Day gifts online; however, the best gift you can give your dad is quality time, appreciation, and genuine connection. Whether you are cooking him a meal, enjoying a camping adventure, or simply spending the day together nested on your sofa, your presence and love mean more than any material item. 
Instead of filling your day with unhealthy snacks, surprise your dad with Satvic Foods' Golden Milk Masala. There are several magical and powerful effects of drinking turmeric milk, and it's time to take care of your dad with all you can. A gift of good health is way above all. 
Therefore, this Father's Day 2023, appreciate your dad for everything they have done for you. Explore the Father's Day gift ideas mentioned above and add your personal touch to them. Don't forget to capture those precious moments and create memories that will last a lifetime. 
Celebrate Father's Day 2023 with Satvic Foods' all-nature blends - order today!
Your Email Address Will Not Be Published. Required Fields Are Marked *