North Indian Spices: 5 Satvic Indian Spices Online to Add Nutrition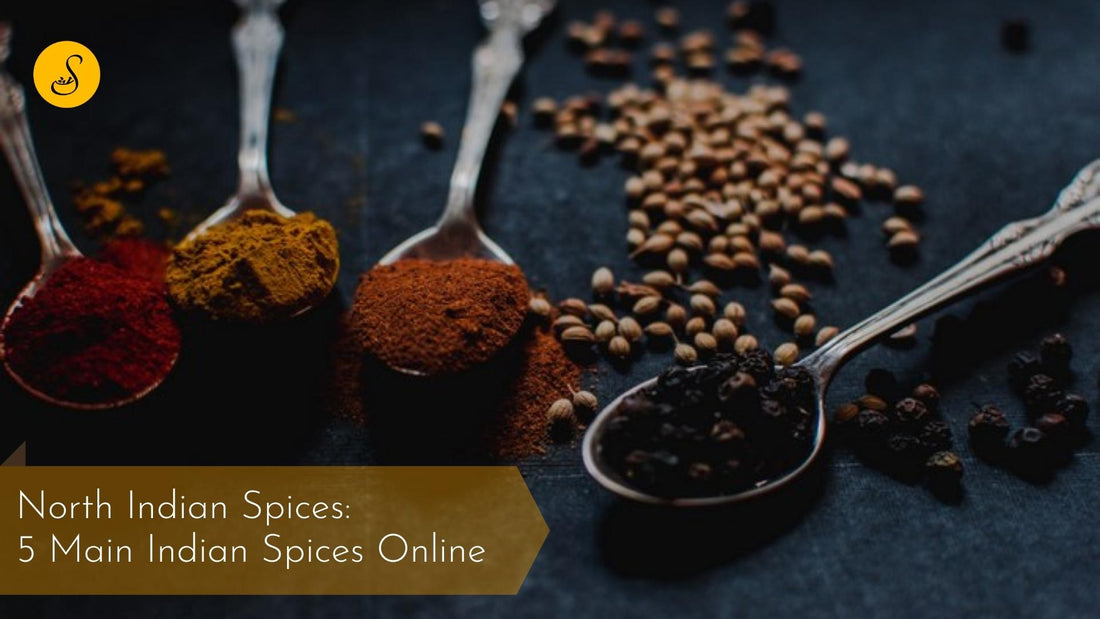 Spices are the foundation of Indian cuisine. Especially North Indian Spices form the heartbeat of Indian cooking. Indian spices list consists of more than 40 spices. You can get all these Indian spices online, but you must check the quality before you buy Indian Spices. A subtle change in quality can make the same flavoring taste entirely different.
ALSO READ: BENEFITS OF TURMERIC FOR MEN: INDIAN TURMERIC CURCUMIN'S BENEFITS
The 5 North Indian Spices that can help transform any dish into a tasty one are:
Turmeric
With an earthy flavor, this yellow-colored ground spice has great anti-inflammatory and anti-bacterial properties and has been used extensively in Ayurvedic medicines for thousands of years. When cooking a meal for the family, using only a teaspoon will add a nice flavor and color to your dish.
Cumin
Cumin seeds can be used whole and fried in oil at the beginning of a dish or can be powdered and used at any point during preparing a dish.
Coriander
The seeds of cilantro are one of the essential spices on our Indian spice list, and just like cumin, they can be used before or during cooking.
Cinnamon
Cinnamon is an ingredient you will easily find when buying Indian spices online. It is a sweet-tasting spice with a warm and woody aroma and makes a great ingredient for curries, cakes, and desserts.
Garam Masala
Among all the north Indian spices, Garam Masala top's the Indian spice list chart. It's a combination of dried spices, including pepper, cinnamon, nutmeg, cardamom, cumin, coriander, bay leaves, and some others.
Get the Best North Indian Spices at Home
Garam Masala is one of the most popular North Indian Spices that is extensively used to enhance the flavor of almost all dishes. The spice mix in Garam Masala is commonly known to increase body heat, which in turn increases the body's metabolism. With so many Indian Spices online options, choosing the authentic one is difficult. In such cases, we recommend you opt for homemade masalas.
Satvic Foods' Rajwadi Garam Masala is made with 100% natural, top-grade ingredients that are sun-dried and hand-ground to maintain their aromatic flavors. Just add a pinch of Rajwadi Garam Masala to any of your sabji or curry and provide your family with the wholesome benefits of numerous medicinal spices.
Satvic Foods' Delhi Pav Bhaji Masala is also there for those food lovers who just cannot say no to this fast food. With Delhi Pav Bhaji Masala, you can now enjoy that savory touch of Delhi Street food while getting all the nutritional values of your food at home.
Satvic Foods' Indian Spices are the best way to transform any meal into a tastier, healthier one without much fuss.
Importance of Satvic Foods' Indian Spices
According to an article by Wellcurve, each spice in the Indian spice list, apart from adding flavor, provides several health benefits. We hope our article on North Indian spices helps you identify and buy only the best Indian Spices online.
Your Email Address Will Not Be Published. Required Fields Are Marked *