Top 3 Protein Powders for Muscle Gain: 2023 Ultimate Guide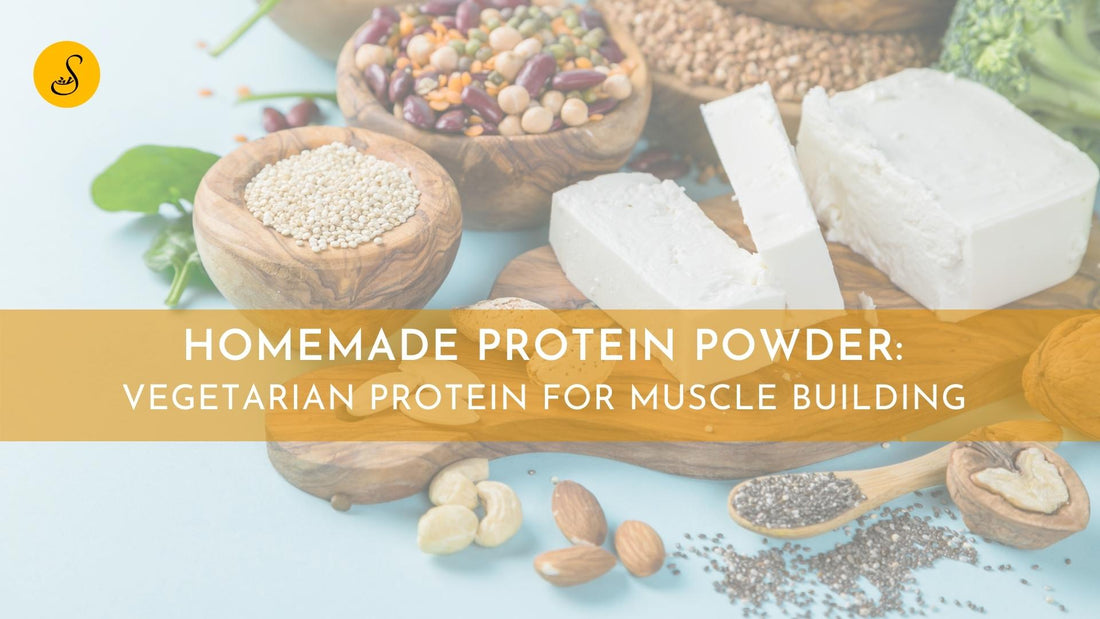 Protein powder for muscle gain is one of the popular supplements among fitness enthusiasts and athletes looking to gain muscle and for recovery goals. However, vegans and vegetarians usually have a tough time finding vegetarian and plant-based proteins for muscle building. Protein is an essential nutrient required for muscle growth and maintenance. However, most of the protein sources available are animal-based, whey, and collagen protein powder, which is concerning for vegetarians and vegans who want to build muscle.

Owing to the growing demand for plant-based protein powders, companies are now using sources such as peas, hemp, rice, and pumpkin to create plant-based protein powders. However, the additives behind the labels are questionable. In this regard, a satvic diet like homemade protein shake or homemade protein powder is the best option for gaining lean muscle and boosting metabolism with plant-based protein sources. In this Satvic Foods guide, let us explore the benefits of satvic diet, homemade and plant-based protein powder, how to make it for muscle building, and other protein foods and alternatives.
How do I Make Protein Powder for Muscle Gain at Home?
Store-bought protein supplements are often loaded with taste enhancers and artificial preservatives and may not be the best bargain for all. But, stress not! We will help you with your satvic diet and explain how to make protein shakes at home using all-natural ingredients. Below given options can be used as homemade protein for muscle building and also as homemade protein powder for people with diabetes:
Coconut And Almond Shake
Soak around 20 almonds and dry coconut in water overnight. Next morning grind them with 2 cups of water to make a thick paste. Now, add 2 cups of milk (almond milk, if vegan), a spoonful of flaxseeds, and a pinch of cinnamon. Stir the mixture, and your homemade protein shake is ready.
Chocolate Protein Powder
Put ½ cup oats into the blender or food processor along with ⅓ cup chia seeds, ground flaxseed, wheat germ, or hemp hearts. Add 2 tablespoons cocoa powder. Grind the mixture until smooth powder forms. Transfer this into an airtight container. This is one of the best protein powders for diabetic patients.
Mix about two tablespoons of protein powder with warm milk and have it anytime you are in the mood for a protein shake.
Berry Shake
Put half a cup of crushed berries (any berries of your choice) with 3/4th cup almond milk and 1/3rd cup of silken tofu into the blender. Add some chia seeds to it and blend it into a smooth mixture. Have it with a topping of chia seeds, and enjoy the fruity flavor of this homemade protein shake.
Studies about Protein and Muscle Mass
The Journal of the American Medical Directors Association published a systematic review and meta-analysis stating that protein supplementation increases muscle mass and physical performance in older adults. Long with a protein-rich diet and supplements, resistance strength training is equally essential to gain muscle. Another study published in The American Physiological Society and The Physiological Society found that consuming 40g of whey protein post-whole-body resistance exercise stimulates higher muscle protein synthesis and promotes muscle growth in young men.
Whey Protein for Muscle Gain
The problem with vegans and lactose-intolerant individuals is that they do not receive all the benefits of whey. Although plant-based whey options may seem like an obvious choice, they often lack essential amino acids, making them incomplete proteins. Some brands offer soy or fortified mixes that may provide a complete protein source, but these options can be heavy on one's pocket with no guarantee that they are preservative-free. So, what is the solution?
Muscle gain requires wholesome carbohydrates, but opting for empty calories like sugars will do more harm. The benefits of Indian recipes and satvic diet are immense as they are nutrient-dense food with a combination of protein, carbs, healthy fats, and essential minerals and vitamins.
Satvic Foods' Protein Dry Fruits Ball, crafted from 19 natural ingredients including dates, nuts, seeds, and cinnamon, embodies the principles of satvic diet and Indian food wisdom. With 15g of protein per ball, it supports muscle growth and provides balanced macronutrients. Being dairy-free and allergen-friendly makes it convenient for a wide range of dietary needs and a healthier snack option than many whey protein powders without being pricey. 
Are you working round the clock? Whether you are rushing to work or hitting the gym, Satvic Foods' Protein Dry Fruits Ball is the perfect snack to keep you fueled and on track toward your health goals. You can add them to your homemade protein shakes to make them healthier and tastier. In simpler words, you are free to choose when you want to eat this Protein Dry Fruits Ball.
Experience the difference with Satvic Foods' Protein Dry Fruits Ball!
Are you still munching on the marketed protein supplements with questionable additives? Upgrade to Satvic Foods' Protein Dry Fruits Ball for a healthier dairy-free post-workout snack. Zero sugar and no preservatives.#satvicfoods #protein #LSGvsCSK #IPL2023 pic.twitter.com/V3suuhdIP4

— Satvic Foods (@SatvicFoods) May 3, 2023
Best Protein Food for Muscle Gain
The Academy of Nutrition and Dietetics claims that a vegetarian or plant-based vegan diet can provide all the nutritional requirements of adults, children, and those with certain health conditions. Given below are some of the high-protein food options which you can incorporate into your daily diet regime:
Peanuts: Peanuts are one of the high-protein nuts, with approximately 20.5 g of protein per ½ cup. Therefore, peanut butter is so essential in muscle building. 
Instead of opting for store-bought peanut butter, which has hydrogenated oils and flavoring agents, you can opt for organic Satvic Foods' Almond Peanut Butter (Crunchy). It contains 30g of protein per 100g, making it a healthier, preservative-free, and cost-effective alternative to any other peanut butter. Moreover, you can control the ingredients, adjust sweetness, experiment with flavors, and enjoy a good source of protein, healthy fats, and fiber.
Try Satvic Foods' Almond Peanut Butter (Crunchy) for a satisfying experience!
Craving a delicious spread for your toast, that's also healthy? Indulge in the plant-based rich Chocolate Almond Butter for an appetizing source of protein, Vitamin E, antioxidants, healthy fats, and fiber.#satvicfoods #LetEmKnow #chocolate #butter #healthy pic.twitter.com/V2BAlVbfbd

— Satvic Foods (@SatvicFoods) April 27, 2023
Quinoa: Quinoa is a complete protein food with all nine essential amino acids that the human body needs.
Lentils: Lentils, both red and green, are storehouses of protein, fiber, and key minerals like iron and potassium. They are one of the vital key components of a satvic diet. You may eat them as curries, salads, or stews and make your lunch or dinner a power-punch routine.
Nuts and Seeds: Almonds contain 16.5 g of protein per ½ cup, and chia and hemp seeds are complete protein sources with 2g and 5g of protein per tablespoon, respectively.
Other foods include beans, dals, starchy vegetables, full-fat dairy, and leafy greens and vegetables, among others. Be mindful of the fact that not all foods have complete protein or complete nutrition. Hence, eating a varied diet is essential to fulfilling dietary needs.
Maximizing Muscle Growth with Satvic Foods
The human body requires a daily protein intake of at least 0.8 grams per kilogram of body weight or 1.2 grams if you are into strenuous activities. Further, a plant-based diet also lowers the risk of diseases, such as heart disease and cancer, states the Academy of Nutrition and Dietetics. Hence, vegans and vegetarians should consume varied plant-based foods to ensure they fulfill all their dietary needs to gain muscle. Consult a dietician if you face problems achieving the desired results or before starting any supplements.
In conclusion, a mindful approach and a satvic diet and satvic lifestyle play a crucial role in muscle gain. We hope our protein powder for muscle gain recipes serves as a helpful resource on your journey towards a healthier lifestyle. While protein powder for muscle gain and shakes can be a convenient way to meet daily protein needs, it is essential to maintain a balanced diet. 
Boost muscle gain with Satvic Foods' exquisite blends!
Your Email Address Will Not Be Published. Required Fields Are Marked *