Hair Care Tips for Men: How Men Can Achieve Great Hair in 2023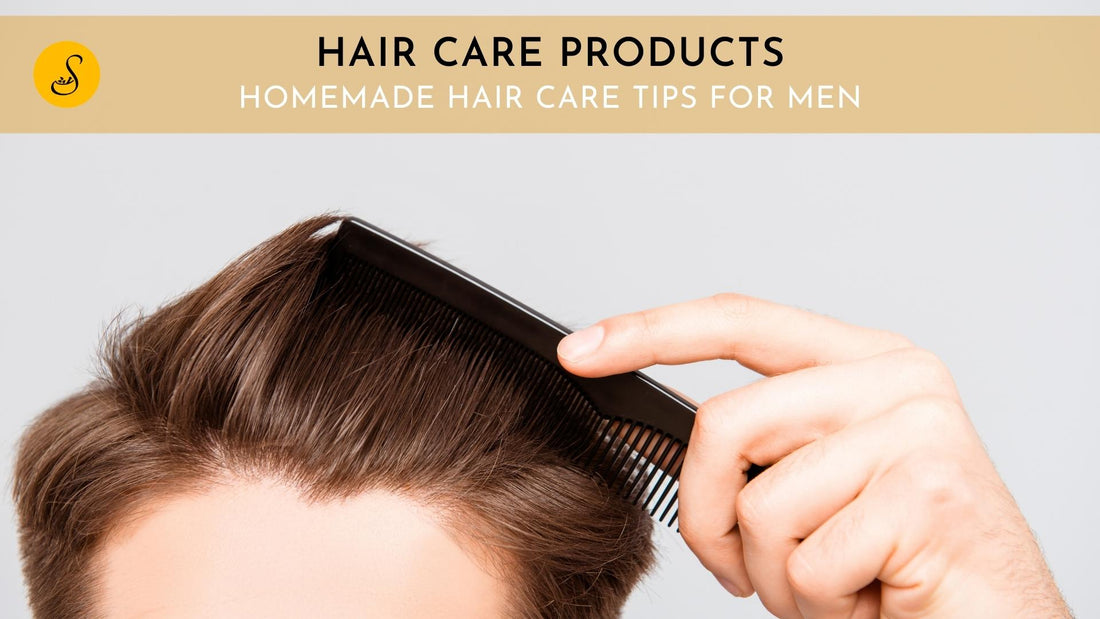 Hair care tips for men and women are equally essential. Men's hair demands attention as they deserve gentle care and treatment to stay strong and shiny. After all, hair is an integral part of their look, and healthy hair is a great confidence booster.
When it comes to hair care routines for men, there is no real difference between women's and men's hair. The only notable point is women are willing to go for elaborate hair care regimes, while men prefer a no-fuss natural hair care routine, and we respect that!
So, if you are a male trying to tame your mane, we have listed some of the most easy-to-go hair care tips for men. 
Hair Care Tips for Men: How to get a good hair day?
With so many products and treatments in the market, choosing among them can be a big task. However, following the basics is crucial before jumping onto the products. Let's go over them in detail below:
Massage with oil
Oiling is one of the most effective hair care tips for men if they have damaged hair, drying tresses, split ends, and dandruff. A quick massage will help with blood circulation in your scalp, strengthening the hair follicles and can be considered the best hair loss treatment for men.
Choose the right shampoo
Shampoos loaded with harmful chemicals are not suitable for hair. Including natural ingredients like amla, reetha, and shikakai in men's hair care products is a healthier routine. 
The easiest way to incorporate the goodness of these herbs is with Satvic Foods' Shikakai Hair Therapy. It's not just shampoo but one of the best men's hair care products that will clean and condition the scalp while promoting hair growth in men.
Try Satvic Foods' Shikakai Hair Therapy to make your hair care regime effective and efficient!
Avoid Overwashing
An ordinary haircare mistake, men commit to washing their hair every day. Although it is essential to keep the scalp clean, washing hair twice or thrice a week is enough. 
Overwashing often leads to the drying out of essential oils from the scalp. A hair care routine for men must be made based on their scalp's needs, which might mean that not all of them need to wash their hair daily.
Go easy on styling products
Men use many styling products like hair gel and spray to keep their hair styling intact. A hair styling tip for guys would be to go easy with these products as they contain many harmful chemicals or switch to chemical-free hair styling products.
Eat healthily
Nutrition always has a role in how our body responds in different ways. So, even if we are discussing hair care tips for men, mentioning eating healthy is a must.
Try eating home-cooked food as much as possible. Include berries, spinach, nuts, avocados, and other hair growth-promoting foods in your daily diet. 
You can access the benefits of nuts with Satvic Foods' Protein Dry Fruits Ball, a popular meal replacement protein-rich bar with a convenient source of nutrition from almonds, cashews, walnuts, dates, and several natural seeds. 
Try Satvic Foods' Protein Dry Fruits Ball to enjoy nuts' wholesome flavors and benefits!
The bottom line on hair care tips for men
There's no denying the importance of how a man's hair looks. They are allowed to be possessive about their hair's strength and deserve access to the best hair care routine for men. 
Everything has a vital role, from applying the essential tips related to oiling and washing to keeping track of nutrient intake. You can include Indian superfoods for healthy eating in your diet for better results.
Homemade hair care therapy and food items are not only easy to use but also have long-term positive results to show. 
With Satvic Foods' Shikakai Hair Therapy, you can care for your hair and restore its strength with handpicked natural ingredients. 
Your Email Address Will Not Be Published. Required Fields Are Marked *