Indian Food Myths: Facts Behind These Homemade Food Myths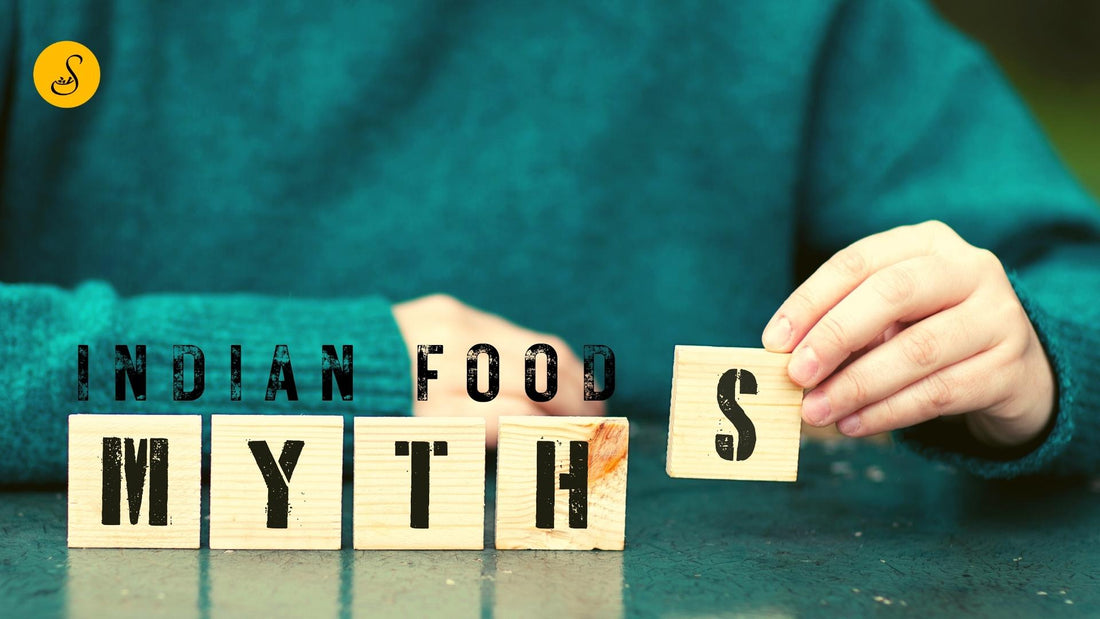 There are numerous misconceptions, myths, and fads about Indian Food. Now and then, something new seems to pop up. Most of them usually start as baseless claims spread through word of mouth or the media.
Some of these misconceptions about Indian Food include that desi ghee and eggs are bad for health, and the most popular one -- vegetarian Food does not meet the nutritional and protein requirements of the body. The truth is that both ghee and milk provide an excellent energy source and have been termed as immunity-boosting Food for ages.
ALSO READ: INDIAN DESSERTS IN WINTER: DELICIOUS HOMEMADE DESSERTS TO ENJOY DURING WINTER
Here are some common myths and facts about Indian Food and its effect on our health:
Desi Ghee is Bad for Health
Even though desi ghee has been a staple Indian food for thousands of years, it is often the culprit of obesity, weight gain, and strokes. Some even consider it harmful to overall health.

Fact:
Desi ghee is an immunity-boosting food containing conjugated linoleic acid (CLA), which fastens metabolism and aids weight loss. Besides, desi ghee is rich in antioxidants and fat-soluble vitamins such as A, D, and E, which help lower the risk of cardiovascular disease and improve overall health.
Eggs are bad for health
You must have heard this one- Eggs can increase our blood cholesterol level, affecting our heart health.
Fact:
Egg whites are a great source of protein, riboflavin, and selenium, while egg yolks contain essential nutrients and protein. So, egg lovers can rejoice as research has shown no effect of daily egg intake on the blood cholesterol levels of a healthy person.

Vegetarian Food does not meet the nutritional and protein requirements of the body.
Many myths are prevailing about the health implications of vegetarian Food.
Fact:
Most of us associate protein with meat, ignoring that Plant-based protein contains more dietary fiber and less saturated fat than animal-based protein sources. Also, vegans now have the perfect option to meet their regular calorie, protein, and carb intake with Satvic Foods' Protein Dry Fruits Ball, a protein-rich bar made with non-dairy products and no added sugar.

Milk is bad after a certain age!
Another not so true myth about milk
Fact:
Milk contains all nine essential amino acids necessary for the principal functioning of the body. It is also a rich source of vitamin D, B12, magnesium, zinc, and thiamine, making it the most important immunity-boosting Food for all ages. You can now add turmeric's antioxidant and antiseptic properties and several other Indian spices with your regular milk with Satvic Foods' Golden Milk Masala.
Indian Food Myths
While social media nowadays are flooded with endless food myths and their effect on our health, The Food Safety and Standards Authority of India (FSSAI) shared a series of tweets on "Myths and Facts on Food Safety and Nutrition." You can check them in the article published by iDiva.
ALSO READ: BEST DIET AFTER PREGNANCY: 11 HEALTHY FOOD DIET TO FOLLOW AFTER DELIVERY
Indian Foods and their effect on our health
Indian Food comprising vegetables, lentils, curd, etc., serves as immunity-boosting Food that provides an excellent energy source to us. So next time, be sure to check the facts before you fall prey to the trending food myths about Indian Food.
Your Email Address Will Not Be Published. Required Fields Are Marked *