Indian Desserts in Winter: Delicious Homemade Desserts to Enjoy During Winter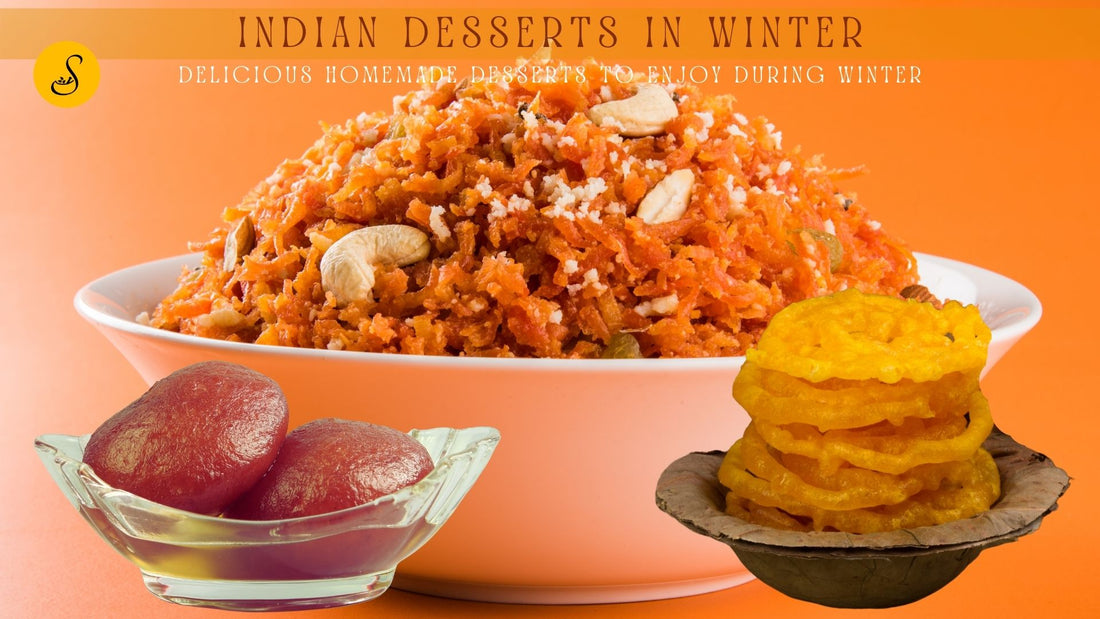 Unlike the summers, where we look for cool, soothing food, winter is about lavish foods and delicious Indian Desserts. Winter is incomplete without sitting with friends and family and enjoying warm homemade food and homemade desserts.
Nevertheless, when it comes to winter food, we usually think of cakes and puddings, ignoring our traditional Indian food, tagging them as usual and boring. However, why look towards the West when so many tasty, desi dessert options are available to us, especially when they can add nutritional value to our homemade desserts?
ALSO READ: WOMEN'S HEALTH IN 2022: WELLNESS, FITNESS, MENTAL HEALTH IN WOMEN
If you are craving something sweet and healthy this winter, here are some delectably sweet and easy homemade recipes of Indian desserts. Read on to know about the classic homemade desserts that tug at heartstrings:
Gajar Ka Halwa
It is one of the most popular Indian desserts, made by grating carrots and then simmering in milk or khoya and sugar. Gajar ka halwa is rich and nutritious and is served hot with nuts and dried fruits.
Moong ki Dal ka halwa
Moong ki Dal ka Halwa is yet another homemade dessert that is an absolute favorite in winter. This dish is everyone's favorite during winters because of the presence of lots of pure ghee and the warmth it provides. Prepare this winter food with lots of pure ghee and carry it along for picnics with the family.
Rice Kheer
Rice Kheer or Rice pudding is one of the most popular traditional Indian Desserts made with basmati rice, whole milk, sugar, nuts, saffron, and cardamom and is slow-cooked to perfection. Make your kheer a little special this winter by using Satvic Foods' versatile Kesari Thandai Mix powder and add the refreshing flavor of thandai to your homemade winter desserts.
Til Ka Ladoo
Sesame seeds and jaggery are rolled into decadent balls of sweetness and served during the winter festivals of Lohri and Makar Sakranti. Both these ingredients are known for their energy-boosting and natural warming properties.
Mixed Nut Coconut Burfi
This winter food is made with fresh coconut, roasted and chopped mixed nuts, mawa/khoya, and sugar/jaggery/ coconut palm sugar. This Indian dessert is packed with nutrients and can be a healthy dessert option for your family. Another easy and healthy option can be Satvic Foods' Protein Dry Fruits Balls made using non-dairy products and no added sugar.
Indian Desserts for a Healthy Winter
To know the easy homemade recipe of these flavourful Indian Desserts, follow the Milkmaid article --The idea behind including Indian Desserts in your winter food is to pack nutrition, warming ingredients, energy boosters, and of course, taste into one delicious dessert.
ALSO READ: WASH HAIR CAREFULLY: SATVIC WAYS TO CURE DANDRUFF ISSUE AT HOME
With the late January and early February donning festive colors of Valentine's Day and Holi, along with elaborate feasts and family gatherings, we hope these Indian Desserts add a healthy touch to your festive meals.
Your Email Address Will Not Be Published. Required Fields Are Marked *