Satvic Christmas Food Traditions: Best Christmas Food in India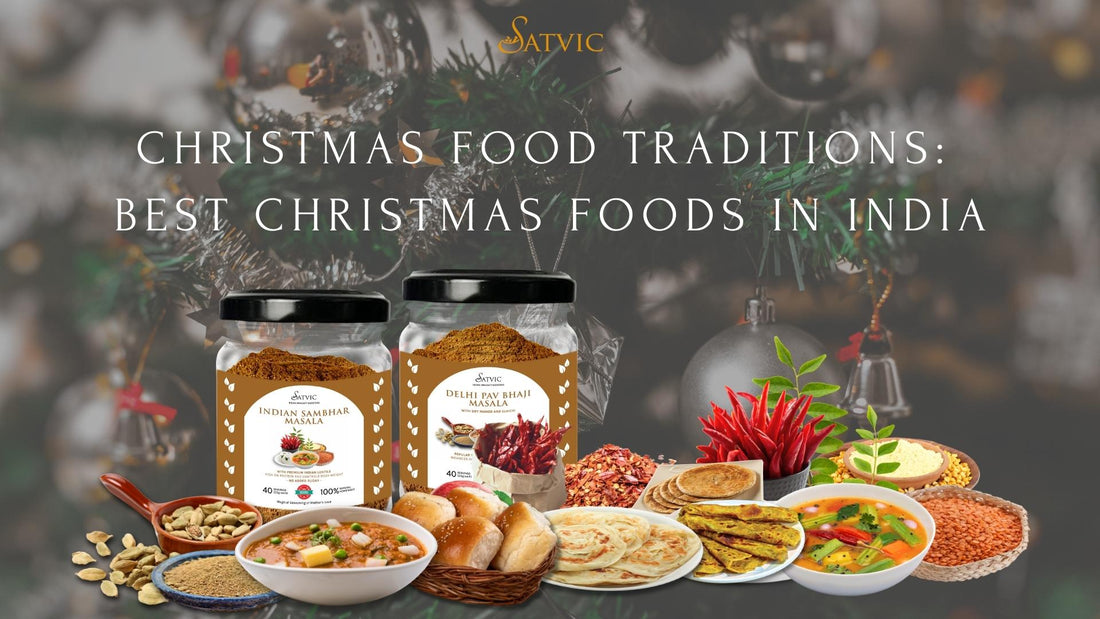 Christmas food traditions are all about relishing a variety of delicious dishes with our loved ones. With just a few days to Christmas, you must be busy making a Christmas food list for your dinner guests. While the traditional Christmas foods are listed for your dinner party, what are the Christmas morning food traditions at your house?
Christmas is not just an evening celebration. It's a feeling of togetherness. So, while you gorge on your traditional Christmas foods for dinner, why not make new Christmas morning food traditions this time? Why not sit as a family and enjoy a light, easy Christmas lunch and share the happy memories of the year?
Yes, we understand your Christmas food list needs a lot of preparation time, so we have listed down a few easy-to-make Indian dishes that all can enjoy in the family.
Here's a list of Christmas food, India style for our readers:
Khichdi: The traditional South Asian cuisine made of rice and lentils can be a light and easy lunch meal that can surely make a place in your Christmas morning food traditions.
Rice and Sambar: There's nothing like enjoying a hot plate of rice and sambar with your family on a cold winter afternoon.
Pav-Bhaji: The fast food that is unanimously loved by all can be turned into a healthy lunch by mixing fresh seasonal vegetables and all-natural spices.
Parathas and curd for those who don't like having rice for lunch.
Roti and Sabzi are the best options for those watching their weight.
ALSO READ: CHRISTMAS FOOD IN 2021: POPULAR SATVIC CHRISTMAS FOODS IN INDIA
Spice up Your Morning Christmas Food List
The meal options we presented above may sound like a normal meal for you. But before you start reading another Christmas food India article, give us the time to complete the meal ideas. Spice up these everyday food items with Satvic Foods' Indian Spices and make your meals taste better while making your family healthier. Be it the normal khichri we mentioned or the paratha curd we suggested, Satvic Foods' Indian Spices can help you make each of these dishes special while providing all the health benefits of the natural spices.
From Spicy Paratha Mix, to make your regular parathas spicier, to giving your homemade Pav Bhaji the famous North Indian touch with Delhi Pav-Bhaji Masala, Satvic Foods' Indian Spices have a variety of masala powders that are made with top-grade ingredients, sundried and hand-ground to ensure the nutritional values of these spices remain intact.
However, none of these Masala powders are intended to diagnose, treat, or cure any disease. Please consult with your doctor or nutritionist before consuming any homemade masala powders.
ALSO READ: [EXCLUSIVE]CHRISTMAS SALES 2021: BEST CHRISTMAS SALES ONLINE IN INDIA
Time for Christmas Dinner
Now that you are sorted with Christmas lunch, we hope you have a gala time enjoying your Christmas food traditions for the night. However, if you are looking for interesting ideas for Christmas Dinner, NDTV Food has published some interesting ideas that can be useful for you.
Your Email Address Will Not Be Published. Required Fields Are Marked *