Christmas Food in 2021: Popular Satvic Christmas Foods in India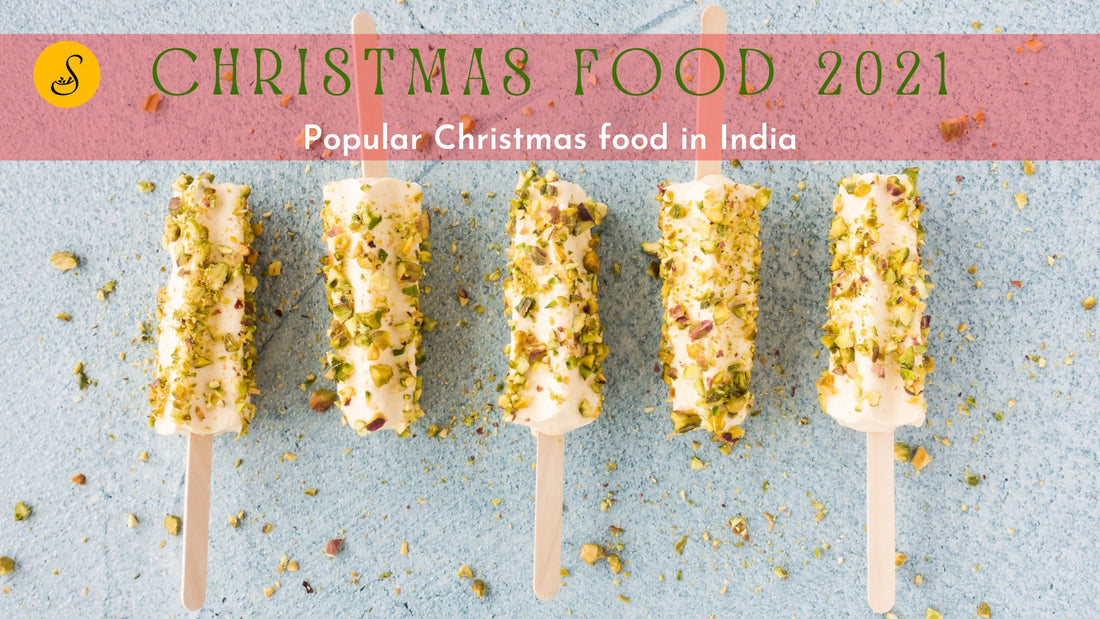 Christmas is almost here, and so is the time to enjoy yourself with your friends and family. It is also the time to gorge on your favorite Christmas food items, sing carols, and enjoy Christmas movies with your loved ones. While most of the Christmas food traditions include eggnogs, plump cakes, and gingerbread houses, many of us may look for recipes without alcohol that everyone in the family can enjoy.
For those of you looking for the best Christmas Food in 2021, here is a list of amazing Indian Christmas desserts that are sure to make it to your list of Favourite Christmas Food from this year onwards.
Kulfi
Yes, the "traditional Indian ice cream" is a complete vegetarian dessert and can easily take the place of puddings in your Christmas dinner, especially for those looking for vegetarian dessert options.
ALSO READ: CHRISTMAS RECIPES DESSERTS: SATVIC CHRISTMAS RECIPES INDIA
Rabri / Rasmalai
For those who want to avoid cold desserts, Rabri or Rasmalai can be another great dessert option that you can include in your new traditional Christmas food list.
Kesar Cookies
The benefits of saffron are innumerable. From protecting against cold to memory retention, saffron can easily be called a wonder spice. So, making Kesar cookies in place of regular chocolate cookies may be a good idea to add a healthy twist to your list of Christmas Food, 2021.
Kesar Thandai Cupcakes or Cakes
If your Christmas Food items must include a cake or cupcake, we suggest you try a unique flavor this year. Same as Kesari cookies, you can bake a Kesar-flavoured cake this year and add the health benefits of Kesar to your Christmas dinner.
Milk for beverage
No, don't get us wrong. We are not asking you to serve plain bland milk as a beverage at your party. You can spice up your milk with turmeric, cinnamon, and other flavored mixes that will not only add a healthy touch but can also be served in place of eggnogs or aerated drinks.
Preparing these unique Christmas food items at home
The food mentioned above items may sound hard to prepare but trust us when we say it's as easy as unique, they sound. You can always buy Kesar and make a powder with all your favorite items beforehand. All you need to do is add them to your normal recipe. You can also opt for Satvic Foods' versatile Kesari Thandai Mix powder made with 100% natural ingredients that make it healthy and easy to use for everyone. As stated above, mix the required amount to your traditional Christmas food items or recipes, and give a Satvic healthy spunk to all your dishes.
Loaded with flavors of pure saffron, green cardamom, and rose petals & nuts, Kesari Thandai Mix powder can be a great addition to your dessert's recipes.  But please note that these immunity masalas cannot be used as a replacement for any medicines prescribed by your doctor. We would advise you to consult with your physician before starting any homemade supplements or any other medicines.
ALSO READ: INDIAN HOME REMEDIES FOR SILKY HAIR: SHIKAKAI'S BENEFITS TO GET SHINY HAIR AT HOME
Bonus Tips Regarding Christmas Foods in India
We hope our ideas help you don the Santa Claus cap and help you make new Christmas food traditions this year. For more such unique ideas, you can check out The Spruce Eats take on it. Christmas Foods have always been in-high demand during the festival season. Ensure you consider everything before going out and shopping for popular Christmas Food in 2021.
Your Email Address Will Not Be Published. Required Fields Are Marked *