Christmas Recipes Desserts: Satvic Christmas Recipes India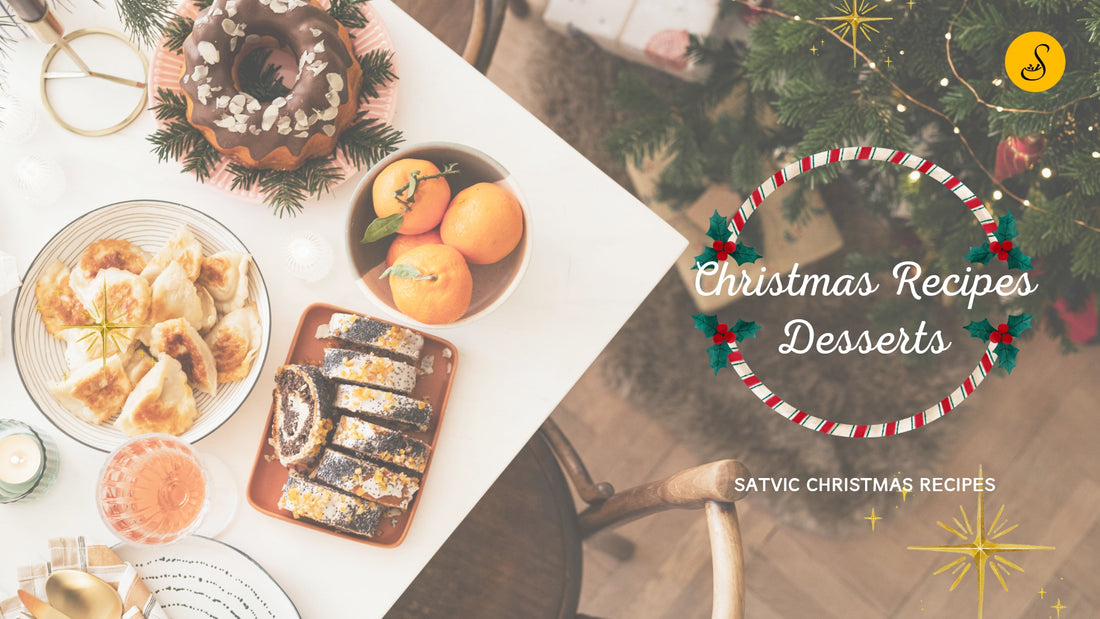 Christmas is the most-loved festival among children. And rightfully so! The holiday cheer, the air filled with mirth, the little ones singing and dancing are a delight to watch. It is also the time to organize Christmas parties and prepare Christmas recipes for the little ones and their friends.
But the classic recipes that work throughout the year may not work for the festive season. You need some of the best Christmas recipes that are different, keeping in mind the health and safety of your kids. So, instead of serving them unhealthy savories and desserts, try these Satvic Christmas recipes this holiday season.
Fruit Salad
Cut different kinds of seasonal fruits like oranges, bananas, grapes, and apples in a bowl and add a little bit of lemon juice and jaggery powder, mix them up, and there you have your bowl of colorful, healthy, and fresh snacks for the party.
Milkshakes
While chocolate milkshakes may be a hit throughout the year, try adding Satvic Foods' Golden Milk Masala, Cinnamon Chai Masala, or Kesari Thandai Mix to their milk and serve them a healthy beverage for the party.
Ice Pops
Another favorite among kids, Ice pops can be the best Christmas recipe dessert for your kids' party. Add any of the mixes mentioned above to milk or water, refrigerate them in a mold, and have your ice pops ready for the party.
Carrot Stars
Cut carrot in the shape of stars and cover and microwave on high for 3 minutes. Now strain the carrots, garnish them with cheddar cheese, and there you have your healthy replacement for chips and nachos.
Cupcakes and Cakes
No Christmas party is ever complete without a cake. But when it comes to children, the classic Christmas recipes containing alcohol may not work for them. Mix Satvic Foods' Kesari Thandai Mix to any non-alcoholic Christmas recipe dessert and make your Christmas cake a one to relish. 
Benefits of These Satvic Foods Christmas Recipes
The ideas mentioned above are the best Christmas recipes for children's parties and for those looking for something different for their Christmas recipes dessert. Satvic Foods' Kesari Thandai Mix powder is made with 100% natural ingredients, like pure saffron, green cardamom, rose petals, and nuts. Kesari Thandai Mix powder is great to flavor your milk or use in desserts, making it a perfect way to make your Christmas Recipes easy, healthy, and stand-out this year.
It must be remembered that Satvic Foods' Kesari Thandai Mix powder or any of the products mentioned above are not intended to diagnose, treat, or cure any disease. It is highly recommended to consult with your physician or nutritionist before consuming any homemade masala products.
ALSO READ: 5 HEALTH BENEFITS OF CARDAMOM THAT WILL SURPRISE YOU
Satvic Foods Christmas Recipes Desserts
Whether you are organizing a party at your house or taking food over to a friend's place, these Christmas recipes can be a healthy, Satvic addition to every party. To know more about healthy Christmas party recipes, follow this article by BBC Good Food.
Always remember, Christmas festival comes once a year and your family deserve the best Christmas cake or Christmas desserts.
Your Email Address Will Not Be Published. Required Fields Are Marked *