Christmas Desserts in India: Satvic Drinks for Christmas Eve 2021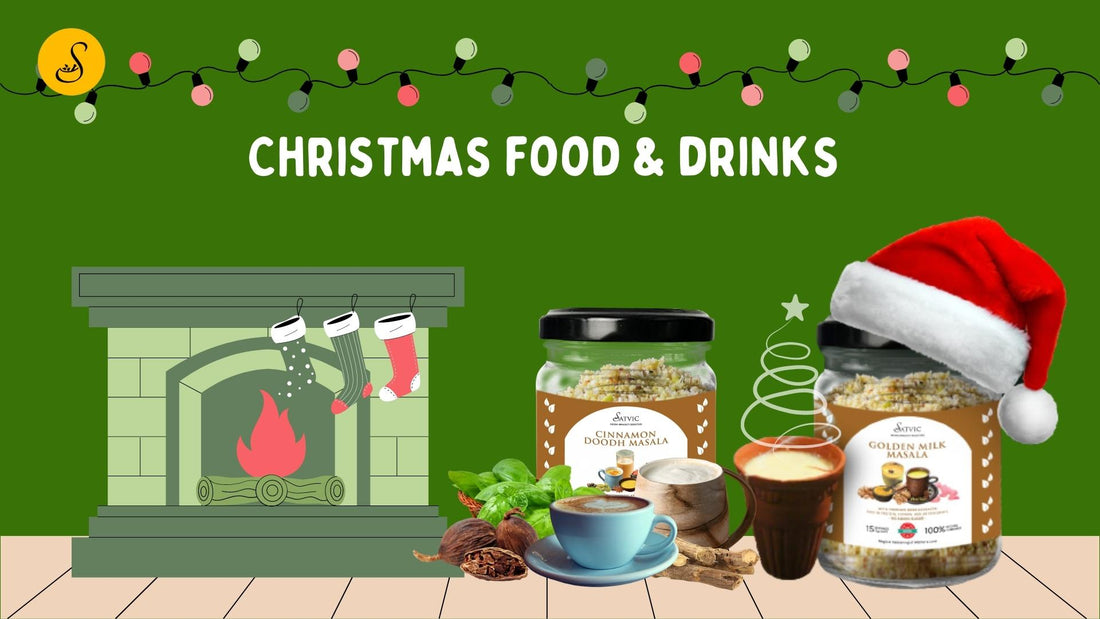 Among the many Christmas traditions to look forward to each year, Christmas drinks like cocktails and punches are favored by everyone. From eggnogs to Christmas cakes, classic Christmas food around the world all have one thing in common- a good amount of alcohol.
While the internet is filled with alcohol-induced Christmas food deserts ideas and alcoholic Christmas drinks recipe, teetotallers and kids are restricted to unhealthy aerated drinks. But Christmas is all about enjoying the holiday spirit together. So why not make your Christmas drinks family-friendly this year?
ALSO READ: SATVIC CHRISTMAS FOOD TRADITIONS: BEST CHRISTMAS FOOD IN INDIA
At Satvic Foods, we believe that Christmas food desserts can be made joyful even without mixing alcohol in them. Here are some amazing, simple, and healthy traditional Satvic drinks that are sure to make a place in your non-alcoholic Christmas food list this year:
Fresh Fruit Juice
Nothing, and we mean absolutely nothing, can compete with a nice, refreshing, freshly made fruit juice when it comes to beverage options.
Coconut Water
For us, nature's very own beverage, why not serve them instead of aerated or alcoholic drinks for your Christmas party?
Cinnamon Milk
Cinnamon is known to be a heat-generating spice, and adding them with milk will not only give Christmas-y zing to your milk but also keep you warm in the chilly weather.
Turmeric Milk
No one is unaware of the benefits of turmeric milk, yet when it comes to beverage options, we somehow skip this drink- well, maybe not this time.
Thandai
Why limit this refreshing drink just for summers? For cold-beverage lovers, Thandai can be a great option as a Christmas drink as well.
Preparing These Traditional Satvic Drinks
While fresh fruit juices and coconut water need no special preparation, you may feel like skipping the last three drinks due to their prepping time. Well, we have that solution as well!
Satvic Foods brings to you easy-to-use Golden Milk Masala, Cinnamon Doodh Masala, and Kesari Thandai Mix powder that can be added to your milk to make them healthy and tasty for you and your family. These mixes are made with 100% natural ingredients that can boost your immunity while giving your Christmas drinks our Satvic touch.
In Ayurveda, these spices are known to safeguard us against an array of diseases. However, any of Satvic Foods' products should not be used to diagnose, treat, or cure any disease. Please consult with your doctor or nutritionist before consuming any homemade masala products.
ALSO READ: CHRISTMAS FOOD IN 2021: POPULAR SATVIC CHRISTMAS FOODS IN INDIA
Ending on a Merrier, Healthier Note
With a nip in the air, Christmas cheer everywhere and not to forget the rising levels of pollution out there, we hope these warming and immunity-boosting, traditional Satvic drink recipes make a permanent place in your Christmas food dessert list. You can follow more such non-alcoholic drink ideas in BBC good Food article.
Remember, Christmas is a family-tradition and you should consider everyone when you go ahead and make desserts for everyone.
Your Email Address Will Not Be Published. Required Fields Are Marked *