Christmas Sales 2021: Satvic Christmas Sales in India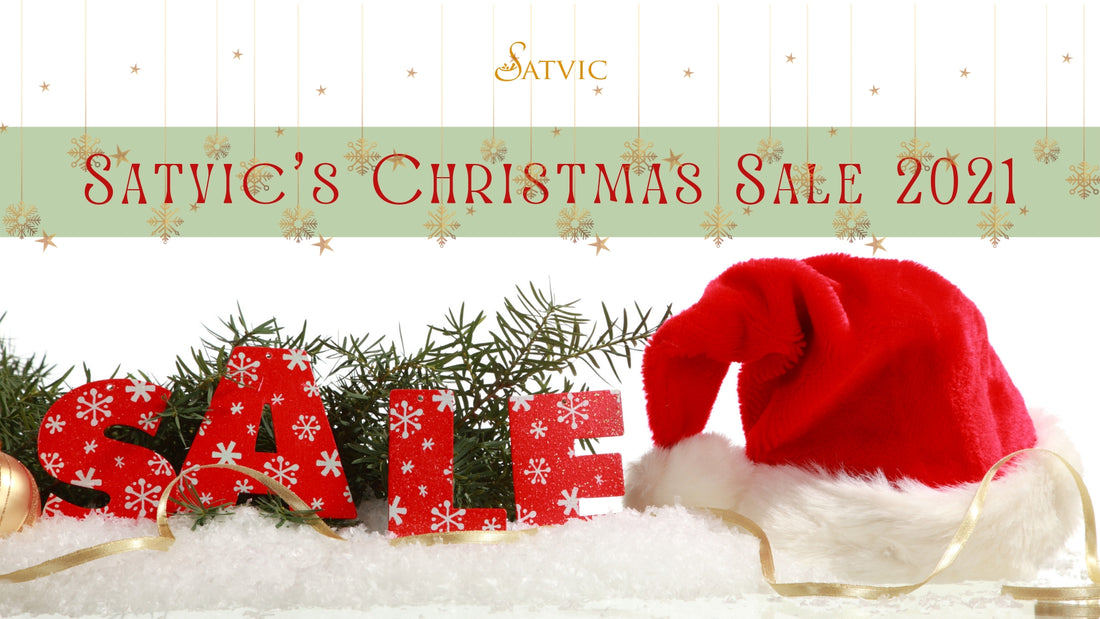 After everything we went through over the last few years, one thing we all have come to realize is that we must take care of our health. Whether it's meditation, a fitness routine, or the food we eat, we must ensure we adopt a healthy lifestyle. So why not start with the holiday season?
With all the Christmas sales going on now, why not gift yourself and your loved ones something healthy for Christmas? With the market bombarded with "Christmas sales offer in India" and "Free Christmas Gifts" advertisements everywhere, India is time to grab the best offer on Christmas sales. Be it for yourself or the friend who has recovered from COVID-19 a few days back, a healthy gift for Christmas can never go wrong.
ALSO READ: SATVIC CHRISTMAS FOOD TRADITIONS: BEST CHRISTMAS FOOD IN INDIA
While the idea sounds intriguing, we understand how overwhelming it can be to find that perfect, "healthy" present that can be gifted to everyone. So, to relieve you from the endless searches through the internet, we present to you Satvic Foods exiting Christmas Sale 2021 offers:
Satvic Foods is now offering special, Satvic sales for every buyer-
50% off on all Immunity Boosters and Indian Spices
10% off on all orders above Rs 1,000; and the best one
A Freebee on every purchase
Satvic Christmas Sales in India
Made with 100% natural, top-grade ingredients, Satvic Foods Christmas sales 2021 offer is here to give your immune system the much-needed boost. Be it the 75g jar for yourself, the 100g jar for your mom and dad, or the 200g jar for your friend's family, you now get all the Satvic Foods products in multiple variants.
Satvic Foods, Immunity Boosters can add flavor to your everyday beverage while boosting your immunity against seasonal flu; the Indian Spices, on the other hand, can be a great gift for those who are too busy with work and do not have time to make masalas for home-made meals. The Protein Dry Fruits Ball, too, is a healthy gift item for that sweet-toothed friend of yours. And, for the beauty-conscious ones? Shikakai Hair Therapy powder can be the best Christmas gift for them.
The all-natural ingredients of Satvic Foods' products are loaded with the goodness of top-grade ingredients that can boost your immunity during the holiday season. However, we must mention that Satvic Foods' products are not intended to diagnose, treat, or cure any disease and can only aid in your routine diet. Please consult with your doctor or nutritionist before consuming any homemade masala products.
ALSO READ: [EXCLUSIVE]CHRISTMAS SALES 2021: BEST CHRISTMAS SALES ONLINE IN INDIA
Now that you know all about Satvic Foods Christmas Sales 2021 grab yourself and your loved ones the best healthy gift and shop your heart out with the Christmas Sales Going on now. Do not forget your Free Christmas Gifts on every purchase.
A Parting Satvic Note
Whether it is that friend who has no time to eat healthy food or trying to get back on the healthy routine, Satvic Food products are easy to use and can be a great healthy addition to daily life. So, this Christmas, give someone a gift that will help them prioritize their well-being let them know that you care.
Your Email Address Will Not Be Published. Required Fields Are Marked *