Christmas Dinner Ideas 2023: Christmas Dinner for Vegetarians Who Prefer Satvic Foods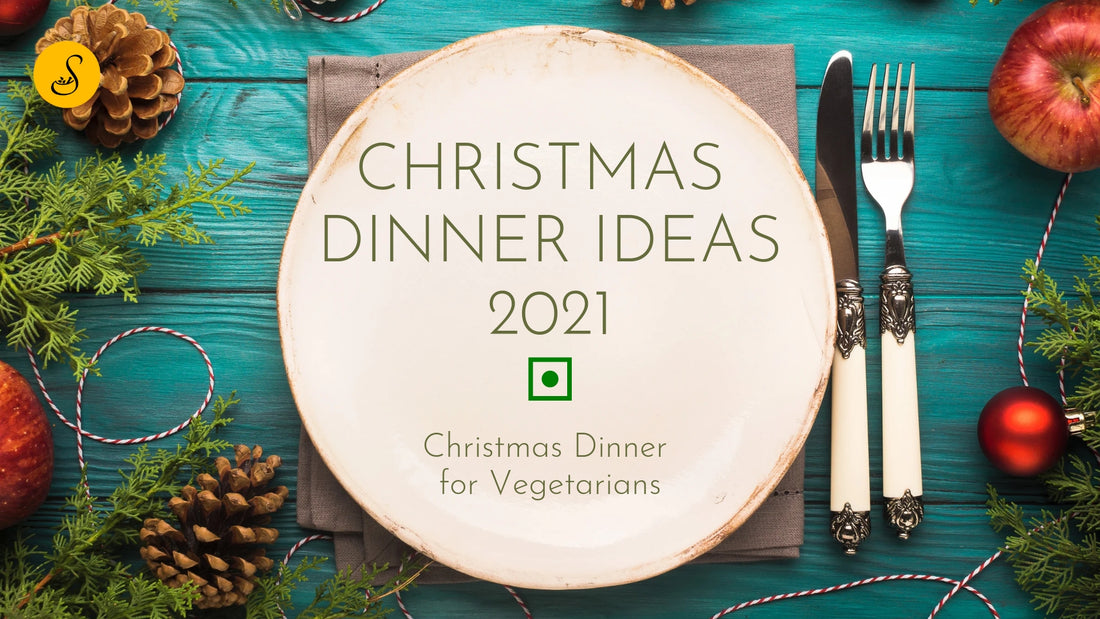 Traditional Christmas Dinners can often become a compromising time for vegetarians. While others cannot stop from gushing over the glazed ham and roasted chicken, vegetarians are left with baked potato and bread as dinner options. So, whether you are looking for Christmas dinner ideas for a small family or have vegetarian guests coming to your party- we've got you covered with our best vegetarian Christmas dinner menu.
So, gather your ingredients, and get set to cook the most amazing Christmas dinner for vegetarians this year. And while you're at it, don't forget to set the mood with the must-have Christmas drinks.
ALSO READ: CHRISTMAS SALES 2021: SATVIC CHRISTMAS SALES IN INDIA
Kesari Thandai Cake
While the traditional Christmas cakes are usually made with alcohol and eggs, Kesari Thandai Cakes can be made by just adding the powder mix to a normal, eggless sponge cake recipe.
The must-have Christmas Drinks
Thandai can be enjoyed as a cool refreshing beverage by all at your party, and if you want that warm Christmas-y taste in your beverage, Cinnamon Doodh is the one to opt for
Veg Biriyani
No Indian can ever say no to Biriyani. A warm plate to Biriyani and Raita is sure to make your Christmas Dinner for vegetarian friends a huge hit.
Veg Pulav and Mixed Veg
While mixed veg can be enjoyed by both the vegetarian and non-vegetarian guests, adding Veg Pulav to your Christmas dinner menu will surely relieve the vegetarians from nibbling on bread for dinner.
Kulfi or Rabri
No Christmas Dinner ideas are complete without a dessert. Kulfi, Rabri, or even ice pops for the kids can be the perfect end for your vegetarian Christmas Dinner Menu.
Christmas Dinner for Vegetarians with Satvic Foods'
This year, these Christmas dinner ideas can be the perfect choice for you or your vegetarian guests. Those looking for Christmas Dinner Ideas for Small families can also enjoy all the mentioned food items by making them in smaller portions. And no, it does not have to be time-consuming at all. Satvic Foods' products are here to help you make all these dishes quicker, easier, healthier, and not to forget tastier.
Mix Satvic Foods' versatile Kesari Thandai Mix powder with any beverage, cake mix, or even deserts to add the refreshing Thandai flavor to them.
Cinnamon Doodh Masala can give the perfect warmth to your milk during the cold Christmas night.
Even the main courses can be easily prepared by using Satvic Foods' Rajwadi Garam Masala powder that can enhance the flavors of any veg or non-veg curries, biryanis, or even paneer recipes.
These masala powders with 100% natural, top-grade ingredients can give any bland food a spicy Satvic twist. However, these masala powders are not intended to diagnose, treat or cure any disease. It is recommended to consult with your doctor or nutritionist before consuming any homemade masala powders.
ALSO READ: CHRISTMAS FOOD IN 2021: POPULAR SATVIC CHRISTMAS FOODS IN INDIA
Before You Don the Chef's Hat
We hope with these Christmas dinner ideas, Vegetarians from everywhere can rejoice and celebrate the festival this year with as much joy as the others. For more interesting vegetarian recipes, you can also follow the BBC Good Food's article.
Your Email Address Will Not Be Published. Required Fields Are Marked *