How To Make Satvic Handi Biryani At Home | 5 Min Homemade Food Recipe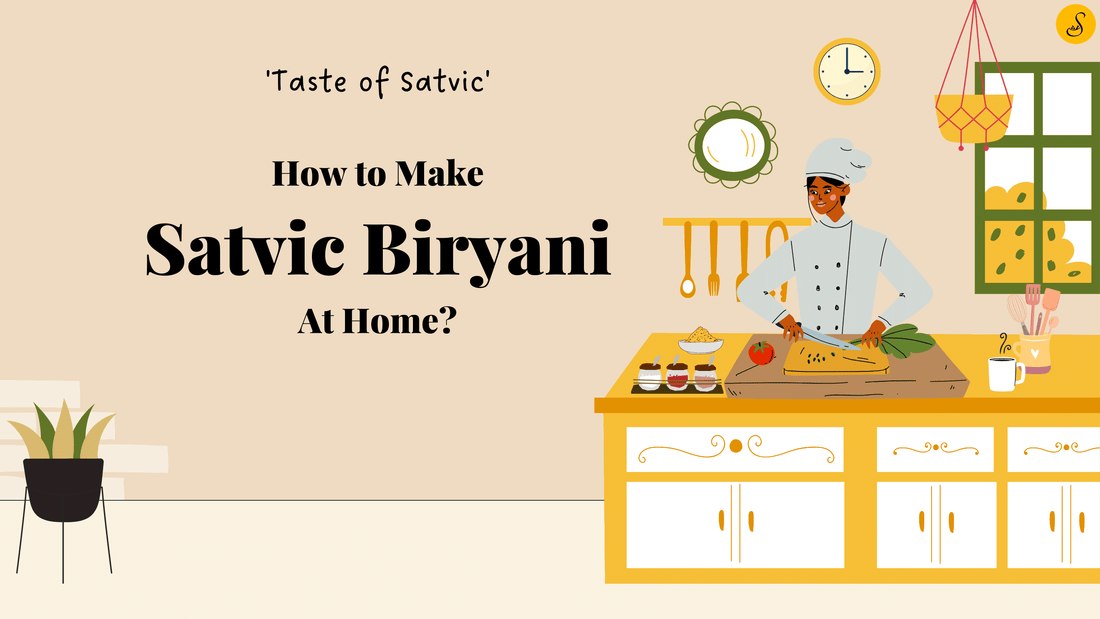 Satvic Biryani is a rice preparation. In it goes, lots of veggies, curd, a variety of aromatic Satvic Foods spices, and rice. Precisely speaking, biryani is the epitome of a perfectly flavorsome, delicious, and filling meal. It becomes more aromatic and tastier if made in a handi or mud pot. Cooking biryani is as fun and delightful as eating it. It can be served for lunch or dinner along with some curd or raita.
ALSO READ: Complete Guide To Consuming Healthy Peanut Butter
Ingredients
For cooking the rice
3-4 cups water, ¾ cup basmati rice, 3 bay leaves, 1-inch cinnamon stick, 3 green cardamoms pods (crushed), 5 cloves, 7 black peppers, 1 teaspoon ghee, 2 teaspoons rose water (optional), ½ teaspoon salt
For marination 
½ cup curd, ½ teaspoon red chili powder, 1½ teaspoon Satvic Foods' Rajwadi Garam Masala, salt to taste, 1 chopped potato, ½ cup chopped beans, ½ cup chopped cauliflower, ½ cup chopped capsicum.
For cooking the marinated veggies
1 teaspoon Satvic Foods' Rajwadi Garam Masala2 chopped green chilies, salt to taste, 3 tablespoons ghee.
Other ingredients
7 to 8 cashews, ¼ cup finely chopped green coriander leaves, ¼ cup finely chopped mint leaves, saffron milk (15 to 20 saffron strands soaked in 2 tablespoons of milk) (optional), 2 teaspoons ghee, additional ¾ teaspoon Satvic Foods' Rajwadi Garam Masala.
Steps to follow
For cooking the rice
Wash the rice with water and clean it. 

Soak the cleaned rice in water for 30-40 minutes. 

Heat 3-4 cups of water in a vessel. Add bay leaves, cinnamon stick, green cardamom, cloves, black pepper, a teaspoon of ghee, rose water, and salt. Cover the lid and bring the water to a boil. 

After 40 minutes, drain the water from the soaked rice. Now, add the soaked rice to the boiling water for the next step. 

The rice has to be only 80 percent cooked. Cook for about 6-7 minutes and remove from heat.

Use a strainer and drain water from the rice. Keep the rice aside. Do not throw this water, as it might be handy during the marination stage.
For marination 
Now, take a large bowl and add curd, turmeric powder, Satvic Foods' Rajwadi Garam Masala, salt, and red chili powder. Whisk this mixture. 

Add beans, chopped potato, cauliflower, and capsicum to this large bowl. 

Mix well and ensure that the veggies are coated well with the spices. Let it rest for at least 20 minutes for the veggies to absorb the spices.
For cooking the veggies
Heat 3 tbsp of homemade ghee in a pan. Add cashews and roast them till they turn golden brown. Remove the ingredients from the pan and keep them aside.  

Add the marinated veggies. Stir continuously on a high flame.

Now, in the same pan, add Satvic Foods' Rajwadi Masala. Saute for a minute. 

Cover the lid and cook veggies on low flame for 6-7 minutes when the mixture comes to a boil. Stir occasionally. 

Add 2-3 tbsp of tap or mineral water in which the rice was cooked. Cook for a few seconds and turn off the flame. 
For preparing the handi and cooking the biryani
Grease the

handi

or mud pot with ghee. Use a generous amount of ghee. Now place alternate layers of veggies, rice, and other ingredients inside the mud pot.  

The first layer will be of the cooked veggies. Place half the veggies in a flat layer. 

Then place rice in the second layer. 

The third layer will be the remaining veggies. Now top the third layer with coriander leaves and mint leaves. 

The fourth layer will be cooked rice. Top it with coriander leaves and mint leaves. 

Now place the cashews on top. Then pour the saffron milk and two teaspoons of ghee. Lastly, dust ¾ teaspoon of Satvic Foods' Rajwadi Garam Masala powder on top.   

Cover the mud pot using an inverted clay bowl. 

Take a big ball-sized kneaded dough. Roll it into a long cylindrical shape like that of a thick rope. Use it to seal the mud pot completely. 

Place the mud pot on direct flame. Cook the Satvic biryani on low flame for 15 minutes. 

After 15-20 minutes, turn off the flame and let the mud pot rest as it is for 10 minutes. 

Use a kitchen cloth to hold the pot and remove it from the stove.

Remove the dough, open the pot, and serve the Satvic biryani hot. 
Tips or Benefits for Handi Biryani
If you don't have a mud pot, you can use any heavy-bottomed vessel, and the process remains the same. Satvic Biryani is a healthy, gluten-free meal. Rice and ghee are sources of healthy carbs and fats, respectively. Moreover, diverse vegetables provide several essential nutrients. You can add some peas, carrots, paneer, broccoli, or other vegetables. You can reduce the ghee used in this recipe to make it healthier. And lastly, if you have a leaky gut, it is suggested that you cook the veggies completely instead of leaving them semi-cooked.
Your Email Address Will Not Be Published. Required Fields Are Marked *