How To Make Satvic Sambhar At Home | 5 Min Homemade Food Recipe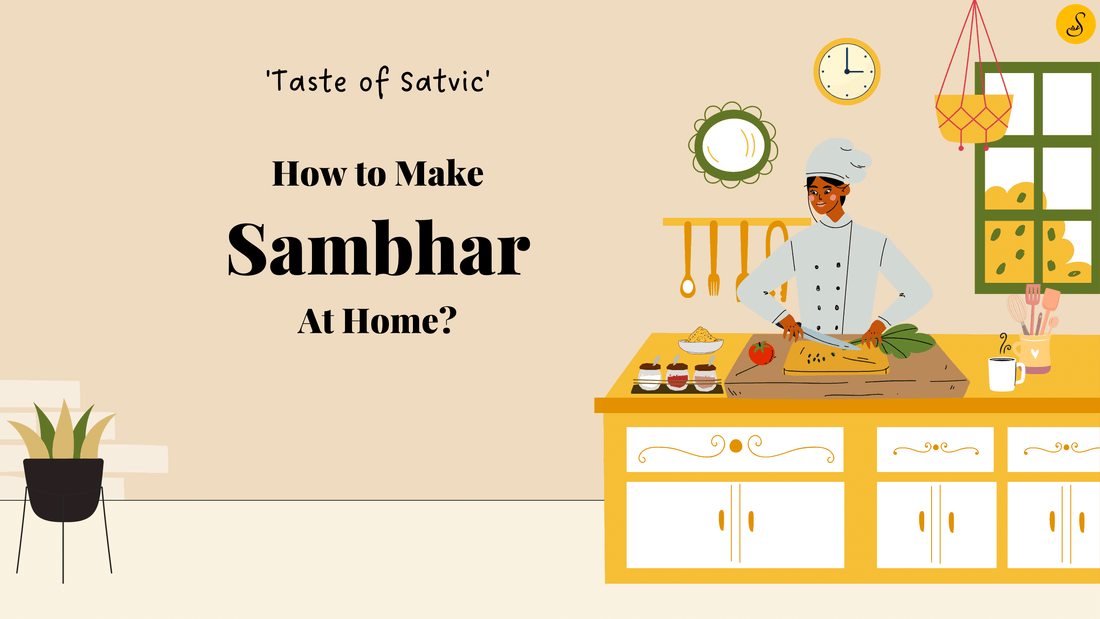 Satvic's Indian Sambhar is a vegetable stew filled with lentils, various vegetables, and rich spices. It is a delicious, flavourful, wholesome, and filling meal. Sambhar is originally from South India but is very popular across India and also in several other countries.
ALSO READ: Children's Health in Detail: Importance of Healthy Homemade Food for Kids in 2022
Ingredients
3 tablespoons oil, 2-3 dry red chilies, 8-10 curry leaves, 2 teaspoons Satvic Foods' Indian Sambhar Masala, ½ cup tamarind water, 1 chopped tomato, 2 chopped baby brinjals, 1 chopped drumstick, ½ cup chopped ash gourd, 5-6 chopped beans, 1 chopped carrot, ¼ cup chopped bhindi, salt to taste, 1-2 cups water.
Steps To Follow
Heat refined oil in an iron pan and add dry red chilies and curry leaves. Saute for a few seconds on medium flame. 

Then add the turmeric powder and red chili powder to it.

Stir well for a minute and add tamarind water. It balances the spices and gives a nice flavor to the sambhar. 

Add chopped tomatoes and salt. Cook until tomatoes turn soft and mushy. 

Add the chopped veggies-brinjal, carrot, ash gourd, beans, bhindi, and drumsticks. 

Add 1-2 cups of water to get a flowing consistency. Stir well and cover the lid. Cook the veggies for 10 minutes.  

Add the Satvic Foods' Indian Sambhar Masala into the vegetables. Also, add some more water if needed. Cover the lid and cook for 12-15 minutes on low flame. Cook the sambhar until the dal turns very soft and is almost mashed.   

After 10-12 minutes, remove the lid, continue boiling the sambhar for 3-4 minutes, and turn off the flame.

Serve piping hot with fresh idli, dosa, uttapam, vada, or rice.
Tips Or Benefits For Sambhar
Satvic Foods' Indian Sambhar Masala is a homemade blend of several Indian spices and lentils like urad dal, chana dal, mustard, curry leaves, etc. This Indian Sambhar Masala enhances the taste and nutritional value of the sambhar by giving it a more aromatic and rich flavor. The veggies, lentils, and quality spices content make sambhar a nourishing meal that is high in proteins and fibers. You can add or subtract veggies in your sambhar as per your taste and preference.     
Your Email Address Will Not Be Published. Required Fields Are Marked *