How To Make Satvic Dosa At Home | 5 Min Homemade Food Recipe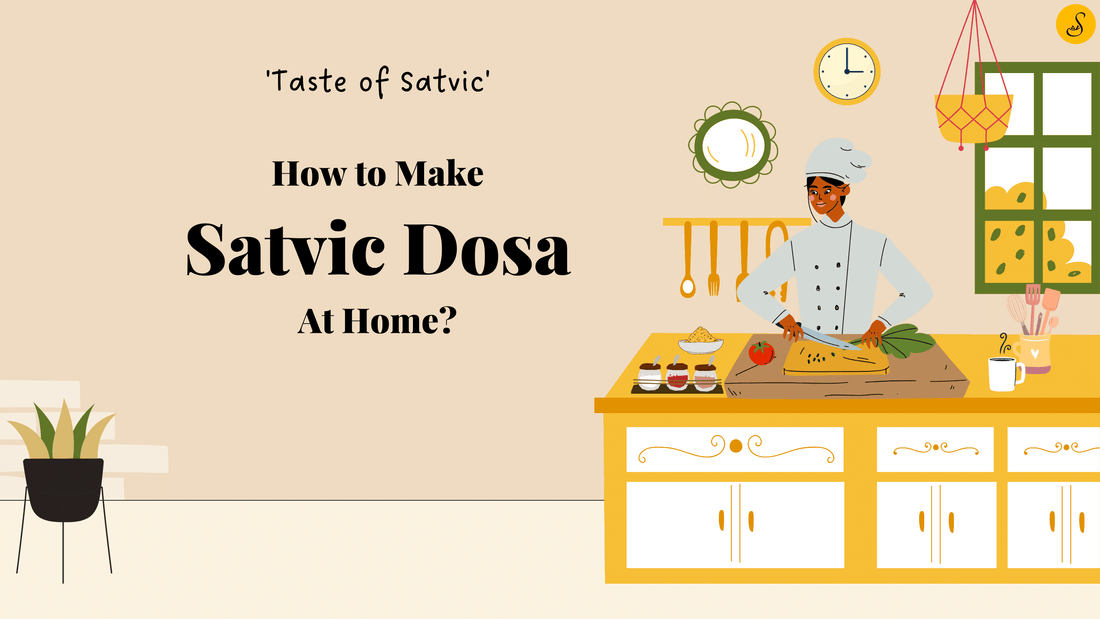 Dosa is a famous South Indian dish that people across India and even abroad enjoy. Made with fermented dal and rice, dosa is healthy and delicious. In most communities, dosa is served for breakfast or dinner, along with sambhar and coconut chutney.
ALSO READ: Indian Food Myths: Facts Behind These Homemade Food Myths
Ingredients
1 cup white urad dal, 3 cups short rice, 4 tablespoons besan, 1 tablespoon sugar, salt to taste, water for sprinkling on the hot pan, oil or ghee for cooking.
Steps to follow
Wash the urad daal and rice in separate bowls. 

After washing, soak the dal and rice in water in separate bowls. Soak for 5 hours or overnight. 

Drain the dal and rice water and blend them separately in a blender. Make a thick paste. 

Mix the two pastes using your hands for about 10 minutes. Add extra water if the mixture is too dense. The consistency should be ribbon-like. 

Cover the paste and let it rest for fermentation. During summer, fermentation takes around 10 hours; in winter, fermentation can take 24 hours. 

After fermentation, the batter becomes thicker and fluffy.

Now add the besan, sugar, salt, and water. Whisk nicely and make a batter of ribbon-like consistency. Refrigerate the batter for 2-3 hours. 

Take out the batter from the fridge and whisk it once.

Heat a non-stick pan on high flame. Spread two teaspoons of oil or ghee on the pan, followed by a splash of water. After sprinkling the water, wipe it with a kitchen cloth. 

Lower the flame.

Now, please pour a ladle of prepared batter onto the hot pan. Spread the batter evenly like a thin sheet with the back of the ladle by moving the ladle in a circular motion. You can also use a small steel bowl instead of a ladle.

When the dosa looks dry on the top, brush some oil or ghee on it and increase the flame to medium. 

Please continue to cook for a minute or two until the dosa turns golden brown. Remove the dosa from the pan, fold it, and serve it hot with some sambhar and coconut chutney.
Tips or Benefits for Dosa
If you want, you can place some stuffing on the dosa before folding it. For potato stuffing, use boiled, mashed, and spiced potatoes. While for paneer stuffing, use crumbled and spiced paneer. Dosa is great for your gut owing to its nutritive value. It has healthy carbs and proteins. It's a great breakfast option as it is easily digestible, low in calories, and provides energy. Cooking it with ghee, a healthy fat, makes it more nourishing.     
Your Email Address Will Not Be Published. Required Fields Are Marked *