Navratri March 2023: 5 Navratri Vrat Recipes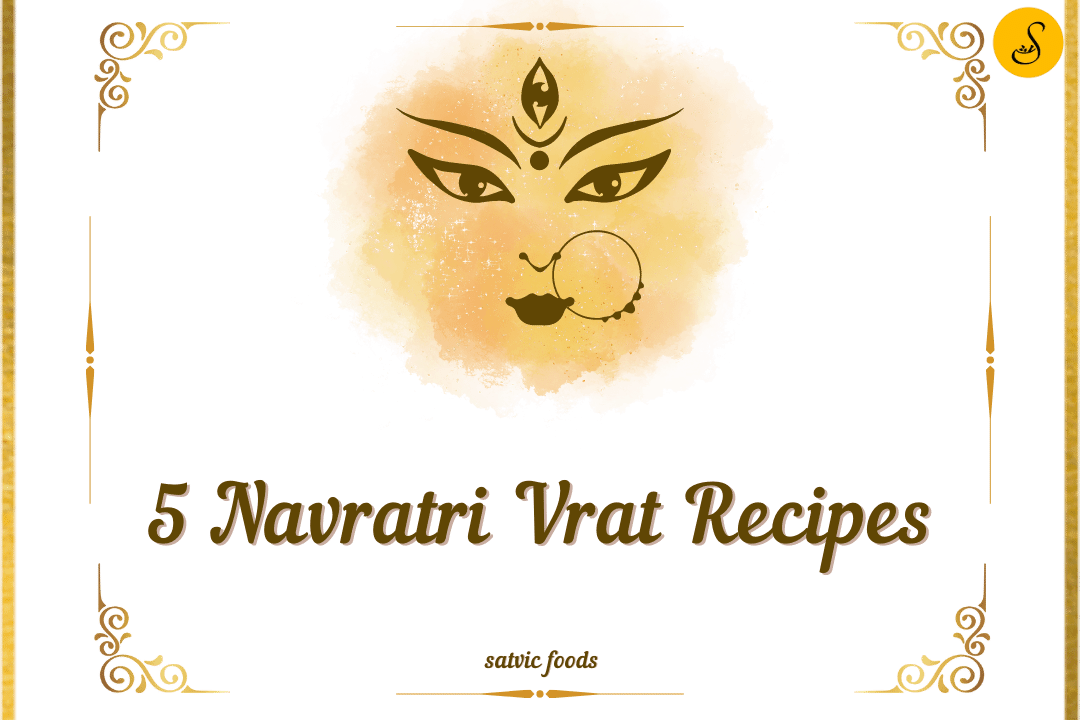 Navratri, the nine-day Hindu festival, is just around the corner, and devotees all over the world are gearing up to observe the traditional Navratri fasts. Fasting during Navratri is believed to be a way of purifying the body and soul, and many people choose to abstain from certain foods or follow a strict vegetarian diet during this time. While the fast may seem challenging, there are plenty of delicious and nutritious recipes that one can indulge in during this period.
The joy of celebration and devotion makes the Navratri festival an excellent opportunity to experience India's rich culture and traditions. Fasting customs is among the most common Navtrari traditions many devotees follow. Also, since it includes consuming only satvic food items, the recipes are prepared accordingly.
So, one of the best ways to fast during the Navratri season is by trying various vrat recipes using satvic foods. To cook and enjoy those delicious vrat recipes, keep reading this blog for a comprehensive satvic foods guide for your meals this Navratri March 2023.
In this article, we will share five Navratri vrat recipes that are easy to make and perfect for anyone observing the Navratri fasts.
What are the 9 naivedyam for Navratri?
Naivedyam is food offered to god during religious celebrations. During Navratri, the devotees prepare different items to offer to the goddesses daily.
Day 1:

Desi Ghee is offered to Goddess Shailputri.

Day 2:

Sugar is offered to Goddess

Brahmacharini

Day 3:

Milk is offered to Goddess Chandraghanta

Day 4:

Malpua is offered to Goddess Kushmanda

Day 5:

Bananas are offered to Goddess Skandamata

Day 6:

Honey is offered to Goddess Katyayani

Day 7:

Jaggery is offered to Goddess Kaalratri

Day 8:

Coconut is offered to Goddess Mahagauri

Day 9:

Til is offered to Goddess

Siddhidatri
Once the offering is completed, it is distributed as prasad. You can also make these items in various ways, like sweets made from milk and coconut.
Is indigestion making you uncomfortable? Try Satvic Foods' Jeera Buttermilk Masala to improve your digestion-the perfect home remedy for quick relief.#satvicfoods #Pichaikkaran2 #homemade #UCLdraw pic.twitter.com/1sWOTLPKrl

— Satvic Foods (@SatvicFoods) March 17, 2023
Best Satvic Foods for Navratri
Navratri dishes are free of garlic and onion, but satvic foods during the Navratri festival do not need to be simple and bland because of that. Special spices and ingredients can make your vrat recipes more delicious and healthy.
5 Navratri Vrat Recipes
Navratri March 2023 is approaching fast, and many people plan to visit their hometowns and celebrate with family and friends. This calls for creating a flavorful feast for everyone to sit and enjoy. You can try the following 5 vrat recipes this Navratri season!
Sabudana Khichdi 
Ingredients:
Tapioca pearls, peanuts, and potatoes. 
Steps to follow: 
Soak the sabudana for a few hours

 Sauté it with cumin seeds, green chili, and peanuts

Add boiled potatoes

Garnish with coriander leaves, and serve hot
This gluten-free dish is a good source of carbohydrates and protein during Navratri, making it a healthy option for breakfast or snacks. It's also easy to digest and can help provide energy and satiety.
Singhare ka Cheela
Ingredients:
This savory pancake is made with water chestnut flour and is easy to make. 
Steps to follow:
Mix water chestnut flour with grated potatoes, green chili, and coriander leaves

Add water to the batter

Make pancakes on a non-stick pan

Serve with mint chutney
This is a great gluten-free alternative, low in calories, and a good source of fiber and energy. The mint chutney can add more flavor to your deal for extra delight.
Kuttu ki Puri 
Ingredients:
Buckwheat flour, potatoes, salt, and ajwain seeds.
Steps to follow: 
Mix buckwheat flour with boiled, mashed potatoes, salt, and ajwain seeds

 Knead it into a dough

Roll into small puris, and deep-fry until golden brown.

Serve with aloo sabzi
Kuttu ki puri with aloo sabzi is one of the Navratri festival's most loved satvic food items. It's easy to make and tasty to eat!
Lauki ki Sabzi
Ingredients:
Bottled gourd, tomatoes, and spices. 
Steps to follow: 
Peel and chop the bottle gourd

Cook it with tomatoes, cumin seeds, turmeric, and chili powder

Serve with Singhare ka Cheela or Kuttu ki Puri
This simple and healthy recipe is an excellent source of nutrients and a tasty meal option during the Navratri festival to enjoy with the family.
Sweet Potato Chaat
Ingredients:
Boiled sweet potatoes, spices, and yogurt. 
Steps to follow:
Cut the cooked sweet potatoes into small cubes

Add roasted cumin powder, chaat masala, and chopped coriander leaves

Add a spoonful of yogurt on top, and serve cold
This recipe is for all chaat lovers. Enjoy this recipe to make your fasting less tedious and more wholesome!
You can make these recipes more tasty and enjoyable to consume by adding Satvic Foods' spices. Satvic Foods' Indian Spices have a variety of masala powders that are sun dried and hand-ground to ensure the nutritional values of 100% natural spices remain intact.
Check out a wide range of Indian Spices from Satvic Foods' now to find your perfect match!
Avoid These Vegetables During Navratri 2023
You must have started preparing for Navratri in March 2023, a time for fasting, feasting and celebration. However, remember that vegetables such as onion, garlic, mushroom, leeks, and shallots are not eaten during the fast in Navratri festival as they are not considered satvic.
This is What you Eat During Durga Puja
In Navratri March 2023, devotees will worship different forms of Goddess Durga during the nine auspicious days and enjoy a variety of traditional satvic food items.
The emphasis is on fresh fruits, vegetables, and dairy products, such as milk, yogurt, and paneer. Some common satvic foods consumed during Navratri include sabudana khichdi, kuttu ki roti, samak rice khichdi, fruits, milk, and nuts.
Satvic Foods' Protein Dry Fruits Ball is a fantastic choice for Navratri March 2023. They are a delicious protein-rich bar with a convenient source of nutrition, from almonds, cashews, walnuts, dates, and several natural seeds. These seeds provide an essential nutrient that keeps you going throughout the day.
Try Satvic Foods' Protein Dry Fruits Ball to stay energetic throughout the Navratri time!
Satvic Meaning of Navratri Fasting
All devotees around the globe are set to offer prayers and participate in cultural events this Navratri March 2023. The essential part of this celebration is Navratri fasting. It involves abstaining from certain foods and activities.
During the Navratri festival, a satvic diet is followed based on Ayurvedic principles, as it is considered pure, light, and easy to digest. The goal of Navratri fasting is not just to purify the body but also to purify the mind and soul. It helps to rejuvenate both physical and mental health.
This Navratri March 2023, make your fasting more healthy and enjoyable with Satvic Foods'.
Stock your kitchen with premium satvic products from Satvic Foods' for this Navratri season!
Navratri 2023 Wishes & Quotes
Here are five Navratri festival quotes:
"May the blessings of Goddess Durga usher in prosperity, happiness, and good health for you and your family. Happy Navratri!"

"This Navratri, let's worship the divine feminine and seek her blessings for strength, courage, and wisdom to overcome all obstacles in life."

"May the nine days of Navratri bring peace, harmony, and love in your life. Let's celebrate the triumph of good over evil and the power of faith."

"Navratri is a time to connect with the divine and discover the inner strength and beauty that lies within us. Embrace the spirit of Navratri and let it guide you towards success and happiness."

"As we celebrate Navratri, let's remember the virtues of the divine feminine and strive to embody them in our daily lives. Let's cultivate compassion, kindness, and generosity towards all living beings."
Satvic Foods and the family wishes everyone a very happy and prosperous Navratri 2023.
Your Email Address Will Not Be Published. Required Fields Are Marked *