5 Healthy Homemade Beverages: Guide by Satvic Foods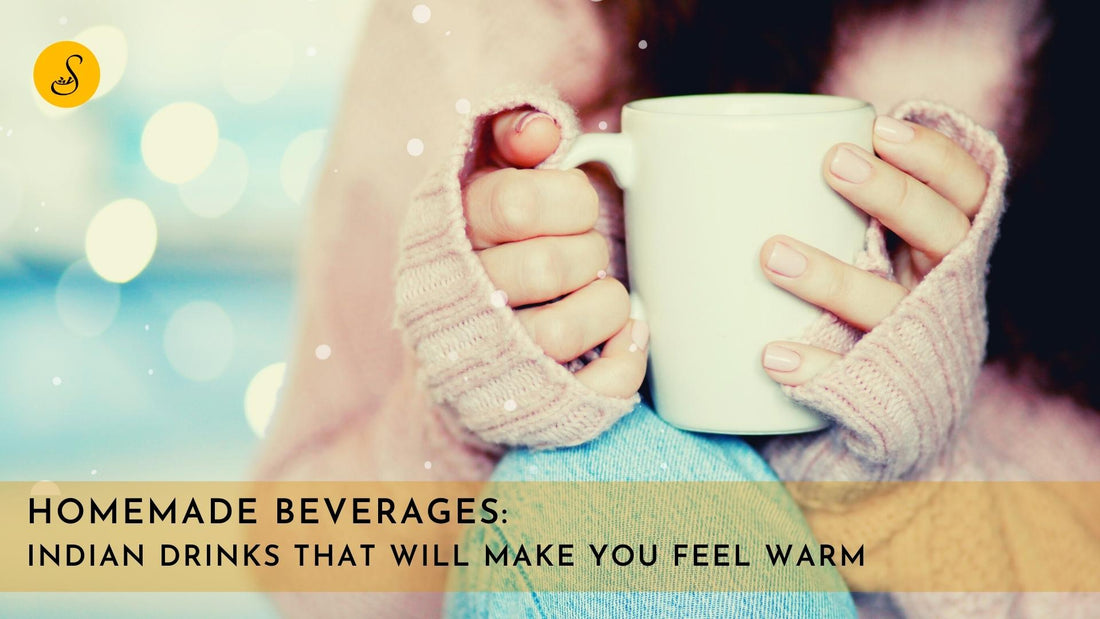 Healthy homemade beverages are a great way to stay hydrated while nourishing your body. They can help boost our immunity and be an excellent way to start our day refreshingly.
With just a few ingredients, you can make many healthy and popular Indian drinks that help improve cell repair and balance hormones. So, it's not only recommended but also essential to replace your sugary drinks with homemade Indian drinks for your overall health.
In this blog, we are going to discuss some of the best homemade beverages that help us stay healthy and sleep better naturally. 
5 Incredible Healthy Homemade Beverages
One of the best things about making healthy homemade beverages is that you can customize the ingredients to suit your taste preferences and dietary diets.
Butter Milk
Buttermilk is one of the most effective healthy Indian drinks for summer. It is refreshing and rich in probiotics, vitamins, and minerals. It's fantastic for your digestive system as well.
You can try adding Satvic Foods' Jeera Buttermilk Masala to your regular buttermilk. It is made with natural Indian spices to ensure you get all the essential vitamins and minerals.
Turmeric Milk
If you live in an Indian household, you must have heard of this healthy homemade beverage several times. Turmeric milk helps to sleep better naturally while soothing our nervous system. It's also a great addition to a woman's diet after pregnancy to lose weight. 
You can make your regular milk healthier and tastier with Satvic Foods' Golden Milk Masala. This 100% homemade milk masala powder has no added sugar and is created using several wholesome natural ingredients. It can lower your blood sugar levels and even improve your brain function.
Try Satvic Foods' Golden Milk Masala to give an excellent twist to your regular milk!
Cinnamon Tea
Adding cinnamon to tea makes it one of the best healthy homemade beverages, which helps to reduce blood pressure and lowers bad cholesterol while raising good cholesterol levels. Both milk and cinnamon are good for lowering the risk of heart disease.
Just add Satvic Foods' Cinnamon Chai Masala to your tea to get all the benefits of cinnamon and milk in an easy, healthy, and tasty way. In addition to clove and dry ginger, it has several natural herbs that help increase immunity.
Masala Tea
The perfect match for your snack time, masala tea is rich in antioxidants and has anti-inflammatory properties. It's also a great way to start your day in the morning.
Add Satvic Foods' Kadak Chai Masala to your regular tea to make it better. It is a blend of whole spices, clove, and dry ginger powder, which makes it much more flavorful when added to Indian tea. It gives your tea a unique flavor and enhances its health benefits.
Try Satvic Foods' Kadak Chai Masala to improve the quality of your tea breaks!
Coffee
The fanbase for coffee is a huge one! It's an excellent healthy drink to make your work time more productive by keeping you alert and stimulated. This popular beverage comes in many forms, and each of them has a unique flavor and experience to offer.
With Satvic Foods' Coffee Spice Mix, you can add a refreshing twist to your regular coffee. It is a perfect combination of strong coffee and the sweet essence of spice. 
Homemade Indian Drinks with Satvic Foods
Healthy homemade beverages have many benefits, and when combined with Indian spices, the benefits get doubled. They add wholesome flavor and also prevent several diseases by fighting free radicals and increasing the body's immunity. Natural Indian spices are an essential part of Indian cuisine, and to reap their maximum benefits, you can add them to prepare homemade beverages as well.
If you plan to include Indian spices in your food, and drinks, we recommend using only 100% natural spices. Satvic products are homemade to ensure you get to enjoy the natural essence of all these spices. They are the ultimate way to increase your immunity naturally. 
Try
Satvic Foods' range of Indian spices
and herbs to enhance your drinking experience!
Your Email Address Will Not Be Published. Required Fields Are Marked *