Omicron in India: Homemade Food to Stock-up In Case of Major Lockdown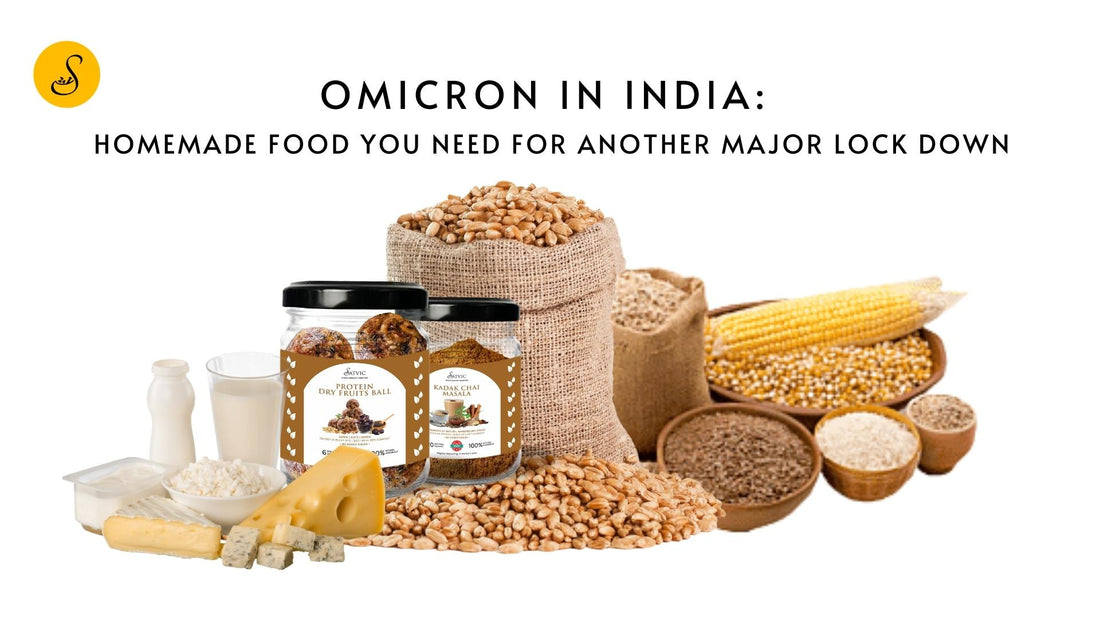 As Omicron cases continue to rise in India, people are bracing themselves for a possible third pandemic wave. Some experts think India will see a rise in Omicron cases at the beginning of 2022, which may be termed the Third Wave, but its impact will not be as severe as that of the COVID cases during the First the Second waves.
With the nation slowly slipping into the troubled zone as cases of Coronavirus, India shows a sharp spike, and another mini lockdown may be enforced any day. This is when we must stay at home and prevent frequent trips to the grocery stores or other crowded places.
ALSO READ: INDIAN HOMEMADE PROTEIN POWDER: VEGETARIAN PROTEIN DIET FOR MUSCLE BUILDING
Stay Safe During the Third Wave of Coronavirus in India
Apart from food items, there are a few other supplies you must keep in handy to stay safe during the rise of the Omicron virus. These are:
Hand sanitizer
Masks
Cleaning supplies like disinfectant spray, bleach, etc.
Sanitizing wipes
Your medications
Emergency contact details of your doctors
It will be helpful to have ten days stockpile of healthy food items, which can be used to prepare quick and nutritious homemade food to boost immunity for you and your family.
Whole grains
Grains are naturally high in fiber, helping you feel full and satisfied, and can also lower the risk of heart disease, diabetes, certain cancers, and other health problems. Choose whole grains like oats, brown rice, whole-wheat pasta, which are easy to cook and can be preserved for a longer time.

Pulses
A great source of protein that helps to maintain energy levels and prevent muscle breakdown, pulses are nutritious and easy to digest. Pulses have a long shelf-life and can be easily boiled and added to soups, salads, or made into healthy and nourishing khichdi.
Dairy
Dairy food items like milk, curd, and paneer provide good quality protein and are important to boost immunity which is of utmost importance to fight against the Omicron virus. Tetra Pak milk has a longer shelf life while Paneer can be frozen and used as and when needed.
Healthy Snacks
Snacks are important, especially if you have kids at home. But instead of chips and crackers, stock up on makhanas, beaten moong, and even Satvic Foods' Protein Dry Fruits Ball to get all the nutrition from almonds, cashews, walnuts, dates, and several natural seeds in your snack.
Spices or Masalas
While the best way to boost immunity during this Third wave is with homemade food, no Indian meals can be prepared without spices. Use 100% natural spices in your food that can provide the health benefits of the potent Indian spices. Satvic Foods' Indian Spices offer a variety of masala powders sundried and hand-ground and contain all the nutritional benefits of various spices. Use them anytime you want to prepare healthy, tasty, and nutritious meals for your family.
Important note on Omicron in India
Nutritionists opine that a healthy diet can be the best defense against the Omicron virus and nip the third wave in the bud. An article in Times of India has suggested a Rainbow Diet which Nutritionists think can become an immunity booster for people, especially children. We request our readers to follow all COVID protocols and to eat healthily and stay safe during the Third Wave of COVID-19 in India.
Your Email Address Will Not Be Published. Required Fields Are Marked *