Winter Foods in India: Foods to Avoid During Cold and Cough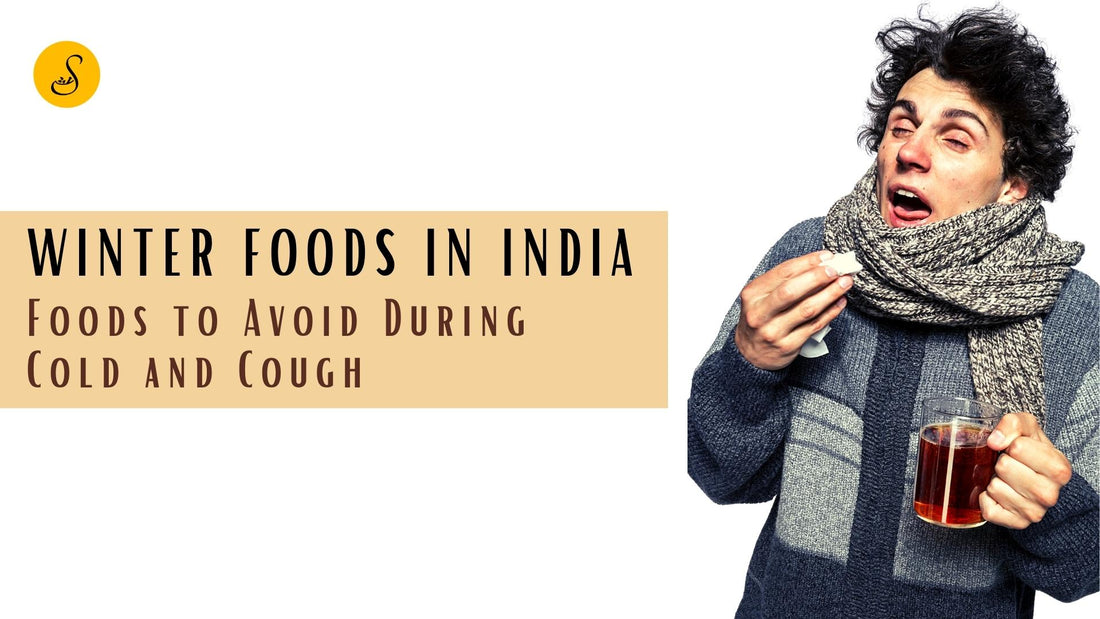 Winter foods in India mean adding extra colors to our daily diet. During winters, it is not just about covering yourself well, but also the winter food items you consume that can help you stay warm. There are certain foods, spices, and drinks that you must include in your winter food chart to cope with low temperatures and boost your immunity.
Avoid Food During Cold
Certain types of food like curd, cold beverages, aerated drinks, processed food, and food high in empty calories that bring the body temperature down are best avoided in winter.
ALSO READ: NORTH INDIAN SPICES: 5 SATVIC INDIAN SPICES ONLINE TO ADD NUTRITION
Instead, incorporating certain winter foods into your daily can help you enjoy the cold weather without falling sick. Winter food items you must include in your winter food chart:
Dry Fruits: They help you stay warm during winters and also boost your energy
Spices: Adding spices like cloves, cinnamon, ginger, star anise, etc. to your curries, teas, coffees, or any wintery hot beverage can add extra flavor and warmth to them
Ghee: Rich in unsaturated fat, ghee will help keep the body warm and supply energy, dispelling the sluggishness that is brought on by winters.
Vegetables to eat in Winter
Dark leafy greens
Spinach, collards, kale, and broccoli are some of the seasonal winter vegetables, that are rich in vitamins A, C, K, and various other nutrients and must be included as a part of your healthy winter food diet
Root vegetables
Carrots, radish, potatoes, onions, and garlic generate more heat and thus help you to stay warm in the chilly weather
Get your daily dose of immunity booster with Satvic Foods'
To complete your winter food chart, Satvic Foods brings you a collection of Immunity Boosters that can help you in improving your immunity while safeguarding you from the seasonal flu.
Start your day with Satvic Foods' Kadak Chai Masala and get all the antioxidants of medicinal spices, like long pepper, cinnamon, cardamom, and dry ginger, with your morning tea.
Have Satvic Foods' Protein Dry Fruits Ball at any time of the day which can provide your body with all the essential nutrition of almonds, cashews, walnuts, dates, and several natural seeds.
Have a glass of Satvic Foods' Golden Milk Masala before bedtime and end your day with the wholesome benefits of Turmeric and other medical spices. The 100% homemade Milk Masala Powder has no added sugar and is there to make your everyday milk tastier and healthier while boosting your immunity from within.
ALSO READ: INDIAN HOMEMADE PROTEIN POWDER: VEGETARIAN PROTEIN DIET FOR MUSCLE BUILDING
Consider this diet winter
According to Indus Health Plus incorporating certain winter foods into our daily diet can provide us with various health benefits while we enjoy winters to the fullest. We hope our article has provided you with all the information about food to avoid in cold and healthy food items you must eat during the chilly weather.
Your Email Address Will Not Be Published. Required Fields Are Marked *