Perfect Christmas Cake: Make Satvic Christmas Cake Without Eggs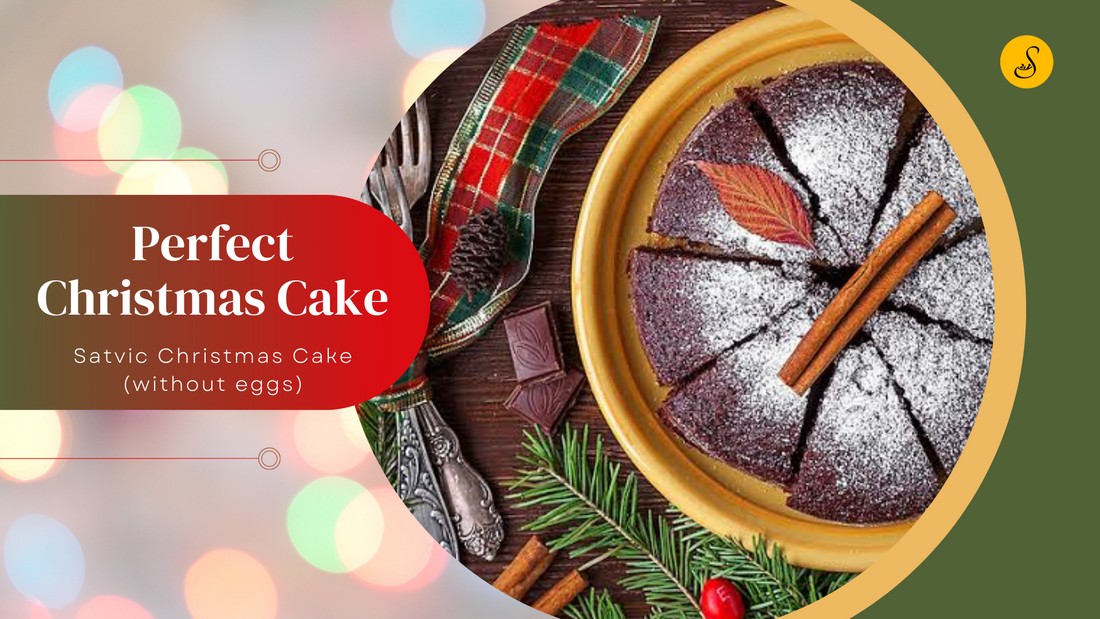 The season of cheer, love, mirth, and of course, a lot of desserts is finally here. It is the time when life is all about enjoying delicious desserts and making merry with our loved ones. While the traditional Christmas Cake Recipe is usually made with eggs, creams, and alcohol, most of us look for Christmas Cake ideas that do not involve these ingredients.
Moreover, this holiday season is different from others because many of us will avoid large crowds and celebrate with only our near and dear ones. So why not make it a little more special by baking a delicious Christmas cake that is different than the other times? After all, nothing can make bakers happier than getting their hands on good Christmas Cake Ideas during the holiday season.
Here are some amazing ideas for baking Christmas Cake without eggs:
Eggless Banana Cake is a great option for you. Simply add mashed bananas in place of eggs in your normal cake recipe, and you have the 1st among the many Christmas cake recipes, easy, healthy, and made without eggs.
Eggless Sponge Cake is the classic cake where instead of relying on eggs for the fluffiness, you use yogurt to enjoy the same taste.
Kesari Thandai Cake, a perfect option for those who don't like the bland taste of sponge cake, can go for this unique, delicious, and healthy option.
Cinnamon Cake, the best option during Christmas as the Cinnamon flavor gives a Christmas-y feel to your normal eggless sponge cake.
Kesari Thandai cupcakes, for those looking to take dessert over to a friend's place, these cupcakes with the refreshing saffron flavor can be a great idea.
ALSO READ: 5 HAIR-CARE TIPS TO COMBAT DRY HAIR: IMPROVE HAIR HEALTH USING SATVIC WAYS
Satvic Christmas Cake Without Cream & Eggs
The Christmas mentioned above cake ideas can be made by anyone and enjoyed by all. But to make your cake extra special this year, we present to you Satvic Foods' Kesari Thandai Mix. Simply mix it with your normal Christmas Cake Recipe and give them a tastier and healthier touch. Made with 100% natural ingredients, they are easy to use and refreshing to the palate. They can make your cakes so tasty and special that this year can be a Christmas Cake without cream year for your family.
The all-natural ingredients of Satvic Foods' Kesari Thandai Mix are loaded with top-grade ingredients that can also boost your Immunity during the holiday season. However, we must mention that Satvic Foods' products are not intended to diagnose, treat, or cure any disease. Please consult with your doctor or nutritionist before consuming any homemade masala products.
ALSO READ: CHRISTMAS RECIPES DESSERTS: SATVIC CHRISTMAS RECIPES INDIA
Holiday Note From Satvic Foods
Every country, region, and family has its way of celebrating Christmas. The most important thing to remember here is to forget the sorrow and spread joy among all. We hope our Christmas cake ideas make your holiday a tastier, healthier one. For more such eggless cake recipes, you can check out this article to learn more.
Have a great Merry Christmas and do let us know if what recipe you use to make an eggless cake for Christmas this year.
Your Email Address Will Not Be Published. Required Fields Are Marked *