Protein Powder at Home: A Guide to Gain Muscle in 2023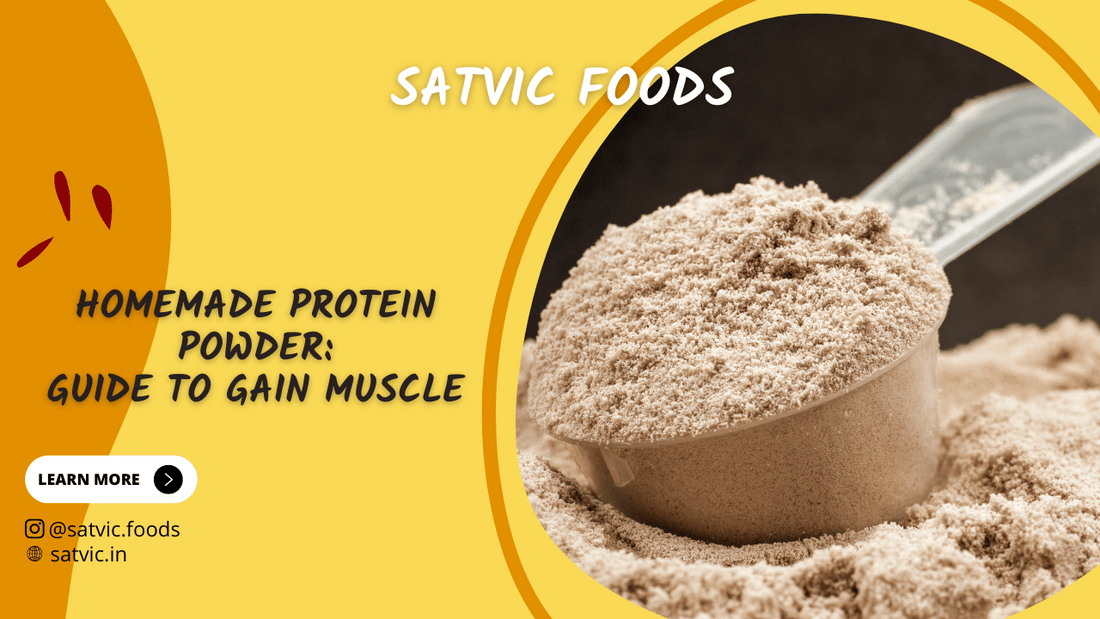 Protein powder at home is a convenient way to ensure you consume safe and high-quality protein. Protein is crucial for muscle gain, and while animal-based products are often associated with high protein, vegetarian and vegan diets also provide complete amino acid profiles. Additionally, it is essential to note that consuming food/supplements frequently isn't the most effective strategy for muscle gain. The body takes around 3 hours to digest one meal, and overeating can lead to acid production in the stomach, which can break down amino acids and hinder muscle growth. 
With plant-based protein becoming increasingly popular, Satvic Foods has curated a handy guide to understanding the science behind certain foods and how they support muscle gain with a step-by-step guide on making the best protein powder for muscle gain at home.
Ingredients to Make Plant-based Homemade Protein Powder For Muscle Gain
Legumes, plant seeds like sunflower, chia, pumpkin, and nuts like peanuts and almonds make an excellent base for protein powder at home. Therefore, incorporating them into one's diet can offer health benefits beyond just protein. 
Before moving on to how to make plant-based homemade protein powder, let's first examine the ingredients and the benefits they provide:
Chickpeas: Chickpeas are the best source of plant-based protein, offering 14.5 grams of protein per 164 grams of chickpeas. It helps in maintaining healthy weight, bone health, and muscle strength.
Sattu: A cost-effective and gut-friendly superfood containing natural plant-based proteins, which aids in adding bulk and muscle gain. It restores and replenishes energy, which is vital for workout performance.
Chia Seeds: Chia seed is a gluten-free superfood with high fiber and 14% protein. It is also loaded with calcium, manganese, magnesium, antioxidants, and vitamins B1, B2, and B3, necessary for regulating metabolism, muscle function, blood pressure, and energy.
Pumpkin Seeds: Pumpkin seeds are rich in carotenoids, vitamin E, and magnesium concentration that helps with immunity, reduce inflammation, improve mood, and maintain muscle function. Additionally, it contains tryptophan, a protein that enhances sleep. 
Sunflower Seeds: Sunflower seeds store protein, vitamin B6, magnesium, phosphorus, iron, calcium, sodium, and potassium, helping digestion and brain function and elevating healthy cholesterol and muscle strength.
Almonds: Almonds contain a choke full of proteins, fibers, and nutrients like magnesium, copper, and calcium that help with healthy bones, bowel movements, reduced cholesterol levels, and heart health.
Peanuts: Peanuts are abundant in vitamin B1, necessary for RBC production and ATP synthesis, the cell's energy currency. Now you know why they are the most popular munching snack to keep fatigued at bay.
For a quick protein boost, you can include Satvic Foods' Almond Peanut Butter (Crunchy), made with roasted peanuts, almonds, pistachio, sunflower seeds, pumpkin seeds, green cardamom, cinnamon, and chia seeds. You can have it multiple ways. Spread it on your wholegrain toast or your favorite fruit or add it to your yogurt or smoothie; the possibilities are endless.
Check out Satvic Foods Almond Peanut Butter (Crunchy) now!
DIY Protein: Simple and Delicious Homemade Recipes to Gain Muscle
Regardless of your preference, here are some of the simplest sattvic diet plan for weight gain. It comprises homemade plant-based protein to gain muscle using easily available ingredients. They are easy to make, cost-effective, and packed with essential nutrients to support your muscle-building goals.
Vegan Protein Powder: Dry roast ¼ cup of the aforementioned seeds and nuts on a low flame. You may also add walnuts and oats in the same quantity. Remember to roast and blend them individually, as their textures and density vary, and you might not get the powdered texture if you process them together. Your homemade vegan protein powder is ready! 
Add a heaped tablespoon of vegan protein powder into a glass of warm milk before or post-workout or anytime during the day. You may also add a tablespoon of honey or Almond Peanut Butter (Crunchy) for added flavor.
Sattu Shake: Sattu is prepared by dry roasting Bengal gram and blending it till fine flour. Normally, one may consume 2 tablespoons (20 g) of sattu daily on an empty stomach. If you do the gym, you can double the quantity. 
To prepare a sattu shake, add 2 tablespoons of sattu powder in water or 250 ml of homemade almond milk. Add a dash of honey or half a tablespoon of organic jaggery for sweetness.
Homemade Protein Bars: Blend 400gms of pre-soaked and dried chickpeas, a cup of pitted dates, and a handful of all the seeds and nuts mentioned above, or simply add ½ cup of Satvic Foods Almond Peanut Butter (Crunchy). Bake the bar mixture for around 20 minutes in the oven or approx 35 minutes in kadahi, then allow it to cool and set. Once set, cut into pieces, and your nutritious munching option is ready!
Muscle Gain Without Protein Powder: Is it Possible?
In conclusion, you can build lean muscles without consuming protein powder, provided you complete your daily protein targets. You may consider vegan diet plan for weight gain to build muscle, increase your energy levels, and nourish your body.
Additionally, consider the protein supplement's quality and quantity. The human body absorbs 9-12 grams of proteins at once; hence, taking 30g per sitting may be ineffective, as it may get stored as fat. Incorporating 7-8 grams of protein from three tablespoons of pumpkin seeds is more effective than 30 grams from some supplements with incomplete amino acids. 
Further, check your vitamin level, as its deficiencies can hinder protein synthesis. Hence, a balanced satvic diet is essential for overall protein absorption, along with preparing protein powder at home. The benefits of the Indian diet are immense, offering complete nutrition and meeting the body's needs for its healthy functioning. Moreover, Satvic Foods' all-natural spices and immunity boosters will aid you in fulfilling your daily nutritional needs without compromising on taste. 
Try Satvic Foods' range of products for healthy nutrition!
Your Email Address Will Not Be Published. Required Fields Are Marked *