How To Make Satvic Medu Vada At Home | 5 Min Homemade Food Recipe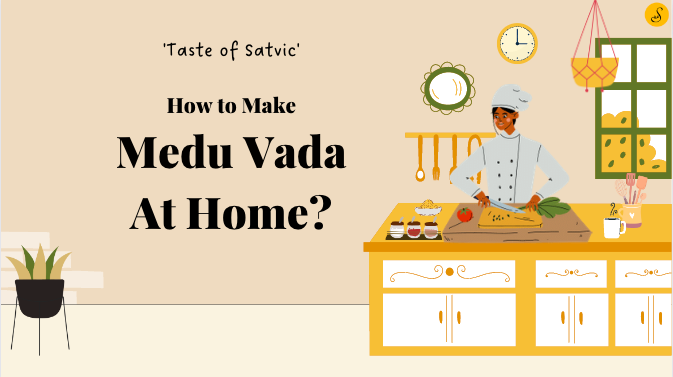 Medu vada is a famous South Indian savory fritter that looks like a doughnut. It is popularly served in breakfast along with coconut chutney, sambhar, curd, and even idlis. Medu Vada is crispy on the outside and tender on the inside cuisine. Read ahead to learn to make these for whenever you have guests at home, or you're craving some tasty snacks.
ALSO READ: How To Make Satvic Toor Daal At Home | 5 Min Homemade Food Recipe
Ingredients
2 cups white split urad dal (soaked overnight), 3 chopped green chilies, 2 tablespoons chopped coriander leaves, 1 tablespoon finely chopped ginger, a pinch of hing, 10-12 chopped curry leaves, 2-3 tablespoons chopped coconut, 5-10 crushed black peppers, salt to taste, oil for deep frying.
Steps to follow
Add soaked urad dal to a grinder and grind it to form a smooth paste. Add a little bit of water while grinding.

Transfer this mixture into a large bowl. Whisk it continuously for 5-7 minutes until it becomes soft and fluffy. 

Add chopped green chilies,

hing,

coriander leaves, ginger, curry leaves, fresh coconut, crushed black peppers, and salt. Mix it well.

To shape the

vadas,

apply some water to your palm and roll a ball-sized portion of the batter in your palm. Rotate it and shape it round. Then flatten it and use your fingers to make a hole in the center. Drop this doughnut-shaped

vada

into the oil.     

Heat oil in a kadhai (iron vessel) on medium flame. When the oil is hot, slide the

vada

into the kadhai.

When the

vada

is slightly golden, flip and cooks the other side. Deep fry the

vada

on medium flame, so it's cooked from the inside. Don't brown it completely at this stage. 

Remove the fried

vada

from the pan and place it on a plate to rest. 

Once all the

vadas

are done in this way, fry them again. This time fry them together until they turn golden brown and crisp.  

Drain excess oil and take them out on a plate. 

Serve

medu vada

with sambar and coconut chutney.
Benefits or Tips for Medu Vada 
Whisking the urad dal paste nicely in one direction helps to incorporate air into the batter, which results in softer vadas. Make vadas immediately after adding salt to the batter because if kept for a long, salt makes the batter watery. If your batter has turned too watery, you can adjust it by adding some rice flour. Medu vadas can also be served as Dahi vadas by adding some curd, tamarind chutney, and chat masala.
Your Email Address Will Not Be Published. Required Fields Are Marked *