How To Make Satvic Rava Uttapam At Home | 5 Min Homemade Food Recipe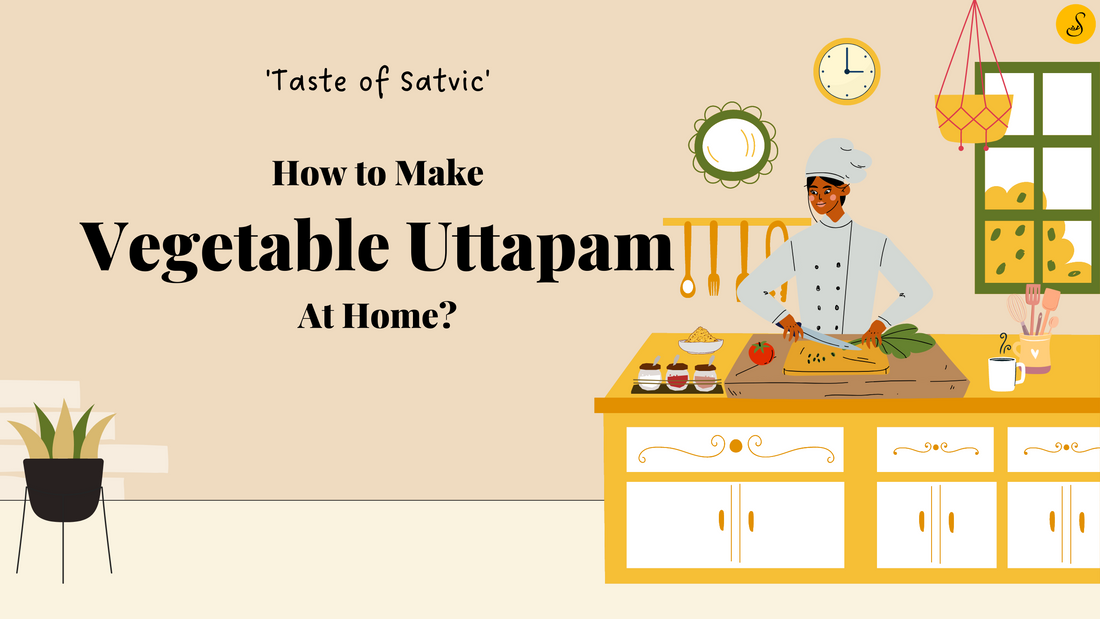 Rava Uttapam is a quick and healthy breakfast option. It is best served with a nice, fresh chutney with a South Indian tadka that adds life or prana to it, multiplying its nutritional value. You can easily prepare it in 30-35 minutes.
ALSO READ: How To Make Satvic Toor Daal At Home | 5 Min Homemade Food Recipe
Ingredients:
For the batter
1 cup semolina (Rava/suji), ½ cup beaten curd, Salt to taste, 1/2 cup water.
For the chutney
1 tbsp sesame oil or any oil, ½ tsp mustard seeds, 1 tsp urad dal, 1 tsp chana dal, 10-12 curry leaves, 3-4 dry red chilies, ½ inch ginger, 8-10 chopped garlic cloves, 4 medium-size chopped tomatoes, 1 tsp red chili powder (optional).
For toppings
1 small capsicum, finely chopped, 1 small carrot, finely chopped, 1 medium-size tomato, finely chopped, a pinch of red chili powder, 1 green chili finely chopped, finely chopped coriander leaves.
Steps to follow
For Rava Uttapam
Take Rava in a bowl, add beaten curd, Salt, and water and mix it well. Let it sit for around 10-15 minutes for the Rava to absorb the water. If needed, add a splash of water; the batter should have consistency.

Heat a pan and drizzle some oil.

Let it cook for a minute. You'll see some bubbles on top. Put the toppings on it and drizzle some oil on top. Cover with a lid for 3-4 minutes. Keep the flame low.

Next, flip the Uttapam, and cook the other side for a minute or until it turns brown. Your Uttapam is ready! Please repeat the same procedure with the rest of the batter to make more Uttapam for your family.
For chutney
Heat a pan. Add oil and let it heat. 

Then add mustard seeds, urad dal, chana dal, curry leaves, and dry red chilies; You can even go ahead and add Satvic Foods' Indian Sambhar Masala to it. Saute for a minute or two.

Now add tomatoes, stir them well, cover the lid and let it cook. Please keep stirring it every once in a while.

You'll know it's cooked when the tomatoes turn soft and mushy.

Once it's cooked, allow it to cool completely and grind it. Serve your fresh tomato chutney along with the Uttapams.
Tips or Benefits for Rava Uttapam
This healthy and balanced meal is quick and fun to prepare, making it a must-try! Go ahead with gluten-free suji if you are intolerant to gluten, or make Uttapam the traditional way- using fermented rice and lentil. Also, add different vegetables of your choice, like broccoli. Diversity in veggies is good for your gut. 
Your Email Address Will Not Be Published. Required Fields Are Marked *