Independence Day 2023: 6 Satvic Dishes That Say 'Jai Ho'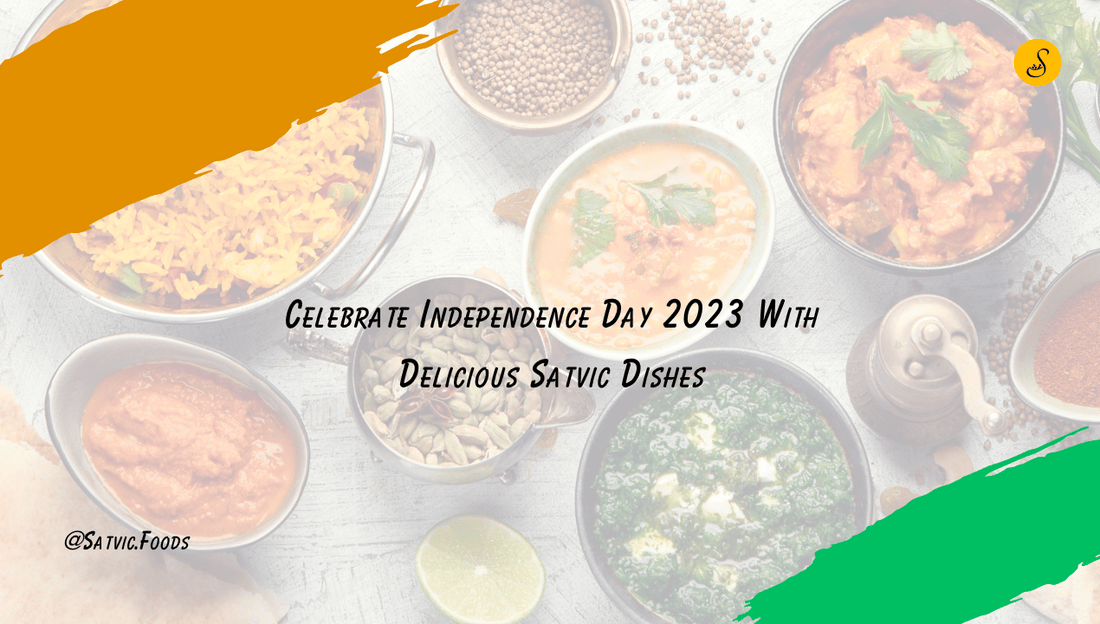 India is all set to celebrate its 76th Independence Day on August 15, 2023. Like every year, our honorable Prime Minister, Mr. Narendra Modi, will start the Independence Day 2023 celebration by hoisting our tricolor flag at the Red Fort in Old Delhi. 
For us Indians, celebrations start with good food and drinks. 
According to Ayurveda, maintaining a sattvic or satvic diet can promote physical strength, longevity, and mental health. Rich in nutrients, fiber, and antioxidants, a satvic diet helps boost our energy, and well-being, allowing us to deal with our daily challenges efficiently. 
We at Satvic Foods bring before you Satvi-licious Superfoods that can make your Independence Day a memorable one!  
Are you ready to celebrate Satvic's special Independence Day? Then stay tuned till the end as we are going to share with you some mouth-watering meal ideas that you can try with your family this Independence Day!  
6 Delicious Independence Day 2023 Food & Beverages To Try
Home-cooked meals have their unique flavors as they are made with love. Also, when you prepare your meals in your own kitchen, you can spice it up as per your taste buds. 
Cup of Warm Tea
How about having a cup of kadak chai while watching Independence Day 2023 program live on TV with your family? Sounds great? Satvic Foods can make it even better with readymade Kadak Chai Masala, a pure blend of Indian spices. Just mix it with warm water/milk and enjoy! If you are a coffee lover, opt for our Coffee Spice Mix.
Chocolate Smoothie 
If you are on a diet, but want to have a special Independence Day breakfast, make your special oatmeal chocolate smoothie with our 100% homemade Chocolate Almond Butter. If you are craving something crispy and chocolaty, just spread it on toast and have it with your morning coffee. 
Satvic Khichdi
Khichdi is one of the healthiest and tastiest meal ideas that you can have on your lunch on Independence Day 2023. Since it is easy to make, you can spend quality time with your family as well! Add a tablespoon of ghee and our Rajwadi Garam Masala to enhance the flavor of your Khichdi. Khichdi with Aam Ka Achaar makes the perfect pair! If you haven't tried it yet, have your Independence Day special Satvic Khichdi with our Spicy Raw Mango Pickle. 
Glass of Kesari Thandai
A celebration remains incomplete unless you have some thandai! Instead of putting your efforts into purchasing all the spices, nuts, and seeds and crushing them to prepare your thandai, try our Kesari Thandai Mix! It tastes delicious, takes a few minutes to prepare, and gives you ultimate relaxation. If you have kids, you can make a glass of cold chocolate milkshake with our Chocolate Milk Masala. 
Delhi-Style Home-Made Pav Bhaji
Pav-bhajis is an excellent snacking choice, and you should definitely try it with your family on Independence Day 2023 evening. With Satvic Foods' Delhi Pav-Bhaji Masala, you can make your own Delhi-style pav-bhaji at home! If you are not a pav-bhaji fan, you can have dosa or dahi vada for a wholesome Independence Day evening. 
Hot Parathas & Kadai Paneer 
Seize your day by having a lip-smacking dinner with hot, crispy parathas and kadai paneer or any other side dish you choose! To make flavorsome parathas that are easily digestible, add our Spicy Paratha Mix to it!
Importance Of Incorporating Satvic Foods In Your Daily Diet 
The word Satvic is derived from the Sanskrit word Sattva, meaning clean, pure, and strong. Bhagavad Gita suggests that the foods we consume have a direct influence on shaping our character, mental health, and overall well-being. Consuming nutrient-rich satvic foods has multiple health benefits. Those include:
Boosts Digestion
When you provide your body with more satvic foods like green veggies, whole grains, fresh fruits, legumes, etc., it aids in digestion. Also, these foods are light and unprocessed. So they can free you from constipation and bloating issues while encouraging your gut health.  
Supports Weight Management
Satvic foods are nutrient-rich and lightweight, which helps in maintaining a healthy metabolism. As a result, you can stay physically fit and maintain a healthy weight. 
Increases Prana (life force energy) 
According to Ayurveda, satvic foods contain high prana, meaning life force energy. Hence, by maintaining a satvic diet, one can increase one's prana, and feel lighter and more energetic. 
Improves Cellular Health 
A satvic diet is a blend of vitamins, antioxidants, and nutrients that keep up your immune system. This, in turn, helps improve your cellular health, promoting overall well-being. 
Maintaining Hormonal Balance
Eating foods rich in phytonutrients and antioxidants regulates the production of hormones within your body, reducing inflammation and other chronic ailments like thyroid. 
Detoxifies Your Body
Toxin formation in the body is the primary cause of headaches, bloating, skin rashes, nausea, acne, etc. When you make a habit of eating healthy foods, it helps flush those toxins out of your body. You can try Satvic Foods' Golden Milk Masala with warm milk to accelerate detoxification.
How to Watch Independence Day Parade?
The Independence Day event has started at 7:30 am for a couple of years. Hopefully, this year, the time will remain the same. First, PM Narendra Modi will unfurl our National Flag and start his Independence Day 2023 speech. 
You can watch it live on several news channels, including:
Doordarshan TV 

National Television

Zee news

DD News

Sansad TV YouTube channels
Also, you can stream the Independence Day 2023 Event and listen to PM's speech with a membership subscription to iTunes, Vudu, and Google Play. The event will also be broadcast for free on NBC and the Press Information Bureau (PIB) Youtube channel. 
Independence Day 2023 Quotes & Wishes
Independence Day is not just a national holiday; it's a symbol of freedom, resilience, pride, and happiness. Let's spread positivity and courage nationwide with motivational and meaningful Independence Day 2023 wishes and quotes! Whether you need a caption to post your Independence Day Celebration story on social media or send a personalized message to friends, these quotes can be ideal!
"Celebrating the freedom we cherish, the unity we hold dear. Happy Independence Day 2023!"

"In the heart of every citizen burns the flame of freedom. Let's spread the light, Happy Independence Day 2023!"

"2023 – Another year to honor the brave, to celebrate freedom, and stand for unity. Happy Independence Day!"

"Liberty is a legacy; let's pass it on with pride. Remembering the journey that led us here, Happy Independence Day 2023!"
TL;DR
6 Satvic Dishes to Try This Independence Day 2023

Cup of Warm Tea

Chocolate Smoothie

Satvic Khichdi

Glass of Kesari Thandai 

Delhi-style Home-Made Pav Bhaji

Hot Parathas & Kadai Paneer

Importance Of Incorporating Satvic Foods In Your Daily Diet 

Boosts Digestion

Supports Weight Management

Increases Prana

Increases Prana

Improves Cellular Health

Maintaining Hormonal Balance

Detoxes Your Body
How to Watch Independence Day Parade?

Independence Day 2023 Quotes & Wishes
Celebrate Your Independence Day 2023 With Satvic Lifestyle
India is renowned across the world for its secularism and democracy. As responsible citizens, it's our duty to maintain and together stand by corruption. This Independence Day 2023, let's think bigger and encourage our surroundings to change society by fighting against poverty and carbon footprints while promoting harmony, peace, and literacy. 
Let's make a promise to ourselves and say no to unhealthy junk foods. Simultaneously welcome a nutrient and antioxidant-rich, preservative-free, healthy diet with Satvic Foods. Team Satvic Foods wishes you and your loved ones a healthy and prosperous year ahead and a happy Independence Day. 
Your Email Address Will Not Be Published. Required Fields Are Marked *