5 AMAZING HEALTHY HOMEMADE FOOD TO IMPROVE HEALTH IN 2023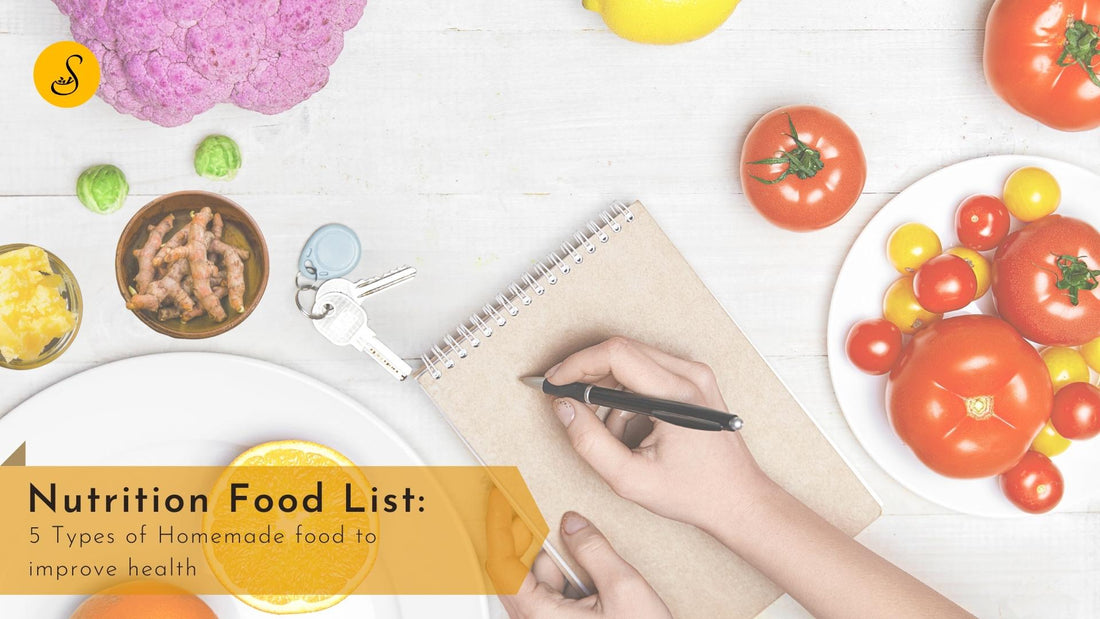 Healthy homemade food doesn't have to be dull in taste all the time. Who says healthy can't be yummy? They can certainly be as nutritious and delicious as those exotic hard-to-find dishes.
An easy homemade food recipe is a great way to consume a balanced diet, as it is filled with the nutrients the human body requires. 
Healthy homemade food recipes are often easy to make and even simpler to digest. You can enhance their taste by adding spices or naturally made nut butter.
If you're looking for quick, easy, healthy meals at home, this blog is for you! Read until the end to find some satvic food items you can add to your diet to improve your health. 
5 HEALTHY HOMEMADE FOODS TO IMPROVE YOUR HEALTH
You don't have to be a cook to come up with breakfast or healthy dinner ideas. You must be innovative by knowing the right ingredients and food items to add to your diet! Let's explore some of them below-
Warm milk
Warm milk is considered a highly nutritious Indian superfood. You can add turmeric to your glass of milk to make it more beneficial, as it aids digestion and strengthens the immune system. Turmeric is among the most popular nutritious north Indian spices for your health.
Just add a teaspoon of Satvic Foods' Golden Milk Masala to a glass of warm milk and incorporate all the medicinal benefits of turmeric, milk, and many other potent ayurvedic herbs to make it a perfect addition to your list of healthy homemade food recipes.
Try Satvic Foods' Golden Milk Masala to enhance the nutritional content of your milk today!
Lentils 
Lentils are a nutritious and versatile plant-based protein source for a healthy and satisfying dinner meal. They are packed with fiber, iron, and other essential nutrients.
Lentils can also be used in various healthy dinner meals, from soups and stews to salads and curries. Just browse through zillion healthy homemade food recipes to find your favorite one!
Almonds
There's no easier way to say it, but almonds are one of the most efficient ways to consume nutrients daily. They can also be used in healthy homemade food recipes like peanut butter, smoothies, oats, laddoos, etc.
If you want homemade peanut butter, Satvic Foods' Almond Peanut Butter is the perfect crunchy option to add to your list of quick food to make at home. It can even be added to healthy food recipes to lose weight, as it keeps you satisfied for extended periods.
Try Satvic Foods' Almond Peanut Butter to spread on your pancakes and toasts for a delicious experience!
Curd
Curd, also known as yogurt, is a healthy homemade food that is easy to make and provides many health benefits. It is an excellent source of protein, calcium, and probiotics, which promote digestive health and strengthen the immune system. 
Eating curd regularly can also help lower cholesterol, reduce inflammation, and improve overall gut health. 
Paratha
Paratha is a healthy homemade food made from whole wheat flour, cooked with minimal oil. It is high in fiber, protein, and complex carbohydrates, making it a quick, easy healthy meal. 
You can add Satvic Foods' Spicy Paratha Mix to your paratha recipe. It is a unique masala powder with the richness of dry ginger, turmeric, pomegranate seeds, and others, making your regular paratha delicious and healthier.
Try Satvic Foods' Spicy Paratha Mix to enjoy the blend of ten Indian spices in every bite!
Enjoy Healthy Homemade Food with Satvic Foods' 
Healthy homemade food must always be your go-to choice for a balanced and tasty meal. Sometimes you might find healthy meals boring, but with a few twists and spicy additions, you can turn them into a delicious addition to your satvic lifestyle.
Incorporating healthy homemade food recipes into your diet can boost your immunity and help you become more active even in daily mundane tasks. 
From peanut butter for breakfast to spicy nutritious parathas for dinner, you can choose from many options with Satvic Foods' products. Your health is in your hands; make a wise decision by opting for a healthy satvic diet.
Check out Satvic Foods' products to find the best nutritious food items to bring home today!
Your Email Address Will Not Be Published. Required Fields Are Marked *