Benefits of Drinking Tea every day: Why Add Kadak Chai Masala to Morning Tea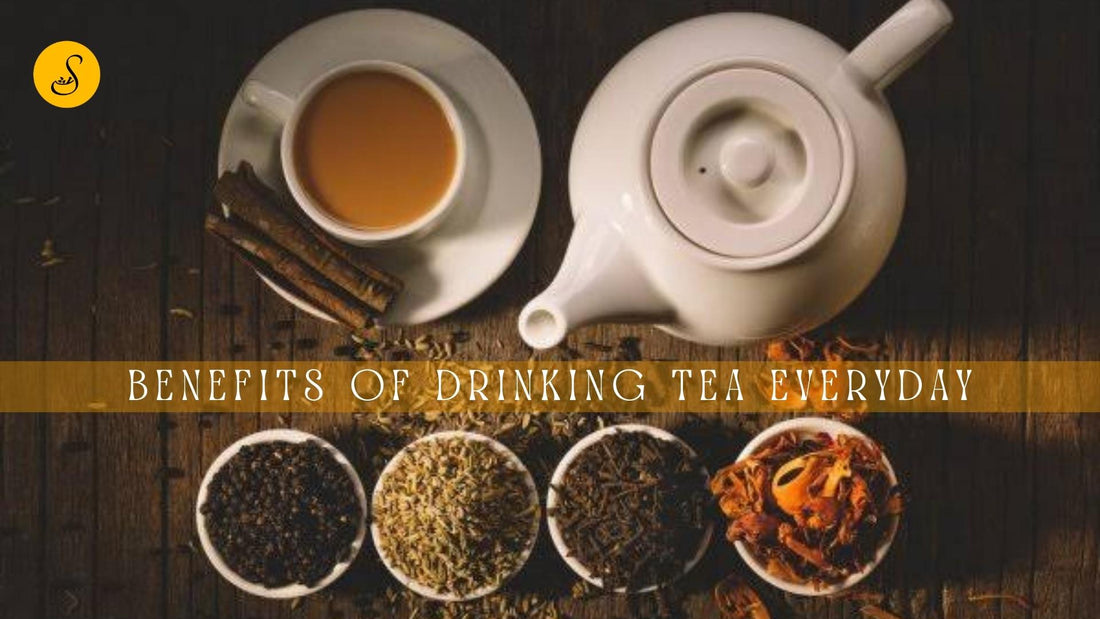 In India, chai is more than just a cup of tea to start a day – it is an inherent part of our culture. Tea has been an integral part of traditional medicine and is often termed as a "cure-all" in many Asian countries.
The benefits of tea go far beyond simply boosting our mood when we are feeling low. Regular consumption of tea can help protect brain health, improve heart health, and may even prevent certain types of cancer.
ALSO READ: CHRISTMAS DINNER IDEAS 2021: CHRISTMAS DINNER FOR VEGETARIANS WHO PREFER SATVIC FOODS
Here we have listed the top 10 benefits of tea for our readers:
It contains antioxidants that protect the body from the harmful effects of pollution
It contains anti-inflammatory properties that help reduce the risk of heart attack and stroke
It may also help decrease high blood pressure and lower cholesterol
One of the benefits of tea with milk is that it protects our bones
It contains fluoride and tannins that may keep plaque at bay
It contains polyphenols that has been known to protect us from cancer
The tea can improve insulin sensitivity and also protect pancreatic cells from further damage
The anti-inflammatory and potent antioxidant effects can improve fertility in both men and women
One of the benefits of hot tea is that it reduces carbohydrate absorption, improves blood sugar levels, thereby aiding weight loss
The L-theanine in tea can boost memory and increase attention span
Benefits of Chai Masala: Why Add Kadak Chai Masala to Morning Tea
Many of us like to start the day with a steaming cup of tea as a beverage tea can be prepared in various ways. The benefits of tea remain the same in every preparation; however, preparing tea with chai masala can help you obtain the maximum benefit. By mixing a little bit of chai masala into your morning tea, will not only enhance the flavor of your tea but multiply the benefits mentioned above of tea. To prepare your chai masala, you can use spices like ginger, cardamom, cinnamon, cloves, and black pepper, or if you are someone who has to rush to work every morning, opt for Satvic Foods' Kadak Chai Masala.
The potent spices used in Satvic Foods' Kadak Chai Masala will add a unique flavor to your tea and provide numerous health benefits. Cloves, Cardamom, Black peppers, Cinnamon, and Dry Ginger are some of the powerful medicinal spices with high antioxidants and anti-inflammatory properties that can help lower the risk of developing cancer, diabetes, help with digestion and nutrient absorption, and also reduce inflammation.
Please read the ingredients list before consuming Satvic Foods' Kadak Chai Masala.
ALSO READ: CHRISTMAS SALES 2021: SATVIC CHRISTMAS SALES IN INDIA
Benefits and Side-Effects of Tea
When it comes to reaping the maximum benefits of tea, moderation is the key. Overconsumption of tea may give a few side effects. To know about the side-effects of overconsumption of tea, you can read Healthline's article.
Your Email Address Will Not Be Published. Required Fields Are Marked *