Introducing Satvic Foods Aam ka Achaar: Homemade Pickle 2023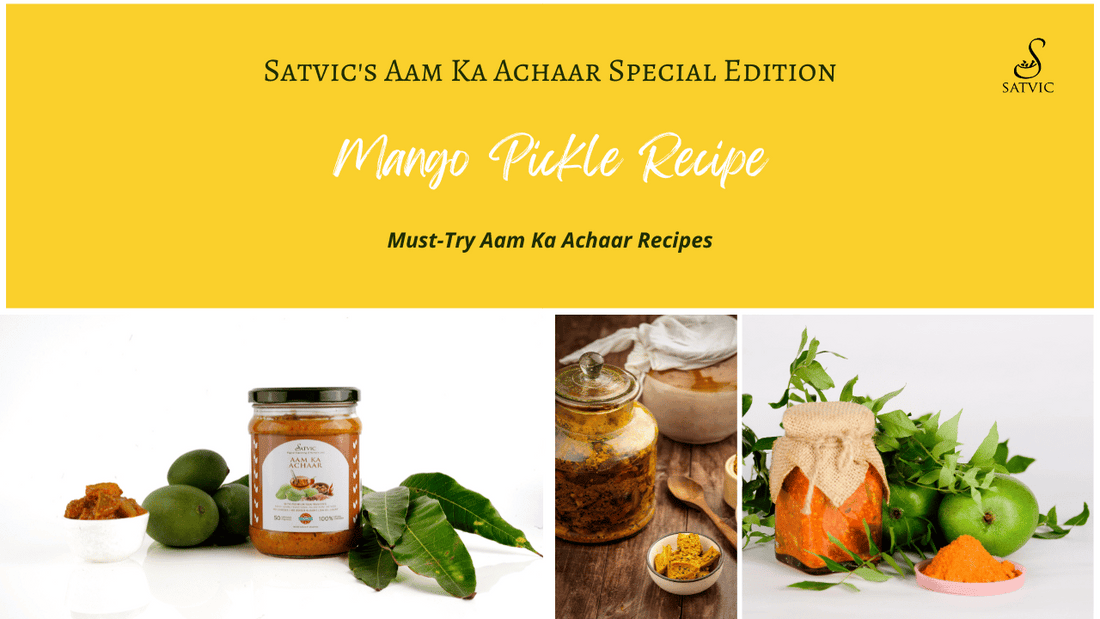 When searching for mango pickles, we often ponder about which homemade pickle is best. Preparing one's favorite mango pickle is not always possible for everyone, owing to multiple reasons, from busy lifestyles to wondering about homemade achar recipes. Therefore, ready-made mango pickles are the next ideal solution to enjoy aam ka achar.
While numerous options are available in the market, homemade pickles stand out as the healthier and more convincing choice. In this blog, you will understand some basic metrics to consider before buying your next aam ka achaar! Additionally, you will learn about the benefits of Satvic Foods' homemade Aam Ka Achaar, highlighting why and how it surpasses other brands. 
Mango Pickle Ingredients & Benefits
There are so many aam ka achar recipes globally. Have you ever wondered what sets each pickle recipe apart from the others? Their ingredients and pickling techniques! The secret key to any aam ka achar flavor lies in its exceptional combination of Indian masala.
Raw mango has many health benefits but has some limitations if not consumed mindfully.
Irritation in the throat 

Dysentery 
Therefore, raw mangoes are best when taken with spices. Now the question comes, "What does mango pickle contain?" Indian masalas like mustard seeds, fennel seeds, kalonji, and fenugreek are the common mango pickle ingredients that fortify raw mangoes' nutritional value. These spices are a rich storehouse of antioxidants, anti-inflammatory, immunity, and digestion-enhancing properties.
Now comes the next question: Which factors do you consider when considering which Indian pickle brand is best? The most important fact you must evaluate before purchasing pickles online is preservatives. Check if vinegar is listed as an ingredient, as its acidic nature can exacerbate acidity issues (if you have any). 
If the preservative is not visibly labeled, it is best to avoid buying such pickles. However, if pickles contain natural preservatives like mustard or sesame oil, feel free to go ahead.
Ingredients That Set Satvic's Achaar Apart
The secret behind Satvic Foods' Aam ka Achaar lies in its carefully selected ingredients to give you a flavor punch with health benefits. We often come across questions like, "Is mango pickle good for health?" Yes, but in moderation! This is why we have prepared our aam ka achar using these 13 pickle ingredients - 
Raw Mango 
Fennel Seeds
Mustard Kernels 
Fenugreek Seeds
Turmeric
Red Chilli 
Mustard Oil
Pink Himalayan Salt
Dry Ginger 
Black Pepper 
Nigella Seeds
Clove

Asafoetida 
Most brands use regular white salt in their pickles, while we have used pink Himalayan salt (only) to add a distinctive touch along with essential minerals and trace elements that regular table salt lacks. Pink Himalayan salt contains more calcium, potassium, magnesium, and iron, which is beneficial for muscular function, bone health, and structural tissue repair and maintenance. Additionally, it also boosts energy and relieves stress and depression. 
Additionally, other marketed pickles sometimes lack dry ginger, black pepper, and clove. We have included them in our mango pickle to infuse these spices' unique medicinal properties to make our aam ka achaar a wholesome and nutritious delight for you.
Before moving forward, understand what makes our mango pickle ingredients special. Let's have a look at some of the pickle ingredients that make our aam ka achar a satvic delight.
Pink Himalayan Salt: Pink Himalayan salt, a key ingredient in Satvic achaar, offers many health benefits with its unique composition. It is a healthier alternative to regular white salt, heavily refined and stripped of natural minerals. Pink Himalayan salt, being unprocessed, retains its natural trace minerals like iron, zinc, potassium, calcium, and magnesium. They help support a healthy pH and electrolyte balance, aid digestion, and regulate blood pressure. Its natural minerals impart pickles a distinct and strong flavor.
Clove: Clove is rich in antioxidants, anti-inflammatory and antimicrobial properties. It also contains an active ingredient, eugenol, a natural analgesic that helps numb and reduce pain. Additionally, clove promotes respiratory health, manages blood sugar levels, aids digestion, reduces bloating and gas, and alleviates nausea. Its warm and earthy aromatic flavor adds depth to pickles.
Dry Ginger: Dry ginger supports gastrointestinal health, stimulates digestive enzymes, and alleviates bloating and indigestion. Its aromatic and zesty flavor adds a delightful kick to pickles.
Black Pepper: Black pepper contains a compound called piperine, which possesses antioxidant and anti-inflammatory properties and aids nutrient absorption and digestion. Further, it supports healthy weight management by boosting metabolism and reducing appetite. Its pungency, distinctive flavor, and spicy taste enhance the pickles' flavor, making it one of our unique mango pickle ingredients.
Sundarja Mango: Sundarja Mango, the main ingredient in Satvic Foods' Aam ka Achaar boasts an array of health benefits. Its diabetic-friendly properties aid in sugar management, while its fiber-free nature adds to its appeal. Its rich aroma, sweet and tangy flavor, and absence of fibrous texture make it the perfect choice for pickle lovers seeking a smooth, spicy, and tangy texture.
Premium Raw Mangoes for Homemade Pickle
We often think about which mango is best for pickling in India. However, you must know that the pronounced taste of pickles comes from mango varieties, as each variety of raw mango has its own taste. 
We at Satvic Foods source the best quality raw mangoes, known as 'Sundarja,' directly from Govindgarh near Rewa in Madhya Pradesh. We have chosen these raw mangoes for their superior quality and taste, also supporting sugar management. 
Using Sundarja mangoes, Satvic Foods ensures that you enjoy the authentic taste of aam ka achar while prioritizing your health. Find out below why you should consider us as your go-to homemade pickle brand:
No Chemical Preservative
At Satvic Foods, freshness, and natural food is a top priority. Unlike other brands that produce mango pickles in bulk for an entire year using vinegar and artificial preservatives, Satvic Foods follows a traditional preservation technique, which is free from chemicals. 
To preserve raw mangoes, we cut them into small pieces and let them soak in salt water (brine solution) for months. This technique helps retain the crunchiness and sweetness of the raw mangoes.
When an order is received, we freshly prepare the pickle by combining the pickle masala with the raw mangoes using traditional methods. This way, Satvic Foods guarantees a fresh jar of aam ka achar all year-around without any chemicals or unnatural additives, suitable for everyone.
Our commitment to using only traditional and natural culinary methods passed through generations sets us apart, catering to every dietary preference without compromising on taste.
Nutritional Value
Satvic Foods' mission is to offer nutritious foods for varied health and dietary preference. Therefore, we have controlled the oil content in our aam ka achar, ensuring a healthier choice without compromising quality. 
With each 100g serving, you receive 222.15 kcal of energy and 5.67g of protein, making it a wholesome addition to your meals. With zero trans fat and zero cholesterol, you can relish this tangy pickle carefree without any worries about unnecessary fat.
Moreover, you may add to your daily protein intake with Satvic Foods' Protein Dry Fruits Ball. It is made with 19 natural ingredients, including dates, nuts, seeds, and cinnamon, providing 15 grams of protein per ball. Now you do not need to look for artificial protein supplements because it is possible with homemade delicacies made using Indian superfoods.
Experience the protein punch with Satvic Foods' Protein Dry Fruits Ball - Grab now!
Extended Shelf Life
Satvic Foods ensures you only receive aam ka achar in its freshest form. As mentioned, we pack a fresh jar for every order. With a shelf life of 12 months from the date of packaging, you can rest assured that the product you receive is from the freshest batch. 
We at Satvic Foods take utmost care to maintain the homemade quality and freshness to avail you of the best homemade mango pickles. 
Satvic's Aam ka Achaar can be your versatile accompaniment for roti, paratha, rice, dal, and sabzi. The amalgamation of earthy, aromatic, tangy, and spicy flavors will enhance the benefits of Indian recipes and your overall dining experience. 
Satvic Foods' Aam Ka Achaar is your go-to homemade and classic accompaniment for every Indian meal.
Bring home Satvic Foods' Aam Ka Achaar - your perfect pairing for every meal!
Satvic Foods' Aam Ka Achaar: Homemade Pickle Online
Satvic Foods stays true to its tradition and values of offering only natural and homemade goodness carved with mother's love. Although mangoes are a seasonal fruit, you can still enjoy seasonal freshness with every bite of pickle. By adhering to traditional preservation techniques, using the best North Indian spices, and avoiding vinegar and artificial preservatives, we have ensured this tangy lip-smacking delight is suitable for everyone. 
Now that you are aware of the unique blend of spices used in our homemade aam ka achaar,  you can understand why it stands out from the rest. With the inclusion of Sundarja mangoes and pink Himalayan salt, savor a pure and healthy eating experience.
We have provided you with all the answers on which homemade pickle is the best, and empower you to make an informed choice before buying mango pickles online. Experience the true essence of satvic eating with Satvic Foods' Aam ka Achaar, a mouthwatering delight with numerous health benefits.
Order today Satvic Foods' Aam Ka Achaar - a wholesome homemade goodness! 
Your Email Address Will Not Be Published. Required Fields Are Marked *