Reality Behind Drinking Masala Tea On Daily Basis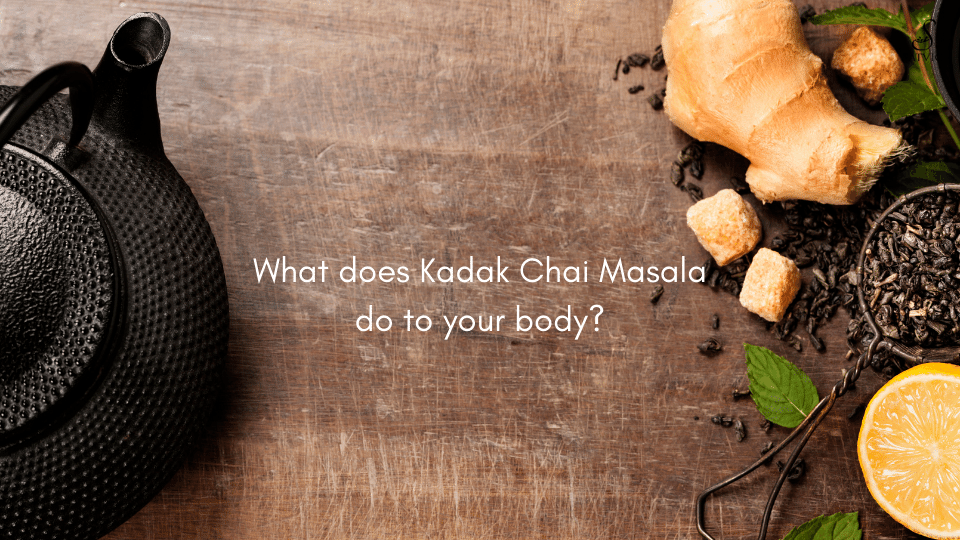 Masala tea is not just a great beverage but also has a number of health benefits. A good masala tea serves as a perfect immunity booster as it fights off your seasonal fever and soothes down your throat. People are consuming masala tea or masala chai worldwide, and it won't be wrong to say that it has definitely become one of the most consumed beverages.
We have jotted down a couple of hidden benefits of drinking masala tea daily. It might help you figure out why everyone is talking about Kadak Chai Masala.
Helps Fight Cold and Nasal Clogging
The primary benefit of adding Kadak Chai Masala to your tea is that it has antibacterial and antifungal properties. If you are feeling under the weather, then it could be a good idea to consume masala tea. Kadak Chai Masala from Satvic Foods is a blend of clove, cinnamon, dry ginger, and other natural spices (yes, black pepper) that will do wonders in cough. We highly recommend you to give it a try.
Improves Metabolism
Tea in itself has several health benefits. If served with Kadak Chai Masala, you will triple-fold the overall benefits. Indian spices like cloves and dry ginger give your metabolism the necessary boost that it needs during the winter season. You can consume Masala Tea on a daily basis to utilize all the benefits.
Improves Digestion
According to Food NDTV, Masala Tea is a great aid in digestion as it removes the excess air or water in the stomach. If you or your loved ones are also facing stomach issues on a daily basis, then we highly recommend using Kadak Chai Masala to make a black tea -- the Long Pepper and Fennel (Saunf) will surely make you feel better.
Say Goodbye to Fatigue
Usually, Masala Tea is made by adding a small amount of caffeine to it. But at Satvic Foods, we have made sure not to include any such product. The Cardamom and Basil make Kadak Chai Masala a great rejuvenating drink as it helps in boosting energy.
Boosts Immunity
Masala Tea consists of Licorice, Basil, Long Pepper, Cinnamon, and Clove, which are considered excellent for our immune system. These natural Indian spices help to prevent chronic diseases like Alzheimer's. It is highly advised that if you start to use some immunity boosters on chronic patients, you should consult with your doctor.

Prevents Cancer
Masala tea consists of spices like Dry Ginger, Cinnamon, and Cardamon (Read: Health Benefits of Cardamom). These natural Indian spices are great antioxidants that make sure that they boost your immune system and protect you from diseases like cancer.
Reduces Inflammation
One of the primary ingredients of tea masala is dry ginger, which has great anti-inflammatory properties and is perfect for reducing inflammation in your body. At Satvic Foods, we have used premium cloves that also act as a great anti-inflammatory agent on your body.
Antioxidant Properties
Adding tea masala to your regular tea makes sure that there is an increase in its antioxidant properties. It lowers heart diseases by reducing insufficient cholesterol in bodies. The Kadak Chai Masala from Satvic Foods contains all the essential and vital ingredients, which are beneficial for the body and refreshing to the mind.
Say Goodbye to Anxiety and Stress
Anxiety and stress have become part and parcel of our daily lives, but you can kiss them goodbye by simply adding Kadak Chai Masala to your cup of tea. Researches have shown that regular consumption of masala tea can help reduce stress levels in adults. Make sure that when you are feeling the blues, you combat them with a cup of masala tea.
Combat Pain
If you are experiencing pain in joints, apart from taking prescribed medications, you should treat yourself with a hot drink of masala tea. Make sure that when you are preparing the tea masala, you include clove and ginger in it. These ingredients have inflammatory properties and help increase blood circulation, thereby resulting in combating pain.
No doubt Masala Tea is one of the best beverages out there in the market. You can simply make your own masala tea at home by adding organic ingredients.
Your Email Address Will Not Be Published. Required Fields Are Marked *