10 Ways to Increase Children's Immunity: Best Satvic Foods to Increase Immunity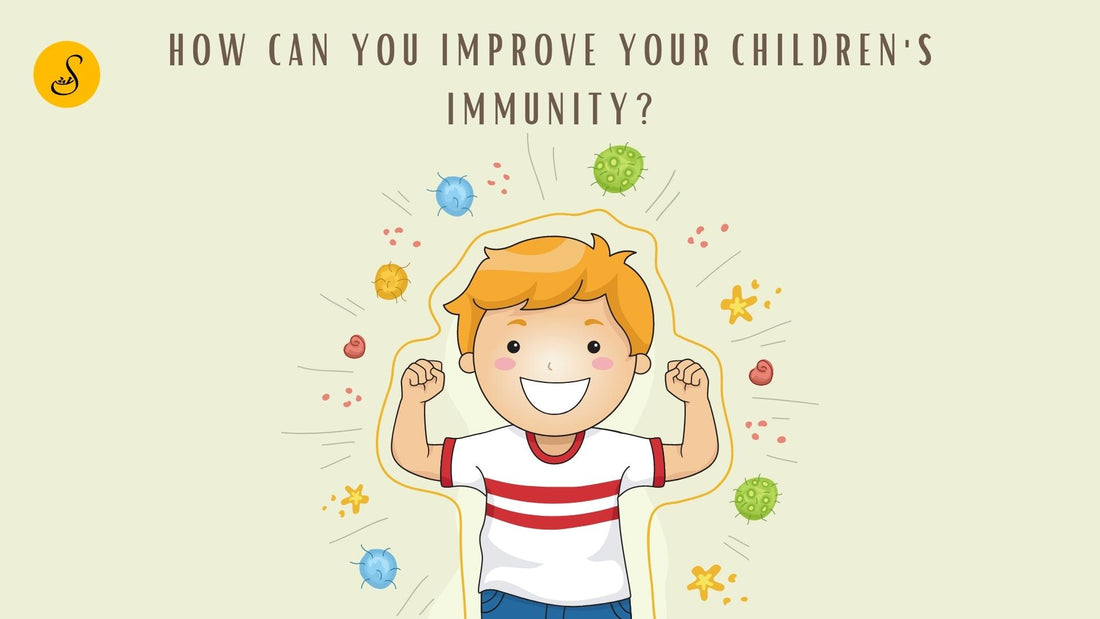 As parents, we all want the best for our children. Whether it be from falls, bumps, and bruises — or infections and diseases, we want to protect our children at all costs. Especially with the new Covid-19 variant on the rise and winter flu spreading rapidly, children's immunity is a matter of concern for every family.
For parents wondering how to improve children's immunity, we have curated the top 10 ways that can help boost children's immunity naturally at home:
A well-balanced and diverse diet that is rich in whole grains, lean protein, fruits, and vegetables

Encourage them to eat homemade food made with natural herbs and spices like ginger, clove, garlic, tulsi, etc.

Keep them hydrated but avoid those packaged juices and aerated water and replace them with hot chocolate, fresh juices, or other healthier options.

Have a proper sleep schedule as lack of proper sleep can limit the body's ability to produce proteins called cytokines that help fight infection and reduce inflammation.

Encourage them to stay active, even if they cannot go out encourage them to take up indoor activities that they enjoy.

Kids are more susceptible to the harmful effects of passive smoke; hence it is important to keep them away from passive smoking.

Use antibacterial products to clean your home, especially commonly touched areas like tables, countertops, door handles, light switches, and your child's toys.

Encourage them to wash their hands frequently, especially before eating, as it can stop germs from spreading.

Don't forget to vaccinate your child on time because vaccination can increase immunity and protect against various diseases.

Spend time as a family and create a positive atmosphere at home.
ALSO READ: INDIAN HOME REMEDIES FOR SILKY HAIR: SHIKAKAI'S BENEFITS TO GET SHINY HAIR AT HOME
Best Satvic Foods to Increase Immunity
Homemade food for immunity is the best way to boost children's immunity naturally. Indian spices and herbs like turmeric, tulsi, neem, ginger, cinnamon, etc., are some of the best foods to increase immunity. They contain antiviral, antibacterial, anti-inflammatory, anti-fungal, anti-microbial, and anti-diabetic properties that can help increase our immunity naturally.
In today's busy life, we don't get the time to make the masalas at home and often end up ordering food from outside. Especially in the house where both parents are working, making homemade spices may sound like an impossible task. But what if we provide you with healthy spice mixes that are 100% natural containing all the health benefits listed above? Satvic Foods Indian Spices are the best choice for you. They offer a variety of masala powders that are sundried and hand-grounded to ensure the nutritional values remain intact.  From Rajwadi Garam Masala to Herbal Immunity Kadha, you can choose your favorite mix and there you have your best homemade food for immunity.
Consider This to Increase Immunity Naturally
When it comes to increasing children's immunity,  parents need to encourage healthy habits and proper hygiene practices from an early age
Also, we would advise you to consult with your pediatrician before starting any homemade supplements or any other medicines. These immunity masalas cannot be used as a replacement for any medicines prescribed by your doctor and can only aid in your routine diet. Practo has also listed down the top 5 Ayurvedic herbs that can boost children's immunity, that might be helpful for you
Your Email Address Will Not Be Published. Required Fields Are Marked *