World Chocolate Day 2023: 10 Unique Gift & Celebration Ideas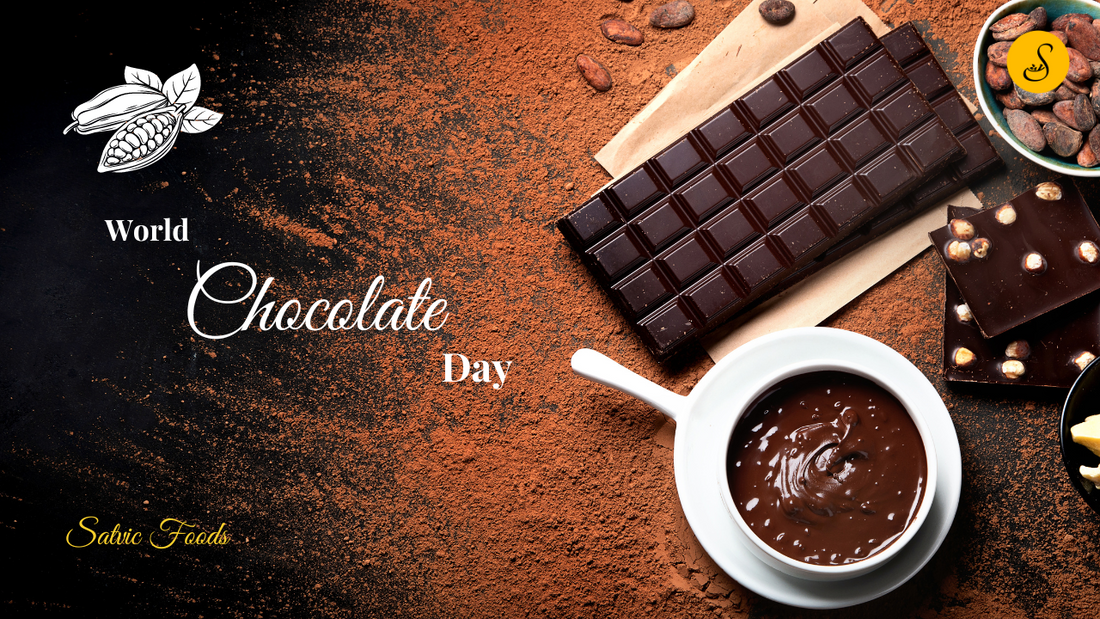 World Chocolate Day 2023 isn't just any day but a day with rich history and a reminder to indulge in your favorite chocolate treats with your loved ones. Did you know that chocolate was introduced in Europe in the 16th century by Spanish conquistador Hernán Cortés who brought cacao beans back to Spain from Mexico? The exact reasons behind celebrating this day are still unknown, but this could be one of them!
Days like Chocolate Day are meant to take a break and add flavor to life, reminding us to celebrate life's simple pleasures, the little joys and embrace moments of pure bliss that bring us happiness. 
This Satvic Foods blog has a treat in store for you! Whether you want to pamper yourself, surprise your loved ones, or celebrate together, we have got you covered. Discover 10 unique celebration ideas that will not only make your World Chocolate Day 2023 unforgettable but also make for perfect gifts for yourself and your loved ones. 
And if you are short on time to read the entire article, don't worry. We have the perfect solution! Consider gifting Satvic Foods' impressive range of chocolate delights – a healthy, natural, and irresistibly tasty food suitable for everyone.
 

Satvic Foods' Chocolate Milk Masala




100% Natural and Premium Quality Ingredients

A Wholesome and Healthy Option For Children and Adults 

Contain Natural Cacao Powder

Provides 25g Protein Per 100 Gm

Boosts Immunity

Improves Brain Function

Provides Sustained Energy

A Unique Taste That Is Different From Other Chocolate Milk Powders

Can Be Used In A Variety of Ways

No Artificial Sugars or Preservatives

Satvic Foods' Chocolate Almond Butter




Made With 80% Premium Almonds 

Rich In Vitamin E

A Good Source of Flavonoids

Zero Trans Fats

A Healthier Option For Your Heart Health

Contain Natural Sweetener - Organic Jaggery

No Hydrogenated Oils or Preservatives

Contain Natural Cacao Powder

100% Natural and Premium Quality Ingredients
10 Unique World Chocolate Day Celebration Ideas
World Chocolate Day is a day meant to celebrate this sweet treat that brings joy to millions. What could be a better excuse to enjoy the sheer bliss of indulging in the velvety delight of cocoa and spreading smiles one chocolate bite at a time?
In this section, discover the 10 best World Chocolate Day 2023 celebration ideas. Have you ever hosted a chocolate-themed party or are you planning to? Or would you like to try creating your very own signature chocolate recipe? Whether you are a seasoned chocolate eater or a curious beginner, our Chocolate Day celebration ideas below will inspire you to enjoy every moment of this special Chocolate Day 2023. 
We have curated the list considering all the personal and professional gatherings. Therefore, you may use this versatile Chocolate Day celebration idea anytime and for any occasion. Let's dive in and explore the World Chocolate Day celebration ideas together!
A Chocolate Breakfast
What could be a better choice than starting the day with cacao-infused foods? Well, if it's World Chocolate Day, this is a sure thing! Mornings are a bit hectic; we understand that. But who could deny a simple hot chocolate? Satvic Foods has the perfect solution for your hectic schedules -  Satvic Foods' Chocolate Milk Masala. 
It is a healthy blend of 11 ingredients like cocoa powder, almonds, cashews, pumpkin seeds, foxnuts, pistachios, and nutmeg. Additionally, it provides 25g protein per 100 gm with zero added sugars and any chemical preservatives. You are free to add sweeteners of your choice to your drink. And the best part? Not just for kids, but it's the perfect treat for adults too who want to indulge in something sweet and healthy.
Moreover, you can use this chocolate milk masala in various ways, including as a milkshake, hot chocolate, or topping for desserts. Now you know what we were talking about! Isn't this a great way to celebrate Chocolate Day 2023 with a versatile chocolate addition to your kitchen and taste?
Order your Satvic Foods' Chocolate Milk Masala today for a healthy chocolate day treat!
Personalized Chocolate Box
Personalized chocolates are a great way to express love for your dear ones. Assemble their favorite chocolates and decorate the box with other goodies and dry fruits like almonds and cashews. You can go the extra mile with personalized chocolate gifts by imprinting the receiver's name and photo on the chocolates. Add a sweet message to make it even more special. Who would you gift this to?
Chocolate Bouquet
Who doesn't love a flower bouquet? But this chocolate day 2023, why not switch it up by gifting a bouquet of chocolates instead? It's a unique way to celebrate Chocolate Day and also express your care for the people around you.
Chocolate Spa
Are you always thinking about others? How about this Chocolate Day 2023, treating yourself to a chocolate spa treatment? It's a great way to relax and get into the spirit of Chocolate Day. Have you ever tried a chocolate spa treatment before? If not, this is the time!
Visit A Chocolate Factory
Do you remember the movie - Charlie & The Chocolate Factory? If there's a chocolate factory in your town, there won't be a better time to see how chocolate is made, and you might even get to try some fresh samples as well. It's an educational and tasty way to celebrate Chocolate Day 2023. Have you ever visited a chocolate factory or any chocolate workshop before?
Chocolate Movie Day
You must observe occasions like World Chocolate Day 2023 to educate yourself and others while making memories with your loved ones. Speaking of a movie - Charlie & The Chocolate Factory, in the above section, what other movies come to your mind? Willy Wonka & The Chocolate Factory or Chocolat? Spend time with your kids, friends, or family, reigniting your childhood imaginations and memories. 
Get Together With Chocolate
Whether for family or at work, a get-together is a must to expand and deepen one's relationship with others. And what could be a better way than chocolate to sweeten and light up everyone's mood? This World Chocolate Day 2023, set up a chocolate fondue station with fruits, candies, marshmallows, and other treats for dipping. It's a delicious and interactive way to celebrate the variety of chocolates. What's your favorite thing to dip in chocolate fondue?
Virtual Chocolate Party
If a physical meet-up is not possible, share some sweet treats over video calls and celebrate some chocolaty moments together. Try sending some chocolates in advance to treat your friends and family.
Hot Chocolate Bar
If you plan a party soon, a hot chocolate bar could be your best idea. Set it up with different flavors, toppings like peanut butter, and mix-ins for guests to create their own custom hot chocolate drinks. It's the most fun, tasty, warm, and cozy way to celebrate World Chocolate Day 2023. Let your guest be as creative as they can! What's your favorite hot chocolate topping?
Cook with Chocolate
When was the last when you had your apron on to cook something with chocolate? You may try with ingredients like Satvic Foods' Chocolate Milk Masala for the natural and original chocolate flavor with nutty crunch in your puddings and cupcakes.
We have another top recommendation to make your baking easier and more delicious with Satvic Foods' Chocolate Almond Butter. Unlike some processed nut butter, it contains zero trans fats and zero hydrogenated oil, making it a healthier option for your heart health. Since it includes original cocoa powder and organic jaggery as a natural sweetener, you can indulge in its health benefits and deliciousness without worrying about added sugars.
Whatever you are baking - brownies, cookies, or cake, spread the sweetness of Chocolate Day 2023 with Satvic Foods' Chocolate Almond Butter. 
Buy Satvic Foods' Chocolate Almond Butter to savor natural and healthy chocolaty goodness!
Celebrate World Chocolate Day 2023 With Satvic Foods
You may find numerous World Chocolate Day celebration ideas with gifting options, but the best you can do is spend time with the ones you care about the most.
Most importantly, when it comes to chocolates, remember not all chocolate and chocolate products are created naturally and equally. They might contain unhealthy amounts of sugar, hydrogenated oils, and preservatives to make them tastier. This is your call to spread awareness and treat your loved ones with the goodness of healthy chocolate habits.
When choosing chocolate, opt for natural ingredients like cacao powder, which is unprocessed and healthy for you. With Satvic Foods, you can relish guilt-free, natural indulgence while making unforgettable memories on this special day.
Celebrate World Chocolate Day 2023 with Satvic Foods' natural chocolate delights - order today! 
Frequently Asked Questions
When is World Chocolate Day?
World Chocolate Day, also known as International Chocolate Day, is observed every year on July 7. This year it will occur on a Friday. It is a day to celebrate chocolate's history, health benefits, and popularity. This day, July 7, marks the introduction of chocolate to Europe on July 7, 1550.
What was the theme of World Chocolate Day 2022? 
There was no specific theme for World Chocolate Day 2022 or 2023. The yearly celebration began in 2009 and is celebrated with great enthusiasm worldwide. 
Where does chocolate come from?
Chocolate is produced from cacao beans, the most healthier variant to consume. Cacao plants are native to South America and later transported to Europe and Asian continents over the years. In India, Cacao plants are grown in South India, mainly Tamil Nadu and Kerala.
Is chocolate aphrodisiacs?
Chocolate contains the chemicals phenylethylamine and serotonin, which are great mood boosters. However, there isn't any scientific evidence to prove their effect on sexual stimulus.
Your Email Address Will Not Be Published. Required Fields Are Marked *