9 Home Remedies For Dry And Frizzy Hair: Tips & Cure [2023]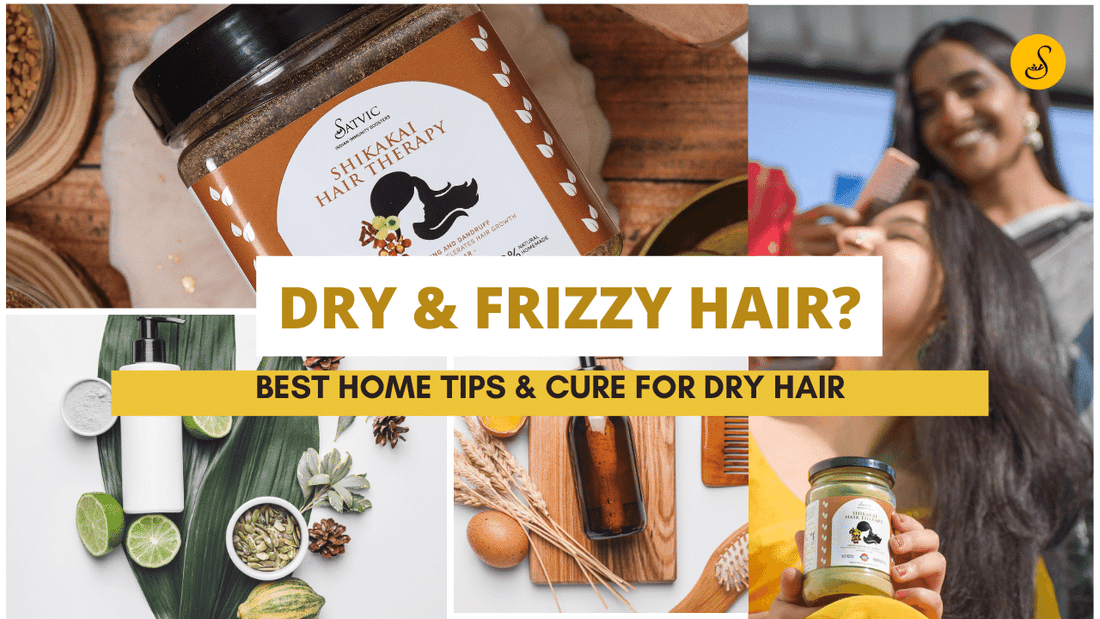 Home remedies for dry and frizzy hair are a lifesaver for restoring vibrancy. Remember those childhood days when you experimented with different hairstyles, having fun with your hair? 
However, due to several reasons like stress, an improper haircare regime, etc., now your hair has become dry and frizzy, leaving you frustrated and confused. If you are stressing over how to treat dry and frizzy hair at home, you have come to the right place. In this blog post, Satvic Foods will share some effective home remedies for dry and frizzy hair without spending fortunes on expensive hair products or salon treatments. 
We will also discuss how to treat a dry scalp and some Indian home remedies for dry and frizzy hair because our grandmas always have had the best solutions for everything. It's time to reclaim those carefree hair styling moments with frizz-free hair once again! 
Wait, have you ever heard of an Ayurvedic solution for all your hair problems? It has some real and natural solutions for all hair problems without you getting overwhelmed with confusing ingredients and complicated routines. We will introduce you to the magic of Satvic Foods' Shikakai Hair Therapy Powder, a natural hair care gem that will leave your frizzy and dry hair feeling silky and oh-so-good!
Keep reading to learn some easy DIY hair masks and hair care tips, all while embracing the wisdom of Ayurveda and the simplicity of Satvic Foods.
Home Remedy For Dry Hair: How To Treat Dry Scalp?
Dry hair or dry scalp reflects weak hair health. While seasonal changes can be one reason for changes in the scalp's pH, most of the time, there are others too. For instance, not drinking enough water, excessive hair washing, medical conditions like eczema or psoriasis, or harsh chemicals of hair care products make hair lose its vibrancy.
Additionally, women with PCOS may also experience a dry scalp and dandruff. Therefore, if you're dealing with dry hair and an itchy scalp, it's important to understand and act according to the causes. Then, how to get rid of frizzy hair permanently at home? Discover these effective home remedies for dry hair and scalp to restore moisture for healthier, more nourished tresses.
Herbal Shampoo
Herbal shampoos offer several advantages over branded commercial ones boasting of curing dry hair. Dry hair shampoos often contain harsh chemicals like sodium lauryl sulfate (SLS) or sodium laureth sulfate (SLES), used for their foaming properties but can dry out and irritate the scalp. Additionally, certain alcohols like isopropyl alcohol or denatured alcohol and synthetic fragrances further dry out the hair. 
Then, how to treat a dry scalp? Well, washing hair with herbal products is your solution. Unlike chemical-laden shampoos, herbal shampoos harness the power of Ayurveda. It is one of the Indian home remedies for dry and frizzy hair. They usually contain ingredients like shikakai, amla, and more to provide gentle cleansing and nourishment for hair growth.
You may opt for Satvic Foods' Shikakai Hair Therapy Powder to give your hair the care it deserves. It contains 8 wonder herbs and nuts like shikakai, reetha, Indian gooseberry, bhringaraj, and Brahmi. Ayurveda has proven its effectiveness in removing greasiness, nourishing roots to accelerate hair growth, balancing the scalp pH, and preventing dryness, graying, and dandruff. It is a natural haircare solution suitable for all hair types and seasons.
Order Satvic Foods' Shikakai Hair Therapy Powder now for dry hair!  
Aloe Vera
Which homemade hair mask is best for dry hair? Here is your answer! Aloe vera has nourishing, moisturizing, and anti-inflammatory properties that help with dry scalp. You may apply the aloe vera gel directly on your scalp and hair. Let it sit for 10 minutes, then wash it out. Try this remedy once a week for one month, then once after every two weeks to get silky smooth hair.
Banana Hair Mask
This is another homemade hair mask best for dry hair. Bananas are packed with vitamins, potassium, and natural oils, making them ideal for combating dryness and frizz. Mash an extra-ripe banana and add a tablespoon of honey with a few drops of almond oil or vitamin E. Apply this mask to your hair and scalp. Leave it on for 30-45 minutes, then rinse with lukewarm water. Your hair will be more manageable and visibly smoother than before.
Curry Leaves
Curry leaves are power-packed with vitamins A, E, and folic acid. Applying curry leaves oil not only helps cure scalp infections and dryness but also nourishes the hair. Adding them to one's diet multiplies its effect on overall hair health.
Amla
Have one amla or amla juice daily every morning to strengthen the hair follicles and moisturize the dry scalp. You may also include dried amla powder in your hair masks to cure scalp infections and prevent hair dryness.
Avocado Hair Mask
Do you also often lookout for solutions for how to reduce hair dryness? Avocado is your savior - a powerhouse of nutrients and healthy fats that deeply moisturize and nourish dry hair. Blend a ripe avocado to a smooth paste and add a tablespoon of any oil like olive, castor, or coconut oil. Apply this mask to your hair, focusing on the ends. Leave it on for 30-45 minutes, then rinse. Avocado and the oils will nourish and hydrate your hair, giving it a silky smooth texture.
How To Get Rid of Frizzy Hair in 5 Minutes?
Before getting on the effective home remedies for frizzy hair, understand one primary concern - dehydration. Constant dehydration can harm your hair, causing damage and leaving it looking frizzy, dull, and lifeless. When you don't have enough fluids, your hair lacks moisture and becomes more prone to breakage, frizz, and split ends. Therefore, proper hydration is essential for maintaining healthy, vibrant hair.
Now coming to the question - how to get rid of frizzy hair in 5 minutes? Note that this is not a permanent solution. To get rid of frizz in 5 minutes, apply any hair serum or hair oil after towel-drying. Next, detangle your hair with a wide-toothed comb and style it as per your choice. Either let your hair dry under a fan or use a cold-aired hair dryer and avoid heat styling.
We often get questions about - why is my hair getting frizzy as I get older. It happens because, apart from nutritional deficiency, the natural oils secreted by the scalp decrease with age, resulting in dry and frizzy hair. However, you can easily manage it with proper diet and hair care solutions. 
Are you wondering how to get rid of frizzy hair permanently at home? Look no further; here is your list of solutions to effective home remedies for frizzy hair. 
Nourishment
As mentioned above, dehydration is one major cause of frizzy hair. To hydrate your body, plain water can sometimes not fulfill the requirements alone. It happens because the body is often deprived of essential electrolytes and minerals to nourish hair follicles and the scalp to cure frizzy hair. This is why you must increase fluid intake like coconut water and turmeric milk along with a balanced homemade diet.
Curcumin, a compound found in turmeric, works wonder for hair problems. Consider including Satvic Foods' Golden Milk Masala in your regular milk. It is made with a unique combination of 20+ spices like turmeric, cinnamon, ginger, and black pepper. Their potent anti-inflammatory properties help reduce inflammation, and antioxidants strengthen immunity, protecting the body from various diseases. 
Whether you have scalp infections, dehydration, or nutritional deficiencies, Satvic Foods' Golden Milk Masala is one of the best natural and effective home remedies for frizzy hair.
Buy Satvic Foods' Golden Milk Masala for luscious and vibrant hair!
Coconut Oil, Castor Oil, And Vitamin E
Mix vitamin E, castor, and coconut oil together in a 1:2:4 ratio. Depending on your hair, apply 2/3 tablespoons of the oil on your scalp and through the size of your hair. Wash your hair after about 40-45 minutes. Apply this oil mixture once or twice weekly to deep condition your hair.
Honey And Yogurt
Yogurt is a natural moisturizing conditioner, and honey is a humectant that locks moisture into the hair shaft. Mix 2-3 tablespoons of yogurt with 1 tablespoon of honey. Apply this mixture to your scalp and hair and leave it on for 30-40 minutes, then wash your hair with cold water. Doing this once a week will help to restore moisture and is one of the effective frizzy hair remedies at home. 
Home Remedies For Dry And Frizzy Hair
Being underweight is also one of the common causes of dry and frizzy hair. However, this is a temporary condition that weight gain might help ease. The reason is that when one is underweight, the body is deprived of specific essential vitamins and electrolytes. This lack, in turn, deprives the hair of those essential elements needed to thrive.
Dry and frizzy hair affects not only the appearance but also the overall health of the hair and the body. Some common effects include:
Increased hair fall with split ends

No shine or luster

Itchy, flaky, and irritated scalp

Tangled and challenging to manage

Dull and lifeless appearance
These effects naturally showcase the lack of nourishment and moisture, leading to tangled, frizzy, and dull hair. You are already aware of which homemade hair mask is best for dry hair. Now you might think - how can I fix my dry, frizzy hair at home? Well, there are numerous Indian home remedies for dry and frizzy hair, and warm oil massage is an excellent way to nourish and moisturize dry and frizzy hair.
The heat from the warm oil massage helps to open up the hair cuticles, allowing the oil to penetrate deeply and provide conditioning and hydration. If you want good hair, make sure to stock up on these essential oils:
Coconut Oil - One of the most penetrative hair oils.
Almond Oil - Rich in vitamin E and antioxidants.
Argan Oil - Contains vitamin E and good moisturizing agents.
Olive Oil - A natural smoothing conditioner that also tackles dandruff and scalp health issues.
Mix any oil of your choice with a carrier oil (coconut or olive oil) in a bowl. Heat the oil in a larger bowl filled with hot water. Gently massage it into your scalp and hair for 10-15 aminutes. Cover your hair with a shower cap and leave it on for about 30 minutes or overnight for intense hydration. Rinse thoroughly with Satvic Foods' Shikakai Hair Therapy Powder to remove excess oil from the scalp.
Do this hot oil massage twice a week for the best results. Warm oil forms a protective layer around the hair cuticles, which locks in the moisture, and prevents frizz.
Before using any new essential oils, do a test patch on the inside of your wrist to avoid an allergic reaction. Furthermore, always dilute these oils with a carrier oil like coconut or olive oil to treat your dry, frizzy hair and scalp.
Tips For Dry & Frizzy Hair: What To Avoid?
Hair care is just as important as taking care of the body. Apart from knowing how to treat dry scalp and home remedies for dry and frizzy hair, you must also know what to avoid to reap maximum benefit. First and foremost, ensure a balanced diet with turmeric milk without fail. Poor nutrition is the most common reason that leads to hair loss. 
Besides that, you may think - how can I fix my dry, frizzy hair at home? Follow up on the following points for the best results:
Hair Wash: Always wash your hair with cold or lukewarm water, not hot water. Heat causes the cuticles to rise, lose moisture, and frizz. 
If your hair is extra dry, do not wash it more than thrice a week, as it strips your hair of its natural moisture. Use herbal products like Satvic Foods' Shikakai Hair Therapy Powder for washing hair. Avoid friction, and do not towel dry your hair. It causes the cuticles to rise, making your hair rough and prone to breakage.
Protect From Environmental Damage: Pollution and humidity add to the buildup on the scalp. You may think - Can I wear a hat or scarf for frizzy hair? Yes, you may! Use soft fabrics to cover your entire hair, protecting your scalp from pollutants and hair to absorb moisture from the air. 
No Chemical Treatments: Avoid all heat styling and chemical treatments like coloring, perming, and relaxing, as they can further damage and dehydrate the hair.
Good Pillowcase: Silk and satin pillow covers are the best, as they reduce friction. Also, you must avoid cotton pillow covers, which soak up hair moisture while sleeping.
Effective Home Remedies For Dry And Frizzy Hair With Satvic Foods
You can transform dry and frizzy hair into beautiful, silky tresses with the help of the above-mentioned natural home remedies. By incorporating  Satvic Foods' Shikakai Hair Therapy Powder, warm oil treatments, aloe vera, yogurt and honey, and banana hair masks into your hair care routine, you can restore moisture and treat dry and frizzy hair at home. 
Remember to be patient and consistent with these remedies. If you notice that you're experiencing hair loss along with a dry scalp or getting blisters, get it checked with a healthcare professional.
The said home remedies for dry and frizzy hair, coupled with the principles of a Satvic lifestyle, can work wonders for your hair. By embracing a balanced Indian diet and incorporating Satvic Foods' natural spice blends, you can nourish your hair from the inside out. Remember, it's not just about the external treatments but taking care of your overall well-being. 
Satvic Foods' natural spice blends and immunity boosters provide a convenient way to infuse your meals with nourishing ingredients. Remember, healthy hair starts with a holistic approach, combining the power of natural remedies and a balanced diet.
Try Satvic Foods' range of immunity boosters and hair care therapy for gorgeous hair!
Your Email Address Will Not Be Published. Required Fields Are Marked *